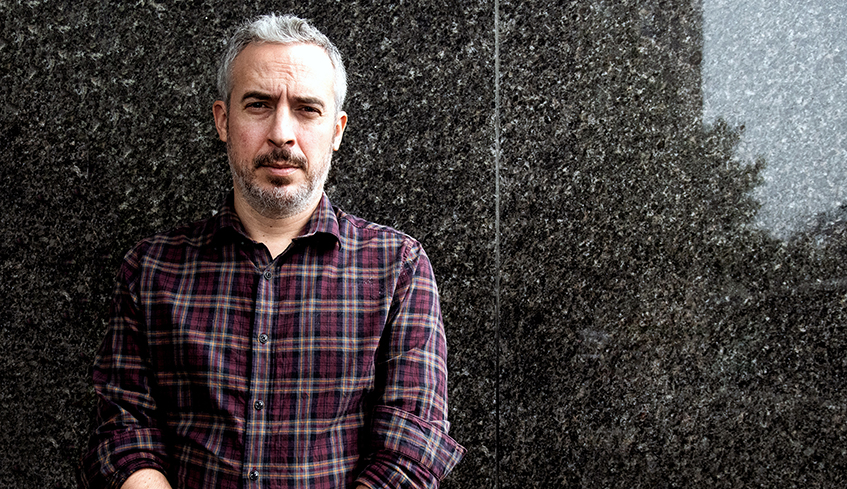 Even the simplest collection of lines can become a masterpiece.
Look at the work of local artist Antony Hare, whose carefully crafted images have been gracing the pages of some of the world's biggest publications for nearly two decades.
On Tuesday, Nov. 12, he'll be taking over Brown & Dickson Booksellers, giving the London public a glimpse into the world of simple, elegant illustration.
"I've always been drawn to this minimal thing, where I can draw, clean up and edit," Hare explained, adding it was a style that took a lot of trial and error. "It's really been a journey over the years, discovering what makes work unique, and deciding what you can accomplish with just a few lines. Now, it's what I love to do."
From his longest-standing client Vanity Fair, to the New York Times and beyond, Hare has not only made a name for himself on the international stage but has continued to build an outstanding portfolio with a dedicated following.
Funny enough, his path hasn't always been one involving pen and paper — at least not in quite the same way — since graduating from Western University's philosophy program. It wasn't until Hare was denied entry to art school that his outlook took a turn to the creative, and what began as a stint drawing for a national newspaper chain soon became much more.
While the artist describes his style as elegant line — a comment more about the simplicity of the design than a pat on the back — it was a choice that has earned him some big clients.
But whether its illustrating Neil Patrick Harris's autobiography, or spearheading a project for a massive fast-food chain like Chipotle, creating something special for a local author's recent offering, or sketching someone's dream home, Hare continues to produce an innovative body of work that can't help but interest fans from all walks of life.
As far as what has driven him to put together the hometown show, it's all about keeping in touch with friends, family, and the people who inspire him every day.
"I have friends that I have colleagues and I have people that I live with, and so it's nice to be about to show my local side," he explained with a smile. "This isn't about random portraits from world in a bookshop — there's going to be a lot more to it."
Known as an oasis of bibliophilia in downtown London, Brown & Dickson continues to hold regular events in the shop (including their popular Bad Art Festival) throughout the year, in addition to hosting film shoots, band recordings, readings and lectures, film screenings, and student clubs.
Co-owners Vanessa Brown and Jason Dickson are both writers themselves and are always ready to share in the culture of print and publishing — whatever shape that takes. Helping to bring Hare's work to the masses is nothing short of a perfect fit.
"Antony is an extraordinary artist. I'm always deeply impressed with what he accomplishes, both in his work and his career," said Dickson. "My hope is he brings some of his best to our little shop, as any appearance by him makes the party so much better."
Works by Antony Hare will take over Brown & Dickson Booksellers (567 Richmond St.), kicking off with a soiree on Tuesday, Nov. 12 at 7 p.m.
For more information on shop events, visit www.brownanddickson.com.