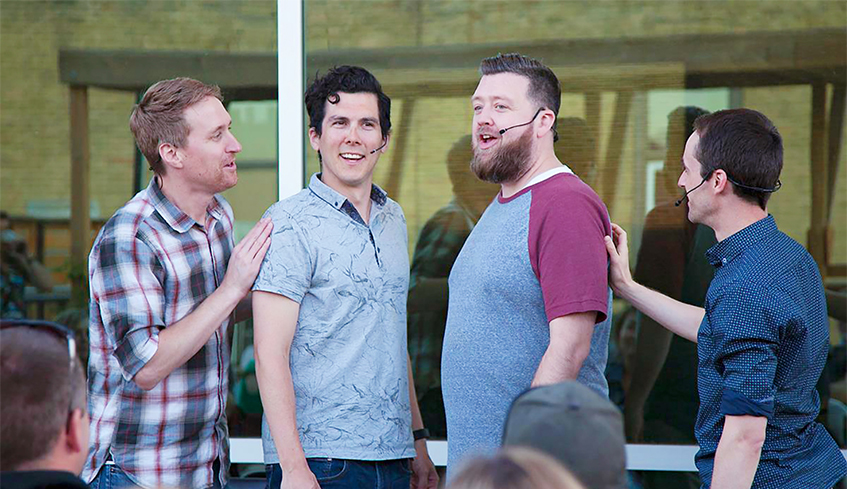 By Whitney South, Best of London. 07.25.18
While they may not count Santa Claus, Mary Poppins or Batman among their ranks (yet), the crew at Shut the Front Door Improv is getting ready to take their show to new heights — literally.
On Wednesday, Aug. 15, the troupe will offer up its third outdoor show of the summer, on the roof of the YOU Made It Café at 332 Richmond St., and with two sold-out performances already under their belts, a hat trick isn't out of the question.
"We want to be The Beatles of the comedy scene and make a big spectacle of ourselves," said member Jim Kelly, adding the group is always looking at new ways to market themselves, and to make their shows as interesting and unique as possible. "This is just another way Shut the Front Door can stand out above the crowd and show we have an amazing product where there's always something new around the corner."
Kelly joined the group way back in its infancy after he found himself looking for a creative outlet that could help him become involved in the local comedy scene, as well as build confidence in his day to day life and career, as well.
And besides, growing up in Mitchell, Ont., people told him he was funny.
"I came from a big family and we're all loud and always looking for attention . . . so, I don't think I was embarrassingly funny, but it just came naturally," he explained. "I just like making people feel good and if I can spread a little joy, why not?"
Shut the Front Door Improv is a registered not-for-profit organization, meaning a portion of the proceeds from each show are donated directly to charitable organizations within the community. In the past, the troupe has worked with Sebastian's Superheroes, SARI Therapeutic Riding, Defeat Depression, and London Youth Theatre Education.
Heading into their seventh season, the troupe has set their sights on raising funds to establish a permanent location which would act as a hub for both comedy and community.
"We've been so proud of the progress that we've made, and we've proven to ourselves and everyone else there's an appetite for us to be here," said co-founder Brandon Rudd. "Now it's time to find a location to call home. We're really focused on making that our No. 1 goal. We've been thinking about this for years, making our mark and creating a space London can call its own."
A permanent location would also help Shut the Front Door grow in its role of mentor for legions of students, keen to learn the ins and outs of improv. It's an aspect of the biz that has continued to gain interest across the Forest City and starting next month they'll be expanding into the tween (9-12) and teen (13-17) markets.
"Over the past few years we've had a lot of requests to offer new programming, and we're now in the perfect place to do that," Rudd said with a smile. "One of the principals that we're always promoting is that when you start improv, you have an empty tool belt, and when you're done you'll have all these tools to help get you out of these different situations. They're important skills at any age."
Free drop-in classes are available on select days in August and September, while multi-week programs are slated to begin in the fall.
"We're hoping it'll all translate into some troupes here for teens, or that teens will get a chance to perform in the city for the first time," said Rudd. "Improv is also really important in helping with mental health, self-confidence and communication skills, which can be challenging for youth these days. It's a vehicle for entertainment and theatre, or just personal enrichment and growth."
Shut the Front Door Improv takes over the roof top at YOU Made It Café (332 Richmond St.) on Wednesday, Aug. 15 at 6 p.m. Tickets are $40 and include dinner and a non-alcoholic beverage. A cash bar will be available.
For more information, including how to purchase tickets or sign up for classes, visit www.shutthefrontdoor.ca.