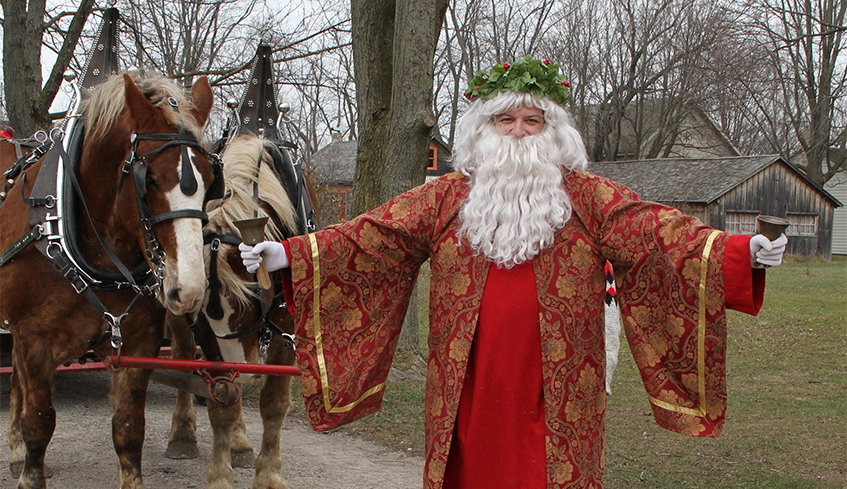 By Whitney South, Best of London. 11.30.18
With Christmas just around the corner, Fanshawe Pioneer Village is getting ready to once again welcome the jolly old elf himself for a little fun and festivity, and a big stack of pancakes.
Over the next two weekends (Dec. 1-2, and Dec. 8-9) families are encouraged to leave the hustle and bustle of the impending holiday behind and make some memories with Santa — all while enjoying a hot breakfast.
The event, which has been a seasonal staple for close to 20 years, is a yearly highlight for Alison Deplonty, interpretation coordinator at Fanshawe Pioneer Village, who said visitors can't seem to get enough of that festive family feeling.
"People just really enjoy the chance to see the village decked out with boughs of greenery and red ribbon, the horse-drawn wagon rides, and of course, getting to meet St. Nicholas," she explained. "You know Santa never misses the opportunity to pull out his Victorian clothes and join us at this time of the year."
Breakfast includes a pancakes and sausages, while visitors are encouraged to decorate gingerbread men, participate in some craft and letter writing at Fanshawe School S.S. #19, take in some storytelling and carol singing at Trinity Church, as well as Christmas card making at the Free Press, and blacksmithing demonstrations.
In addition, kids will also get the chance to chat with Santa, and — providing they don't find themselves on the naughty list — get to take home a juicy orange, a special gift any pioneer child would enjoy.
The idea behind the annual event was to help create a new tradition or help continue an old one for families from the Forest City and beyond. After their visit, kids are encouraged to write letters to Santa — and for those who leave their address, there's a good chance the Big Guy could drop them a line before the big day.
"The best part of it all is getting to see the look on our young, and young-at-heart, visitors' faces when they hear the bells, and know that St. Nicholas is on the way," said Deplonty. "This event has been part of our seasonal celebrations for almost two decades, which has given us at the village the chance to see little ones grow up, meet new additions to families, and become part of people's holiday traditions. It's truly a wonderful time of year."
A Visit with St. Nicholas takes over Fanshawe Pioneer Village (2609 Fanshawe Park Rd. E.) Dec. 1-2 and Dec. 8-9.
Tickets must be purchased in advance and are available by phone (519-457-1296) or online (www.fanshawepioneervillage.ca). Sittings are available at 9:30 a.m., 11 a.m., and 1 p.m. each day. Tickets $13 each plus HST and are selling out fast.
While there is still some space available for Saturday, Dec. 1 at 11 a.m., and Sunday, Dec. 2, at 1 p.m. tickets must be purchased by 3 p.m. on Friday, Nov. 30.