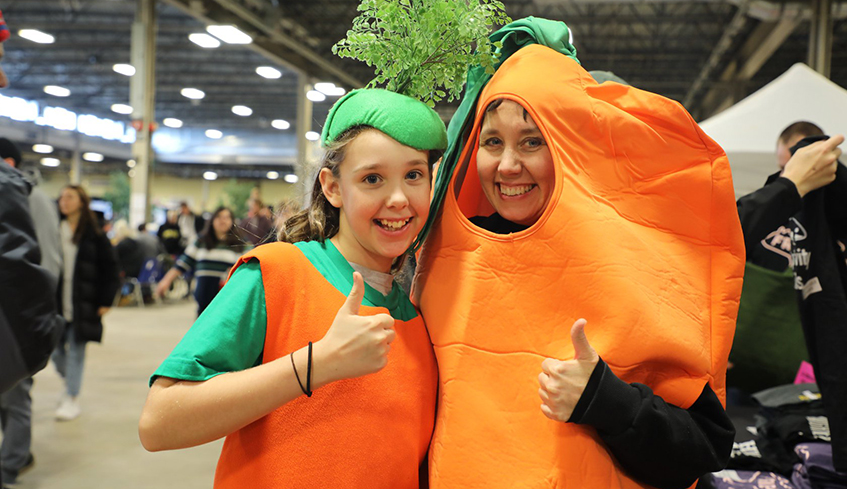 By Whitney South, Best of London. 11.04.19
For over 50 years, those living a plant-based lifestyle had been a minority within a minority.
Now, 2019 has been hailed as The Year of the Vegan — and the mainstream has taken notice.
In celebration, VegFest London is set for biggest event ever, with over 100 food and product vendors, ready to take over the Western Fair Agriplex Saturday, Nov. 9.
And public relations lead Susan Campbell couldn't be more excited.
"The first year I attended the festival over the six years, so it's wonderful to see that popularity grow," she said, adding the festival's attendance has ballooned from around 500 to over 6,000 in just five years. "People are finding out more and more about a plant-based or vegan lifestyle. It's absolutely incredible."
A 2018 study from Dalhousie University in Halifax found that nearly 10 percent of Canadians consider themselves vegetarian or vegan, with Maclean's, The Economist and Forbes predicting an even bigger boom for the ever-growing movement.
As for those skeptics out there, fear not, you don't have to be vegan to attend VegFest— and that's kind of the point.
"We're a family-friendly and welcoming event, and year after year we draw a lot of people who are curious, who want to have a fun day and see what a plant-based lifestyle is all about. All are welcome," Campbell explained. "We've also been hearing lots of stories about visitors who've made it a family tradition, who plan their vacations around the festival, joining us from Ottawa or Toronto. VegFest really is about bringing people together."
More than just several aisles of tasty treats and take-home treasures, visitors can also look forward to an amazing lineup of speakers on The Carrot Stage, including bestselling author, podcaster and cultural commentator Colleen Patrick-Goudreau, who will explore how to stay vegan in a world that wants people to keep eating meat, dairy and eggs.
There will also the chance to examine startling discoveries of the colourful lives of fish, where folks can find out What a Fish Knows from author Jonathan Balcombe, learn practical steps to achieve success with food choices and sustainability with The Living Centre's Shantree Kacera, and take in cooking demos from local chef and Aquafaba expert Yoda Olinyk and Lisa Le, creator of the food blog and YouTube channel The Viet Vegan.
Other attractions include a children's area, sponsored by CareHealth & ANDFIT Training Studio as well as a photo booth presented by Activism London.
The idea behind VegFest London first started when founder Krista Kankula found herself attending Niagara VegFest and the Toronto's Veg Food Fest back in 2013 and thought London should have an event of its own. It didn't take long for her to get together a group of volunteers and launch the event in 2014, which has grown ever since.
Meanwhile, Campbell became involved after retiring from CTV three years ago and wanting to spend her time doing something fun and meeting new people. Her move to veganism came thanks to her son.
Now, it's a family affair.
"Honestly, we're all involved. My son is on the committee and his girlfriend is our Chair of our committee. My daughter lives in Toronto, but she always comes down and will be our photographer this year," Campbell said with a smile. "There's a lot of work that goes into the festival and then we have a lot of great that work really hard. It's hard not to be inspired by all of that."
VegFest London takes place at the Western Fair District Agriplex (845 Florence St.) on Saturday, Nov. 9 from 10 a.m. to 6 p.m.
Admission is $5; while children 12 and under are free.
The first 250 people through the door will receive a special gift. In an effort to reduce waste, attendees are encouraged to bring their own food containers, and will be entered into a draw to win one of VegFest London's vegan gift baskets.
Attendees are encouraged to bring vegan, non-perishable food items for The London Ontario Vegan Food Bank.
For more information, including a complete list of vendors, please visit www.vegfestlondon.com.