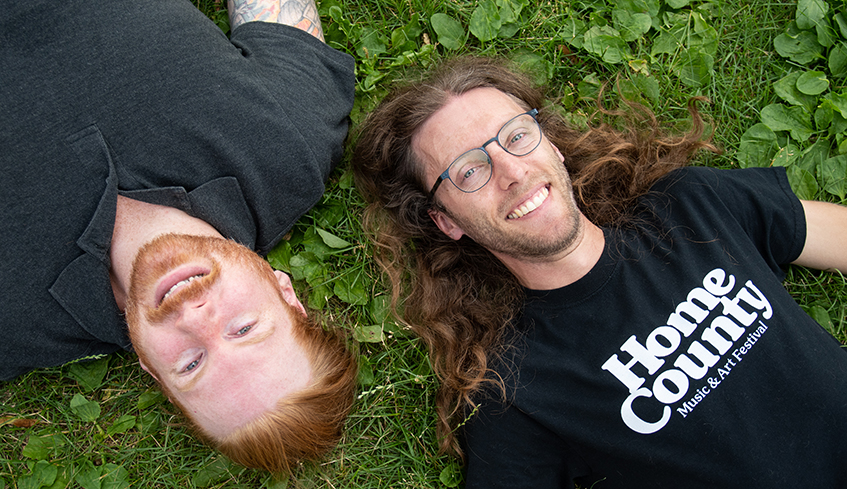 By Whitney South, Best of London. 07.16.19
Ask Eric Shepperd about the first time he attended Home County Music & Art Festival, and he'll assure you that while he may not have been born yet, it still counts.
"My parents used to live just down on Wellington Street, so every single summer we'd come down to beautiful Victoria Park to take in the sights and sounds," he recalled with a smile. "So, while I may be only 35-years-old, this is my 36th Home County."
To say the festival is etched onto Shepperd's DNA may be a bit of an understatement as he's been working with organizers since he was just 14, picking up garbage before moving on to ice cream sales, helping out with performer services, and then as a stage hand.
Now, as Assistant Production Coordinator, Shepperd is continuing the tradition.
"It's in my blood — it's my origin story," he explained. "I couldn't imagine not being a part of it, so it just made sense to get involved. It's part of the city's culture and part of my culture, and honestly, I want this to continue to be the premier summer festival London has to offer."
And that's the mission Home County Music & Art Festival is taking to heart more than ever.
With a line-up that's set to welcome Canadian heavyweights Fred Penner, Odds, and Steven Page, not to mention a slew of local talent including Saidat, The Pairs, Whoop-Szo, Ben Heffernan, Gypsy Ghosts, The Heartaches Stringband, Deni Gauthier, Aaron Allen, Michael Trudgen, Cameron Jericho, and Leanne Mayer — 2019 is lining up to be a special year, indeed.
In total, the festival will feature six stages, including the Main bandshell, Emerging Artist Stage, North Concert Stage, South Workshop Stage, East Workshop Stage and the Community/Open Stage.
But music is just one part of the master plan — there's also the art.
"Honestly, one of the things that really sets us apart from all the other festivals is the artisan crafters that come every year," said first-time Artistic Director Tim Fraser, adding the selection of 120 vendors is jury-selected, meaning everything is handmade. "We really pride ourselves on that."
In addition, he added because the festival is 100 percent Canadian, Home County is an excellent venue for new artist discovery — meaning while folks may not know every name on the bill, they'll leave the weekend with at least a couple new favourites.
For Fraser, that means taking in acts like Friday night's headliner, high-energy Toronto pop-soul artist ColinResponse, or roots powerhouse duo The Small Glories.
"A lot of people tend to think Home County is all about being laid-back and sitting in a lawn chair, but we're ready to change that perception," he said. "We're going to have people up and dancing this year. It's going to be a great time."
The 46th annual Home County Music & Art Festival takes over Victoria Park (580 Clarence St.) July 19-21, featuring dozens of performances across six stages, including Fred Penner, Odds, and Steven Page, as well as 120 juried Canadian crafters and artisans, over 30 food vendors, and a local craft beer garden.
Admission is by donation.
For more information, and a complete listing of artists and set times, visit www.homecounty.ca.
Photos by Whitney South