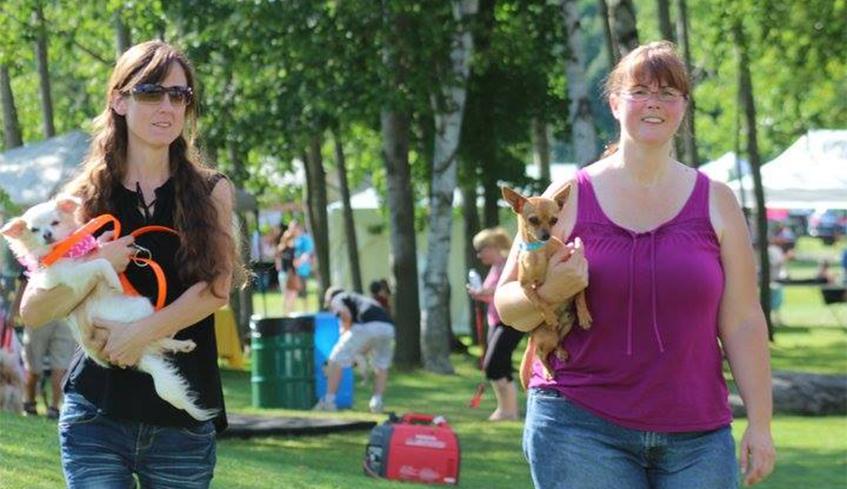 By Whitney South, Best of London. 08.15.18
They say every dog must have its day — and luckily for fidos from across the Forest City and beyond, this weekend is bound to be a memorable one.
Celebrating its 10th year, Pawlooza is once again set to take over Plunkett Estate on Saturday, Aug. 18, for a unique and dog-friendly festival experience like no other.
Organizers include members of Animal Rescue Foundation (ARF) Ontario, and Leads Employment Services, who are once again donating time to a cause very close to their hearts.
According to ARF Ontario Founder Laurie Ristmae, it's safe to say Pawlooza is a little bit like canine Christmas.
"We really consider it the biggest and best outdoor dog festival in the country. I would even say in North America," she explained. "It's really all about celebrating the human-animal companion bond . . . we have everything you can think of to make our dogs happy and bring them joy. That's what you'll find at Pawlooza."
In the past, the 100 percent volunteer-driven event has welcomed an estimated 25,000 visitors to London, and that's only counting the two-legged kind. In addition, about 6,000 pooches are known to make an appearance, taking in everything from pet first-aid demonstrations to agility courses, top model contests to dock diving.
Since its humble beginnings as a small gathering that ended up drawing thousands, Pawloosa has become a city staple, bringing in folks from both near and far.
A big part of that no doubt stems from peoples' devotion to their furry friends, as well as the desire to contribute to the community as each $10 admission (per carload, not per person) goes directly to benefit ARF and Leads, both non-profit organizations — a mission made possible by thousands of hours of work put in by the organizing committee and 300 volunteers.
While ARF Ontario works with First Nations and rural communities throughout Ontario to rescue, rehab and re-home stray dogs and cats, LEADS Employment Services helps people with disabilities throughout Southwestern Ontario find employment and receive skills training.
"Everything that's spent on Pawlooza-specific areas, events or parking goes back to help," said Ristmae. "It's that kind of support that really keeps us going. We're so thankful."
In addition to activities, events and about 175 vendors, Pawlooza has partnered with animal rescue groups from across Canada in honour of International Homeless Animals' Day. Each group is given free space to set up and show off their adoptables, fundraise, network, and help raise awareness about Canada's pet overpopulation.
As an adoptive mother of four fur children (two dogs, two cats), Ristmae knows first-hand the importance of providing a loving home to an animal in need.
"Dogs have an incredible capacity to forgive and move on. So, the animals that I see come into our care quite often have had a background that a lot of people wouldn't recover from," she said. "These dogs live in the moment, and with the help of loving people and positive reinforcement they get on with life and I have so much admiration for that. There's so much emotion and affection . . . how would you not want to save them?"
That compassion and admiration for pets is what ultimately led Ristmae to found the Ontario chapter of ARF, after volunteering and adopting from the organization's Alberta counterpart.
"When we moved to Ontario 20 years ago I had looked for another organization that partnered with our local aboriginal community and there was literally nothing at the time. Much to my husband's dismay I realized I had to start a group on my own," she said with a laugh. "Little by little we grew and grew. We've been able to partner with our local First Nations community and we're so blessed."
ARF's goals include implementing accessible and affordable spay/neuter surgeries for adult companion animals and to reduce the overall number of strays needing to be rescued, to educate the public on the benefits of positive training techniques, and to support Bite Prevention Campaigns, working towards reducing the number of dog bites in the community and helping to keep families and their companion animals safe. With no government grants or funding available, the organization depends completely on donations, with the majority of expenses going towards essential veterinary care, training and supplies for rescued animals. With Pawlooza just days away, Ristmae and her team have been going non-stop, but know that in the end, Saturday's fellowship and festivities will all be worth it.
"The smiles on people and dogs' faces — and I know that sounds weird, but they really are smiles — are the best part," she said. "I see the estate packed with people so interested in volunteering and donating . . . who want to make dogs' lives better . . . I can't get enough of it."
Pawlooza 2018 takes over Plunkett Estate (9282 Elviage Dr., London) on Saturday, Aug. 18.
Admission is $10 per vehicle, parking included, and all for charity.
For more information, visit www.pawlooza.com.