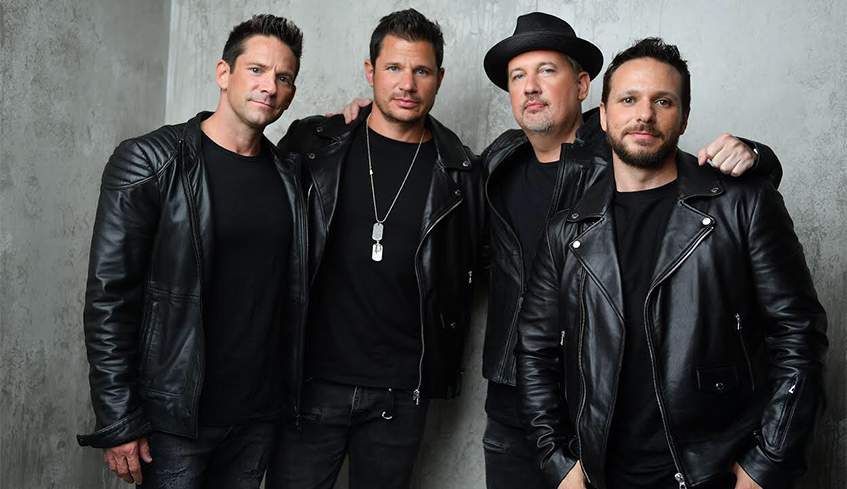 By Whitney South, Best of London. 06.25.19
And the hits just keep on coming.
Today Parkjam organizers announced the festival's throwback night line-up — set for Sunday, Sept. 8 — which is set to bring together some of the biggest names in pop royalty.
Drumroll please.
Hitting the Harris Park stage this fall, 98 Degrees, along with support from Aaron Carter, O-Town and Toronto's Wannabe: A Spice Girls Tribute — with the whole thing hosted by NSYNC alum Lance Bass.
The American pop and contemporary R&B vocal group consisting of four vocalists — brothers Nick and Drew Lachey, along with Justin Jeffre and Jeff Timmons has sold over 10 million records worldwide and achieved eight Top 40 singles in the U.S. including Thank God I Found You, Because of You, I Do, and The Hardest Thing.
The group was formed by Timmons in Los Angeles, although all of its members originate from Ohio, and unlike most boy bands, the group came together independently and were later picked up by a record label, rather than being assembled by a label or a producer.
The group's emergence at a time when teen-oriented acts like the Spice Girls, the Backstreet Boys and NSYNC were just hitting the top of the charts around the world compelled them to differentiate themselves from the usual boy band status, and from the start the group emphasized writing their own material which reflected R&B influences more than mainstream pop roots.
Aaron Carter first came to fame as a pop and hip-hop singer in the late 90s, establishing himself as a star among pre-teen and teenage audiences with four studio albums.
Born in Tampa, Florida, Carter began performing at age seven and released his self-titled debut at age 9, selling a million copies worldwide. His second album, Aaron's Party (Come Get It). sold 3 million copies in the U.S., and Carter began making guest appearances on Nickelodeon and touring with the Backstreet Boys shortly after the record's release. Carter's next album, Oh Aaron, also went platinum, and the musician released what would be his last studio album for 16 years, Another Earthquake!, in 2002, followed by his 2003 Most Requested Hits collection.
Carter has since appeared on Dancing with the Stars, the Broadway musical Seussical, the off-Broadway musical The Fantasticks. His fifth studio album of the same name was released February 16, 2018.
O-Town can credit their roots to the first season of the MTV-produced reality television series Making the Band in 2000, and now tours with four original members Erik-Michael Estrada, Trevor Penick, Jacob Underwood, and Dan Miller.
After releasing two albums near the end of the boy band fad of the late 90s and early 2000s, the group originally disbanded in 2003, but has been enjoying an exciting comeback which included an appearance at last year's London stop of The Rewind Tour in support of Danish superstars Aqua, along with Whigfield, and Canadian icons Prozzäk.
Wannabe is the brainchild of Suzy Wilde, Barbara Johnston, Anika Johnson, Catherine Merriam and Jasmyn Fyffe. The idea for the group was born one summer when the five best friends (all professional Toronto-based performers) all happened to be living under the same roof. They recruited six excellent musicians to be their back-up band and brought in a team of production staff to help polish the group.
Five years later, the shows continue to grow. Wannabe has traveled across North America, playing theatres, concert halls, clubs, casinos, outdoor festivals and campus stages, constantly adding new material, costume changes, dance moves and bits of banter between numbers.
Parkjam's Throwback Pop line-up is the second night of music dropped so far, following the announcement Canadian country stars Brett Kissel, Meghan Patrick, Jojo Mason and Aaron Goodvin would hit the Harris Park stage Friday, Sept. 6.
More line-ups are set to come over the next few weeks.
Parkjam's Throwback Pop night, featuring 98 Degrees, Aaron Carter, O-Town and Wannabe: A Spice Girls Tribute — hosted by Lance Bass — will take over Harris Park (531 Ridout St. N.) Sunday, Sept. 8.
Presale tickets are available on Wednesday, June 26 at 10 a.m., while public sale and 19+ VIP tickets will be available Thursday, June 27 at 10 a.m.
For more information, as well as artist announcements as they become available, check out Parkjam on Facebook, Instagram or Twitter, or visit parkjamfestival.com.