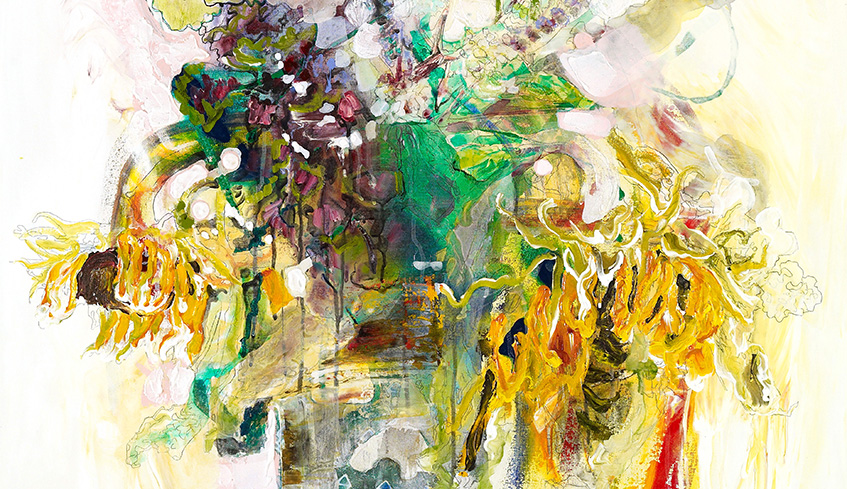 By Whitney South, Best of London. 01.29.20
There's no better way to liven up a dreary winter day than by basking in the bright colours and welcoming landscapes now appearing at the Westland Gallery.
Running until Saturday, Feb. 15, the Wortley Village staple's latest exhibition features the artwork of Dana Corie, Geoff Farnsworth, Angie Quick, Maryann Hendriks, Curtis Doherty and Sam Chilvers, with an opening reception being held Saturday, Feb. 1 from 2 to 4 p.m, with an artist talk scheduled for Sunday, Feb. 2 at 11 a.m.
According to Westland's Associate Director Danielle Hoevenaars, the collection is diverse, encompassing figurative, floral, landscape and architecture.
And there's no shortage of talent in this particular crop of artists, hailing from all across Ontario.
After relocating from her hometown of Hamilton to Owen Sound, Cowie found inspiration for her newest series in a rural setting.
"Dana uses an impasto technique for her paintings; a very thick application of paint which leaves the edges of her brushstrokes raised off the canvas," Hoevenaars explained. "This series studies the barns and rolling hills of her new rural environment in a cubist style."
In addition, Cowie's work is the culmination of years of painting in a patchwork quilt effect, using classical oils and paints on her grandmothers 1940's easel.
Meanwhile, Hendriks is an accomplished Canadian painter working out of her studio in Cambridge, who possesses a signature abstracted style combining wild textures, unique brushwork and assured mark-making as well as a joyous colour palette, translating her love of flowers into a beautifully abstracted rendition of each subject. Her approach includes a multi-layered application of acrylic paints and mediums, where she employs a wide array of brushstrokes, washes, and mark-making techniques.
An alum of Fanshawe College and Bealart, Hendricks has worked independently as a professional artist since 2005, currently exhibits with a number of fine galleries across Canada and is an associate member of the Federation of Canadian Artists (AFCA) and an elected member of the Society of Canadian Artists (SCA).
"Maryann has a style distinctly her own," said Hoevenaars. "Her love of flowers is the starting point for her abstracted canvases that come alive with layers of texture, loose brushwork and unique mark-making."
Meanwhile, taking a different approach to a similar subject is London artist Angie Quick.
"While making this new series, Angie would go out every morning to collect wildflowers. As she lived with and painted these flowers, they slowly wilted and eventually died. The resulting work is both beautiful and a reflection on loss. Angie's paintings stand as reminders to engage with what is at hand; the seasons, nature, the phases of our lives that come and pass."
A self-taught artst, Quick's florals are painted in earth tones on soft white canvases. Her practice experiments with the nature of language and sensation within both a visual and performative context.
Both Farnsworth and Doherty hail from the Niagara Region, with an intriguing combination of figure and abstraction, real and imaginary, found in both artists' works.
"Farnsworth's paintings range from miniature to large-scale and feature beautifully executed portraits surrounded by floating objects or vibrating, colourful brushwork," said Hoevenaars, adding Doherty paints realistic figures in an abstract setting to imply a narrative and encourage the audience's imagination. "A strong foundation in composition and colour theory is important to both artists."
Farnsworth's paintings have been shown throughout Canada and abroad. After graduating with honours from Sheridan College, Doherty has shown throughout North America and across Europe.
Rounding out the line-up, London's own Chilvers attended the fine arts program at Fanshawe College and was a resident artist at The Arts Project. In 2012, having never traveled, seen the ocean or been on a plane, the artist moved her life and studio to the Dominican Republic where she discovered kitesurfing, taking lessons in Cabarete. Within two years, she was offered her first sponsorship by Star Kiteboarding and has travelled around the world for competitions ever since. In this exhibition, Chilvers is exhibiting a new urban series.
Westland Gallery's (156 Wortley Rd.) Winter Collection, featuring a curated collection of work by Ontario artists Angie Quick, Curtis Doherty, Dana Cowie, Geoff Farnsworth, MaryAnn Hendriks, and Sam Chilvers, is on now until Saturday, Feb. 15. An opening reception will be held Saturday, Feb. 1 from 2 to 4 p.m, with an artist talk scheduled for Sunday, Feb. 2 at 11 a.m.

For more information, visit www.westlandgallery.ca.