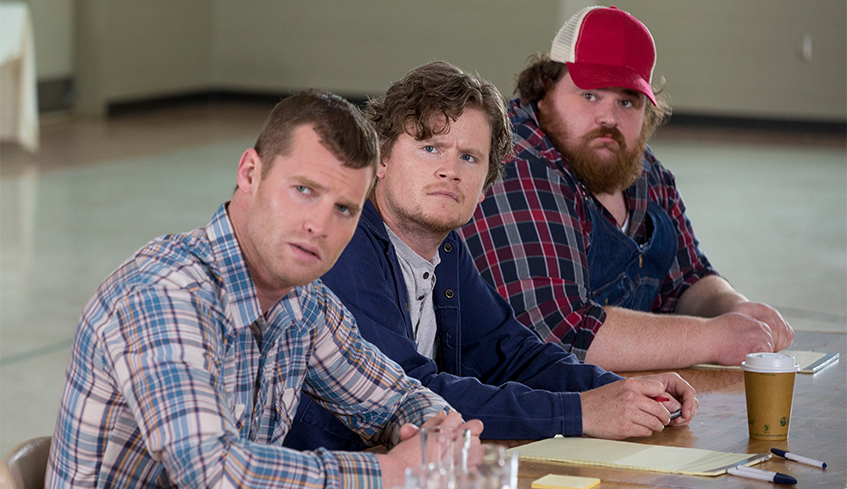 By Whitney South, Best of London. 03.14.18
It's been nearly five years since YouTube viewers got their first glimpse into the world of Letterkenny, Ontario.
Now, after garnering a legion of fans all over the world, Canada's favourite sons are making their way to the stage — taking their much-loved Crave TV show across the country.
London fans will get their chance to join in on the fun when Letterkenny Live! takes over Budweiser Gardens Saturday, March 17.
It may be a path no one had expected, but for creator Jared Keeso and crew, it's been an amazing ride.
According to actor Nathan Dales, who plays sidekick Daryl, it all started after he and Keeso bonded over a mutual love for the Calgary Flames.
"We met through some friends in Vancouver about seven or eight years ago, and we started chatting, hanging out and making videos," he explained, adding what started out as five, two-minute collections of Letterkenny Problems, soon turned into much more. "Since then, we've gotten to make a TV show and now a live show, and honestly, it's blowing my mind."
As for taking the show on the road, Dales says he was quick to jump on the idea right away.
"I went to theatre school forever ago, so this is my first time being on stage in years, but I love it. You get the live audience reaction, and that's the biggest thing for me. You see what works and doesn't work . . . there's nothing quite like it."
The performance will feature a number of fan-favourite themes from the show, in addition to new scenes from the upcoming season. There will also be a multimedia aspect, as well as stand-up sets from K. Trevor Wilson and Mark Forward.
Audiences will also be treated to a little game of Would You Rather, Letterkenny style, Dales' personal favourite.
"We talk about crazy scenarios . . . and always gets a good laugh. It's really fun to bring things like that to life," he said. "It's all scripted . . . and all comes from the brain of Jared Keeso. He's done an amazing job translating what we do on screen to stage. It's really great."
After kicking things off in Halifax Feb. 27, the crew has made their way west with stops in Moncton, Montreal and Toronto, selling out a number of venues along the way.
And while the show continues to attract fans, not just in Canada but around the globe, Dales continues to count himself lucky to be part of something so many people can relate to.
"No matter where you go across the world . . . if you're from a small town or even a city, there are characters you can identify with. Everyone knows a hick or a skid or a hockey player," he said. "Borders are borders, but this doesn't really pay any mind to that. It's so amazing we've been able to reach so many people."
Letterkenny Live! takes over Budweiser Gardens Saturday, March 17.
For more information, or for tickets, visit www.budweisergardens.com.