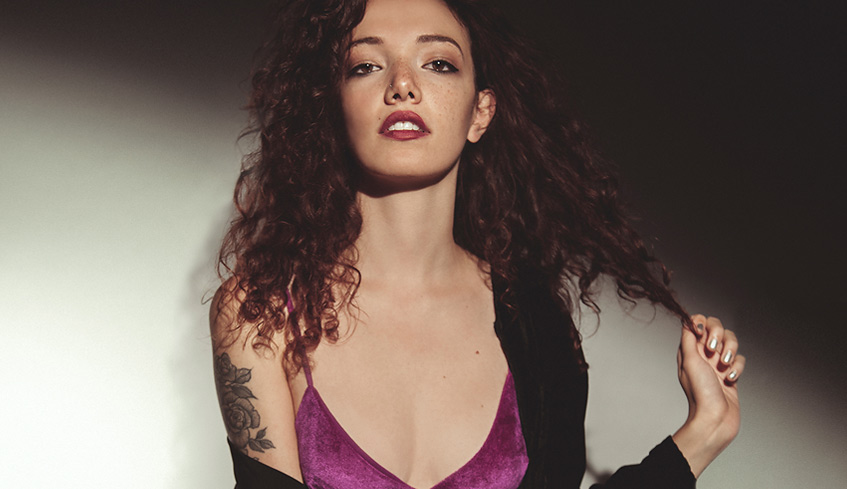 By Whitney South, Best of London. 02.27.19

To be a poet is a condition, not a profession — or at least so said Robert Graves, a man who may have known a little bit about the literary style.
And there's a certain young singer/songwriter from Ancaster who may be inclined to agree.
After all, that's exactly what her chosen name describes, a poem or body of poems — the elegance of those written words.

Fact is, while she's quickly become one of the most exciting new voices in Canada, Poesy has always found influence in all sorts of places, from her favourite novels and personal experiences to innovative artists Kate Bush and Freddie Mercury, as well as 90s icons PJ Harvey, Nirvana and Radiohead.
Strong voices she's admired for as long as she can remember.

"I just really like music from that time even though the first time I heard it, I was probably just five-years-old," she said with a laugh. "It's very gritty and a very strong era of music — kind of angry without a care if anyone likes it. The 80s and 90s are the two biggest influences of the music that I'm making now."

On Tuesday, March 5, she'll hit the stage at London Music Hall, in support of Matthew Good's cross-country solo acoustic tour.

Her latest single, Strange Little Girl has been heralded as an unapologetic feminist anthem, uniting unusual girls to step into the spotlight, and is her first track since hitting the small screen on CTV's The Launch. It was also written in a time when she was experiencing working with people high-up in the industry, building her team and making a lot of very important introductions, causing her to reflect back on the early days of her career.

"In the past, I just felt like no one really took me seriously, and everyone was always underestimating me — even when I was playing shows people thought I didn't know how to work my gear and didn't know how to write a song," she said, adding after talking to some other female musicians, she found many of them had those same stories to tell. "It made me realize that in any industry we have to prove we know what we're talking about, which is something men don't really have to do. The song is just kind of about unapologetically being a woman, and just owning who you are . . . to be strong and empowered."

During her 2018 stint on The Launch, the musician collaborated with composer/producer Stephan Moccio (Miley Cyrus, Celine Dion, Avril Lavigne) to release the Top 40 single Soldier of Love. The track drew comparisons to powerful rock front-women Amy Lee and Florence Welch and set the stage for Poesy to be the new alternative voice to watch. She signed a major label deal with Big Machine Label Group just months later and following the national success of the single went on to give spellbinding performances at several Canadian music festivals.

It's a long way from her humble beginnings as a creative writing student at Western University, playing shows at London Music Club — not that those are experiences she'll soon forget.

"I remember one of the first shows I ever played in London, I was in the front room and it was just me and the keys . . . and there was maybe like 10 or 15 people there and the owner of the club came up in the middle of my set and had to make an announcement," she recalled, already stifling a laugh. "He says, 'Could whoever has the red Santa Fe please go and move their car? You're boxing someone in.' It was my car and I had double parked it. That was a good professional moment in my life."

Now, with her spot on the tour and the release of her first album on the horizon, Poesy is living her dream, and making no apologies for just being herself — someone who is clearly a force to be reckoned with.

"The album is going to come out sometime in the next couple of months so we're previewing all of the songs during the tour, which is really amazing," she said. "I've gotten to work with some really incredible people, and I'm excited that these songs have gone from voice notes on my phone to something a whole bunch of people around the world are going to be able to listen to really soon."

Poesy will take the stage at London Music Hall (185 Queens Ave.) Tuesday, March 5 in support of Matthew Good's cross-country solo acoustic tour.

For more information, or to purchase tickets, visit www.londonmusichall.com.
Photography by Chelsea Brimstin