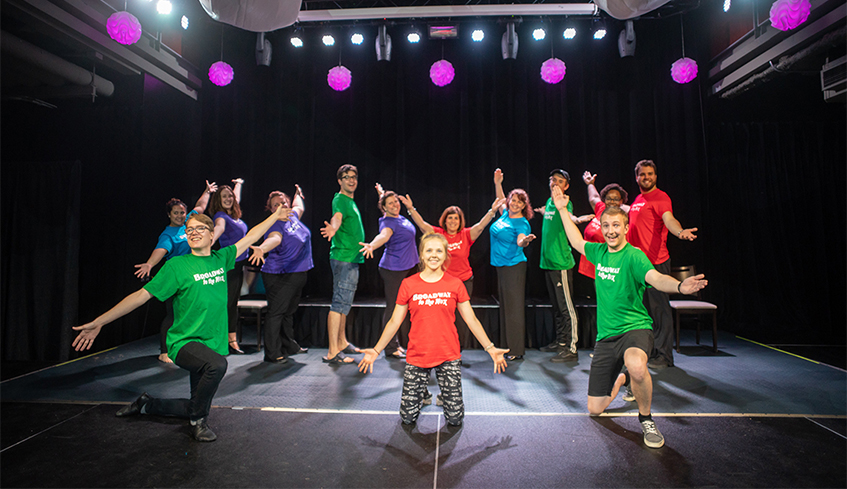 By Whitney South, Best of London. 06.12.18
The year was 1992.
Daytime TV first welcomed a big purple dinosaur, Kris Kross got noticed for wearing their clothes backwards, and London's Musical Theatre Productions (MTP) was getting ready to mount their first-ever cabaret, Broadway to the Max.
Now, over 25 years later, the sure-fire musical-comedy dinner theatre experience is once again hitting the stage at Western University's UCC Building — taking over The Wave (formerly The Max) June 20-23.
Think of it as more of a comeback than a look-back.
"It may feel a little bit different than it did 25 years ago, but it's been an absolute blast," said director and co-creator Rick Smith. "We have an amazing cross-section of people, including two alumni from the original production, and everyone's been working really hard. It's going to be great."
The idea to relaunch Broadway to the Max came after Smith and co-producer Sue McKone were reminiscing one night after a recent MTP performance.
"We were chatting and realized it had been 25 years since Broadway to the Max and thought, wow, has it really been that long?" McKone explained. "Both of us would look at each other deep in thought, and we decided to go ahead and put it together."
Similar to the original run, the production is meant to subversively manipulate memorable numbers from such classic Broadway treasures as Dreamgirls, Sweet Charity, Nunsense, and The Will Rogers Follies, as well as newly updated showstoppers from recent hits including Something Rotten, The Book of Mormon, Waitress, Young Frankenstein, Spamalot and more.
Add to that a three-course dinner, with choice of entrée, and you have the making of a complete culinary cabaret.
This isn't your typical night of classics, however. There is, of course, that twist.
"The songs that we've taken are from the musicals, but we've taken them outside of the context they were used before," said Smith. "We've twisted them and warped them without changing lyrics . . . but in a lot of the cases the meaning has changed. It's not about knowing the original, it's about experiencing them in a different presentation style."
Think Saturday Night Live set to music — where the jokes and humour come from the situations characters may find themselves in, even if that means turning the premise into something completely different.
"If you're coming to hear lovely songs from Phantom of the Opera, you may be disappointed," Smith said with a laugh. "This is about taking those songs and making them funny."
Since its inception, MTP has continued to grow as not only a collection of creatives, but as a family — something that has continued with their latest cast.
"It's not only about getting on stage and exploring yourself artistically, it's the people you get to work with, as well," said McKone. "You develop a really close bond . . . we've literally created so many families through this group. It's an amazing feeling."
While the cast may not be the same line-up as the original, the crew at MTP hopes Broadway to the Max will intrigue both new and returning fans alike.
"Once you've worked a show together it's really difficult not to have that instant connection," said Smith. "With theatre, you see people you haven't been in a show with for 15 years, and there's still that instant connection — sometimes that goes for regular audience members too."
More than a night to just reminisce, the show was originally created to not only celebrate the Broadway musicals of the previous decade (with a little tweaking here and there), but to give audiences a moment to sit back, relax, and have a good laugh — something we all need from time to time. The same holds true today.
"All these years later, these songs have stood the test of time. What has changed is our heightened sense of political correctness and global awareness," said Smith, adding even though the world sometimes takes itself too seriously, MTP's goal with this reimagined update is unchanged. "It's all about providing a fun-filled night out together, a tasty meal and an uproarious show that looks at the oh-so-stony-faced world through the lens of comic craziness, and most of all, to remind us that we still adore the liberating joy of cracking open our somber masks to laugh at that world . . . and at ourselves."
Broadway to the Max takes over The Wave at Western University's UCC Building from June 20-23. Dinner packages are $48, while limited show-only tickets, or those from Saturday's matinee (which does not include a meal) run $28.
For more information, or to purchase tickets, visit mtplondon.ca/broadway-max, or call the Grand Theatre Box Office at 519-672-8800.
Photo by Bryan Nelson