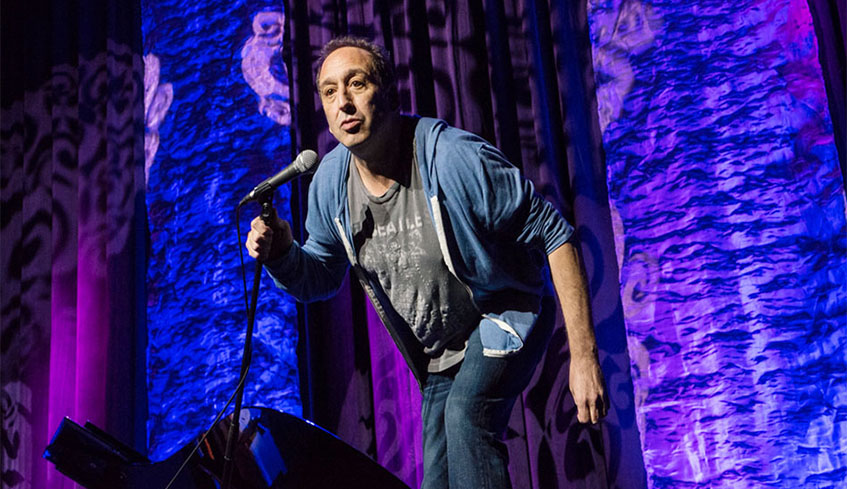 By Whitney South, Best of London. 02.04.19
The first time Jeremy Hotz knew he was destined for a career in front of the mic, he was just 11-years-old — and wasn't about to let anything stand in his way.
Not even a debilitating case of anxiety.
Instead, the comedian drew on his own life as inspiration, quickly making a name for himself as one of the most unique stand-up comics working today.
Good thing too, since he was pretty sure no one was going to let him do anything else.
"Well nobody would hire me, so I didn't really have a choice," Hotz recalled in his trademark deadpan. "To be brutally honest here . . . I never really had another job. I guess people didn't really like the look on my face — I guess they thought I couldn't be trusted. So yeah, I could get a bunch of people to pay to watch me perform but I couldn't get a job at Harvey's."
Instead of flipping burgers, Hotz ended up having to settle for a gig as an internationally recognized comedian with numerous sold-out tours under his belt, and a string of successful DVD releases, not to mention a couple stand-up specials and regular stints on some of the biggest shows in late-night.
He's also a Gemini and Dave Broadfoot Comic Genius Award winner — no wonder they call him the master of misery.
Now, Hotz is hitting the road once again courtesy of the Dangerously Handsome tour, which will take him across the country for 23-shows, including a stop at London's Centennial Hall Thursday, Feb. 28.
"Should be wonderfully warm by then. That's the time I decide I've got to go — get out of LA, when it's terrible weather in Canada," he said. "I've been to London before. It was a really, really good last time. I got out alive . . . that's my story, let's leave it at that."
No stranger to the Great White North, Hotz grew up in Ottawa, and recently made a trip back to film his newest comedy special, Profoundly Disappointed — complete with an appearance by his constant companion Shackleton the Wonderdog, lauded as the world's smallest service animal.
"He ran out on stage at the end of that one," Hotz remembered. "They seem to like the dog more than me. But you don't say that to him because he knows he's the show now."
While his diagnoses may have only come to light a couple years ago, the comedian maintains anxiety is something he's lived with most of his life and he was surprised by how fans would connect with the show — many of them sharing personal stories while he was signing autographs after a set.
"My act is based on things that really happened to me . . . I didn't really know how many people it would affect," he said, adding he's even done a bit of work with the Canadian Mental Health Association, helping out when he can. "For me, I guess I'm lucky. There's this thing called adrenaline and when it comes pouring in all my anxiety just melts away. It doesn't really bother me on stage — leading up to it, it's not so good if you know what I mean — but stand up is my show."
Jeremy Hotz's Dangerously Handsome tour hits Centennial Hall Thursday, Feb. 28.
For more information, or for tickets, visit centennialhall.london.ca.