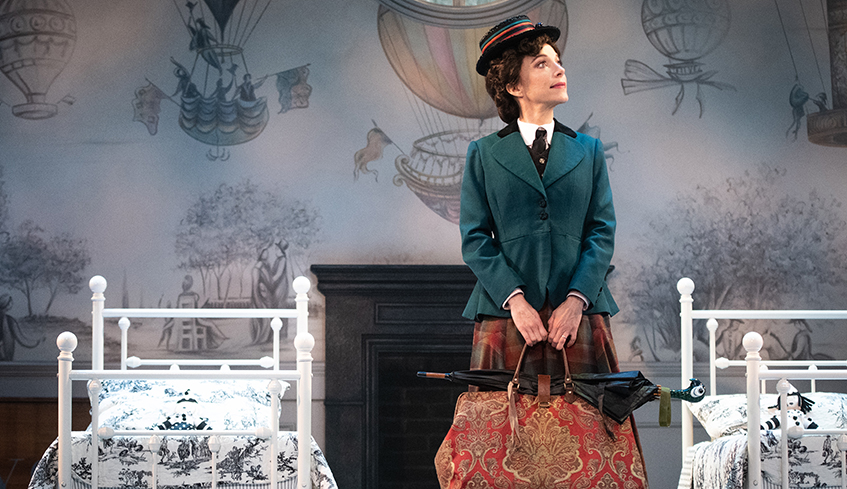 By Whitney South, Best of London. 11.11.19
One of the most beloved characters from both page and screen is making her way to the Grand Theatre — just in time for the holidays.
Disney and Cameron Mackintosh's Mary Poppins has captivated audiences the world over, and soon it'll be London's turn, with performances kicking off Tuesday, Nov. 26, on the Spriet Stage.
The crew at The Grand couldn't be more excited.
"All of those glorious songs we know from the classic movie come beautifully to life in this new stage version," says Artistic Director Dennis Garnhum. "A family classic for the best reasons: uplifting melodies, big-hearted characters, all wrapped inside a huge dose of love. Simply put, a perfect musical."
And it's one that has delighted Broadway over thousands of performances and received nominations for nine Olivier and seven Tony Awards, including Best Musical.
Set in England in 1910, audiences are introduced to the troubled Banks family, where young Jane and Michael have sent many a nanny packing before Mary Poppins arrives on their doorstep. Using a combination of magic and common sense, Mary must teach the family how to value each other again, all while taking the children on magical and memorable adventures. But the kids aren't the only ones upon whom she has a profound effect — even the grown-ups learn a lesson or two.
Stepping into the lead is celebrated Londoner and critically acclaimed actress Deborah Hay, taking on the role of the nanny who's practically perfect in every way.
And she's more than ready to fly (literally) in a musical that not only draws from the Disney classic, but also from the work of author P.L. Travers, creating a type of fantastical, theatrical fusion — one Hay believes will surely delight London audiences.
"I find the story of the Banks family so, so familiar . . . it's something that everybody can relate to. Family relationships can be so complex, even when they're full of love," she explained, adding it isn't until things seemingly fall to pieces that the family gets to experience some really special moments. "The little kids are still so full of curiosity and innocence and just want their father's attention. It's a struggle, but in the end the story is just so moving."
In addition, Hay maintains a story like Mary Poppins truly brings out the imagination in everyone, often helping rekindle the joy and innocence that's lost along the way.
"There's something about children in play; they understand and live innately from what's essential within us," she said. "It's really so pure. This show takes us back to what's essential, which is such a joyful thing."
Also no stranger to the Forest City, Mark Uhre's Bert is sure to bring some hometown love to the stage — which will be a full-circle moment for the young actor, whose first theatrical experience was going to see The Grand production of Barnum when he was just five-years-old.
"I sat in the orchestra with my grandmother, and I still remember it," Uhre said with a smile, adding this time around it will be his niece who will hopefully enjoy the same kind of wonder and excitement. "The sense of community is overwhelming, and the music is just so beautiful. I know the whole cast is excited to spark that childhood recognition of creativity and imagination in our audiences. It's going to be amazing."
Disney and Cameron Mackintosh's Mary Poppins takes over the Grand Theatre's Spriet Stage (471 Richmond St.) Tuesday, Nov. 26 to Sunday, Dec. 29.
In addition, guests are invited to pull up a chair for a casual conversation with artists from the show at The Grand's Speak Easy series on Wednesdays — November 27, December 4, 11, & 18, after the performance in the theatre's Poster Lounge.
Or, join James Reaney and a guest speaker as they delve more deeply into the production with a pre-show talk on Wednesday, Dec. 11 at 12 p.m.
Tickets are available at grandtheatre.com, by phone at 519-672-8800, or at the box office.