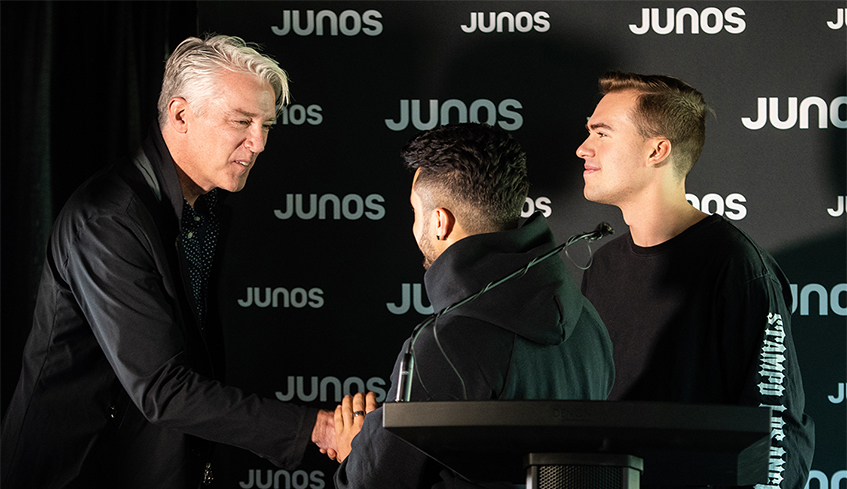 By Whitney South, Best of London. 11.22.18
With the 2019 JUNO Awards set to hit London in just a few months, organizers took over Budweiser Gardens Nov. 22, eager to announce a string of exciting upcoming events, as well as the first performers in what will no doubt be a jam-packed roster of Canadian musical talent.
Loud Luxury, a duo formed right in here in the Forest City, who have gone on to major success earning both gold and platinum certifications for hits like Body featuring Brando and Love No More, will take the JUNO stage for the awards broadcast, going live across Canada on CBC, CBC Radio and globally on CBCMusic.ca/junos at 8 p.m. ET on Sunday, March 17.
University friends and Western University alumni Andrew Fedyk and Joe De Pace of Loud Luxury may be busy carving a name for themselves across North America and beyond but couldn't pass up a chance to fly in from Los Angeles for the announcement.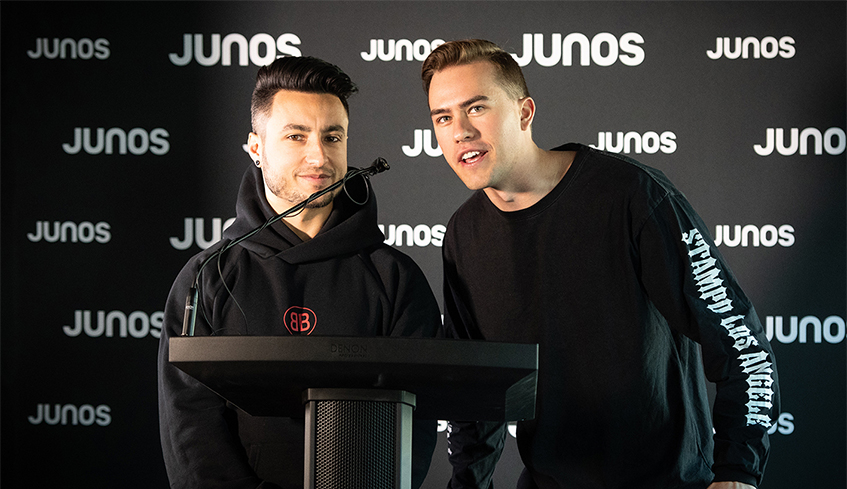 "We grew up watching this as kids, dreaming of being up there one day," said Fedyk. "So, to have this opportunity and to do it in the place where it all started for us — I don't think there's any better feeling."
Along with the broadcast, London will host an entire week of JUNO programming, giving music enthusiasts a chance to interact with Canadian talent, including JUNO Fan Fare, Junior Junos, the JUNO songwriters circle, JUNOfest, and the JUNO Cup, where Canadian musicians lead by their loyal captain Jim Cuddy from Blue Rodeo and NHL legends will go head-to-head at the Western Fair District Sports Centre on March 15.
According to Allan Reid, President and CEO of the Canadian Academy of Recording Arts and Scenes (CARAS)/The JUNO Awards and charity MusiCounts, the JUNOs are so much more than just an awards show.
"It's really grown into a multitude of lead-up events and celebrations," he explained, adding his favourite event, the JUNO Cup, is not only a great time, but a really wonderful family event and a fundraiser for MusiCounts. "In 16 years, our rockers have only pulled out the win once, but we're hoping London will bring them a lot of luck."
Canada's music education charity associated with the JUNO Awards and CARAS, MusiCounts is dedicated to keeping music alive across the country by putting musical instruments into the hands of children that need them most.
It's also a cause Chris Campbell, chair of the 2019 JUNO Week Host Committee, and the rest of his team have continued to champion throughout the year with a very special initiative, collecting $1 from each ticket sold at Centennial Hall, Budweiser Gardens and London Music Hall. So far, they've raised $100,000 towards the cause — which has been called a major milestone.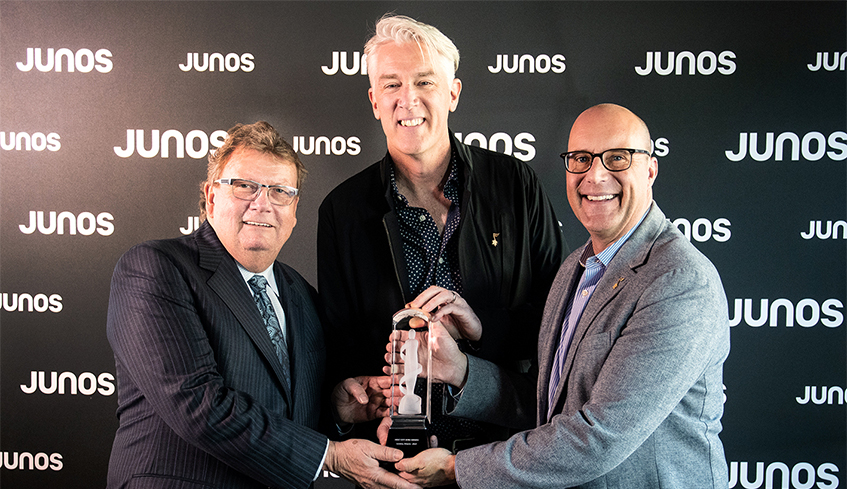 "I would like to thank the amazing people at Spectra Property Management, operators of Budweiser Gardens; Mike Manuel and his family, owner and operators of the London Music Hall, and Jones Entertainment Group, operators of Centennial Hall for this fantastic partnership," said Campbell. "This is going to have an incredible impact on so many peoples' lives."
It was a sentiment shared by Reid, who heralded the committee's efforts.
"To put that a little bit more into perspective . . . that will fully fund 20 elementary school music programs," he explained. "Those instruments will go into those schools will last 15-20 years, literally thousands of children — so that's an amazing result so far and I can't believe there's still more to come . . . the idea of donating $1 from every ticket is one we've done in the past, but the London Host Committee has honestly taken this to a whole other level."
Additional announcements for the 2019 JUNO Awards Broadcast will be released in the coming months.
Tickets to the 2019 JUNO Awards go on sale Friday, Nov. 30 at 10 a.m. ET. Tickets are available starting at $79.95 (plus fees) online at www.budweisergardens.com, by phone at 1-866-455-2849, or in-person at the Courtesy Ford Box Office on-site at Budweiser Gardens Gate 1.
For an additional $10 a ticket, plus shipping, fans are also able to purchase a 3D souvenir ticket, the ultimate keepsake and perfect way to commemorate Canada's biggest night in music.
Thanks to a partnership with the City of London, $1 from each broadcast ticket will be donated to MusiCounts.
Meanwhile, sports music fans can purchase tickets for the much-anticipated 2019 JUNO Cup beginning Friday, Nov. 30 at 10 a.m. ET. Tickets are available for $20 (plus fees) or $15 (plus fees) when purchasing 10 or more, and can be picked up online at www.budweisergardens.com, by phone at 1-866-455-2849, or in-person at the Courtesy Ford Box Office on-site at Budweiser Gardens Gate 1.
Photos by: Whitney South