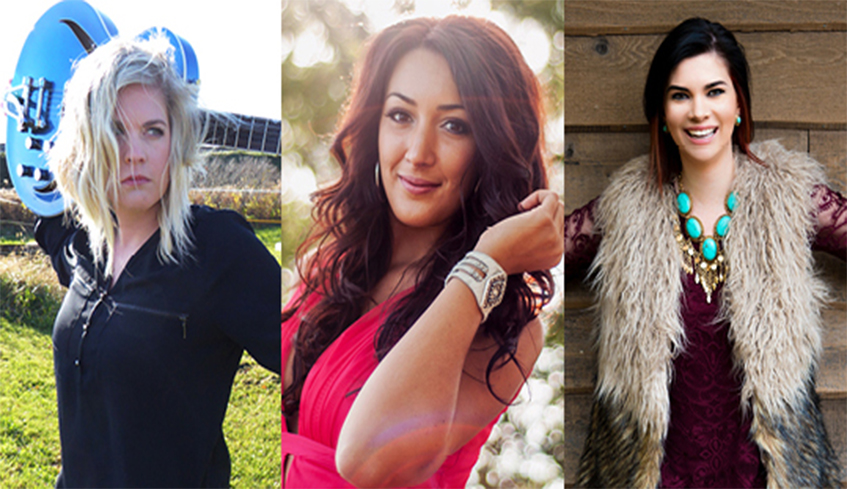 By Whitney South, Best of London. 02.28.18
From Dolly Parton to Shania Twain, Loretta Lynn to Miranda Lambert, woman have long cemented their place in country music.
And though many still see the industry as a kind of boys' club, London singer/songwriter Karen Emeny maintains there's a lot more going on than meets the eye.
Especially in the Forest City.
"I feel like over the last couple years we've seen a little bit of a 180 . . . with a lot more female musicians playing and being promoted," she said. "When it comes to the larger festivals, I do still think it's very male-dominated, but when you look at the heart of London, it's more of an even playing field."
Now, Emeny is joining forces with fellow artists Melissa Megan and Alessia Cohle for Sisters in Country at Cowboy's Ranch on Friday, March 3, with a portion of ticket sales going to My Sisters' Place — an organization helping women support each other through experiences with trauma, mental illness, homelessness, addictions and poverty.
"We thought not only could we promote local female musicians, but also bring in money that could go towards a good cause that's focused on women," she said. "It just kind of all came together . . . and it's a really solid line-up."
While hometown girls Emeny and Megan first met performing on the Side Track stage at last year's Trackside Music Festival, Cohle is new to the mix — but jumped at the chance to be a part of the girls' night out.
"When they asked me, I didn't even ask my band if they were free," she said with a laugh. "I didn't hesitate for a second."
After releasing her latest single Wanderlust to the tune of over 25,000 streams on Spotify and over 10,000 views on YouTube, Cohle has continued to make her mark on the Canadian country scene.
With stints opening for Brett Kissel, Jake Owen, The Road Hammers, and George Canyon under her belt, the Mississauga-native has come a long way from performing at Italian festivals across Ontario with her grandfather.
"That's kind of where my love of performing began — literally from eight years old I never looked back," she said, adding with that kind of ambition, along with the experience of her first Shania Twain concert, the would-be singer was hooked. "I remember pointing at the stage, looking at my mom and saying 'that's what I'm going to do.'"
As for that whole boys' club mentality? Cohle explained while she may hear the expression from a lot of people, including fans, it's shows like Sisters in Country that can keep the momentum going when it comes to shining a light on female artists.
"It's about supporting each other and not being in competition," she said. "We called it Sisters in Country because we really do feel that way, and I'm proud of that. We have to stick together."
Sisters in Country — Alessia Cohle, Karen Emeny, and Melissa Megan at Cowboys Ranch (60 Wharncliffe Rd. N.) Saturday, March 3, from 7 p.m. to 10 p.m.
Tickets are $10, with $2 going to My Sisters' Place.