Tis' the season for shopping - shopping for our families, friends, co-workers and of course ourselves. We understand that even though December is supposed to be the most wonderful time of year, it may also be the most stressful (and cold) for most Canadians and tourist. Just because Mercury is in retrograde does not mean that our sense of style should suffer. We want to make your holiday shopping, and gift giving easier so we here at Tourism London have teamed up with some of the coolest local shops to show you what your loved ones will need to look as trendy as a Caramel Brulée Latte in the new year!

Channers
Address: 581 Wonderland Rd. S
Website: www.channers.com
Channers is located in the West end of town. Similar to their high quality clothing, their free-standing building replicates the same. Channers carries up and coming lines and brands from all over the world that thoroughly encompass the culture of royal family meets New York City fashion blogger. Because Channers offers shop by appointment, special tailoring, wardrobe consolations and much more, there is no room for excuses this year. Any Christmas gift from here will not disappoint!
As you know, Megan Markle and her (literal) Prince Charming have recently broken the internet with their #RoyalEngagement. This season we have seen Markle and Catherine, Duchess of Cambridge sport one particular Canadian brand that we are in love with - Sentaler. The Long Wide Collar Wrap Sentaler Coat can be found at London's very own Channers Men's Ladies Apparel.
Channer's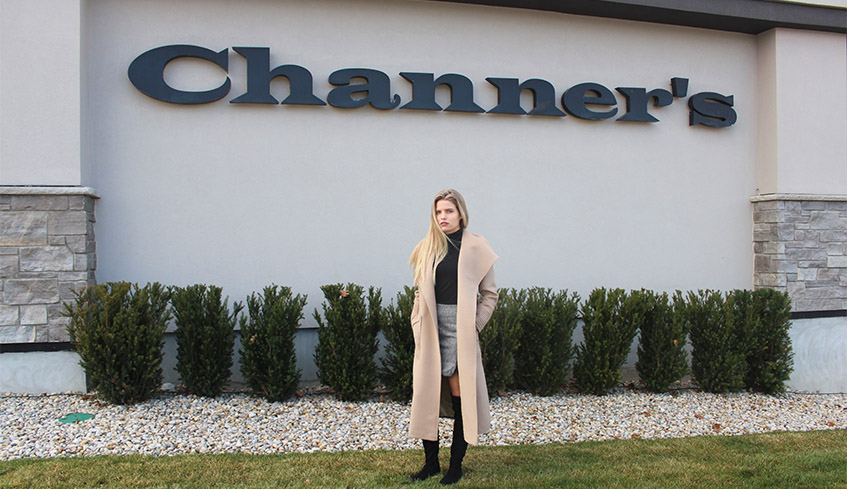 With the "winter" weather we've been experiencing this year, there may not be a need for a coat. Winter is meant for layering and this is exactly what Channers is suggesting this season. Here you'll find the perfect chunky knit sweater for lifestyles and personalities of all kinds. This trend is good for all ages, occasions and lifestyles. Pair it with a neutral toned vest and running out the door has never been easier.
Channer's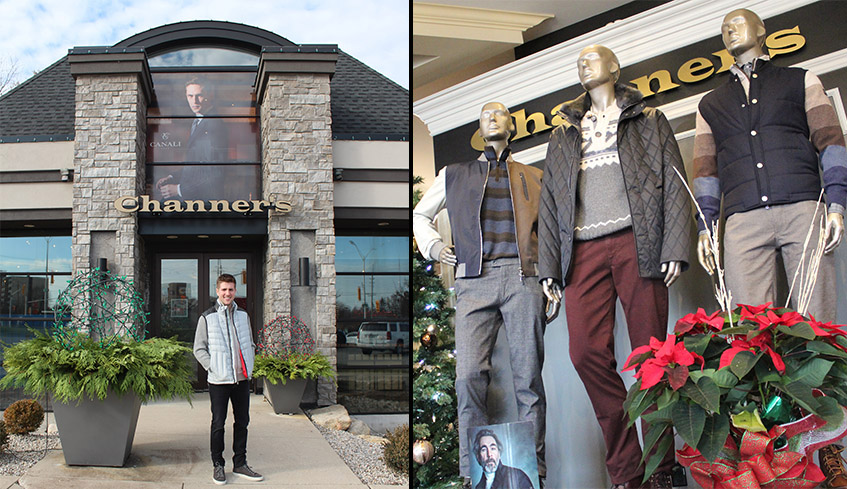 Saffron Road
Address: 577 Richmond St.
Website: www.saffronroad.ca
Recently featured on Venture Cover Magazine is mother-daughter duo Gail- Lynn and Brianna of Saffron Road located in the heart of Downtown London. Not only are they the only retailer in London that carries the brand Moose Knuckle, but their variety of retail options vary from clothing to shoes, accessories and the chicest and most delicate jewelry in London, Ontario. Saffron Road is as versatile as their customer's lifestyles. As expected, you will definitely be treated like family here.
After discussing with Gail- Lynn, we decided that sleeves are the new black this season. From bell to bishop to off the shoulder and exposed, there are SO MANY SLEEVE OPTIONS! Together we chose the Ventura Blouse by Parker in Ivory paired with these edgy, satin Joie jogger styled pants (Dyre D Pant in the colour Caviar). Whoever said it was not acceptable to mix trends was wrong – you just have to do it the right way.
Saffron Road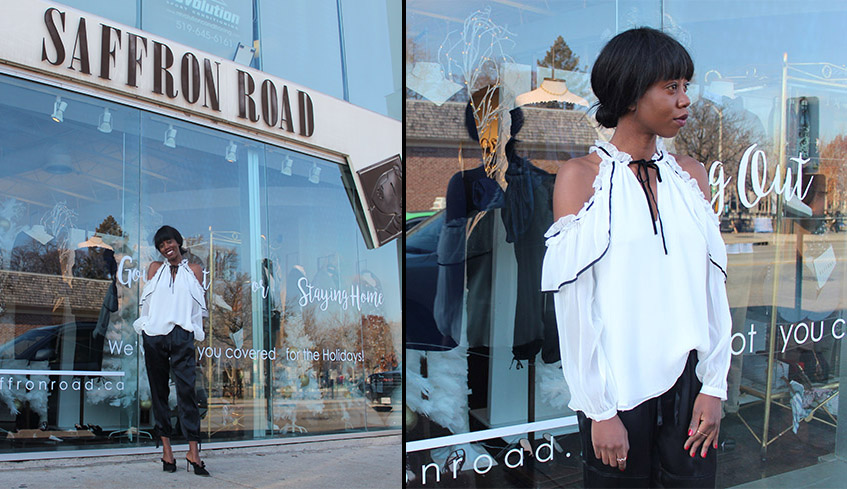 Jordan stewart
Address: 533 Richmond St.
Jordan Stewart, owner of Jordan Stewart Boutique has made quite the name for herself in the fashion industry. The retail store consists of all things pretty and elegant – perfect for all the girly girls this season. This is the perfect location for anyone looking for a trendy New Years Eve party outfit that'll match any plans you may have – from a night out at your favourite club or even a smaller house party, JS is your go to girl… or should I say store?
Sticking with the New Years theme, we opted for an outfit that was more on the untraditional side. This plum coloured velour jumpsuit with a detailed criss-cross back is all you need to keep warm yet stylish while ringing in the new year. No matter how you may be celebrating this year, velour is a trend that we're hoping will transition into 2018!
Jordan Stewart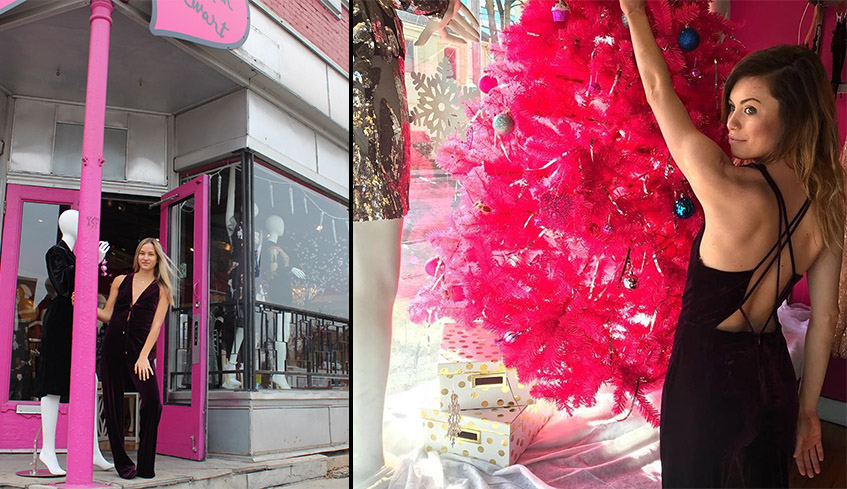 Life of Leisure Surf & Social Club
Address: 792 Dundas St.
Website: www.lifeofleisure.org
'Tis the season of overcrowded malls and endless hours looking for parking spots why not go to a local boutique? Life of Lesiure Surf & Social Club stands for simplicity in quality and comfort when it comes to their apparel. This local clothing company ensures their products to be made of an "intelligent blend of life's responsibilities and its' pleasures". Life of Leisure is also giving away a 15% discount to anyone who brings in a piece of winter clothing/perishable food item until December 31, 2017!
Life can get hectic, especially around this time of year so we understand if you don't feel like getting dressed up to write exams or pack your kids into the car. If you haven't heard yet, athleisure is officially in. Yes, you heard it here first, athleisure: the most comfortable fashion trend known to (wo)man where clothing designed for athletic activities are worn outside the gym! Find this versatile Leisure Pullover Hoodie in stores today and wear it wherever you please in the new year!
Life of Leisure Surf & Social Club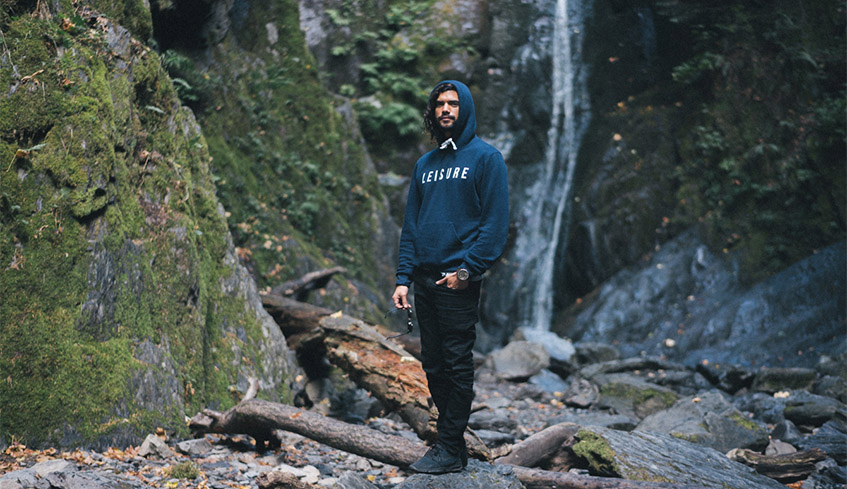 David e white
Address: 171 Queens Ave.
Website: www.davidewhite.com
Are you looking for something a little more personal this year? David E White is a custom clothier and menswear store serving right downtown London. They provide various forms of concierge services from corporate office services to wedding parties and everything in between. It's a one stop shop when visiting David E White as they also have a built in barber shop for all your grooming needs! This is the perfect location for those with a busy lifestyle, especially around the holiday season.
Casuals are in. Schedules are busier than ever and every man needs a good pair of high quality jeans to last them a life time! We're attacking two trends at David E White: quality denim and moss green! These moss green Naked and Famous jeans can be found at David E White. The Japanese fabric allows for higher quality that ages and fades beautifully through wear, tare and wash. Just like #LdnOnt, they only get better with time. The best part, all of Naked and Famous' products are proudly cut, made and sewn in Canada.
David E White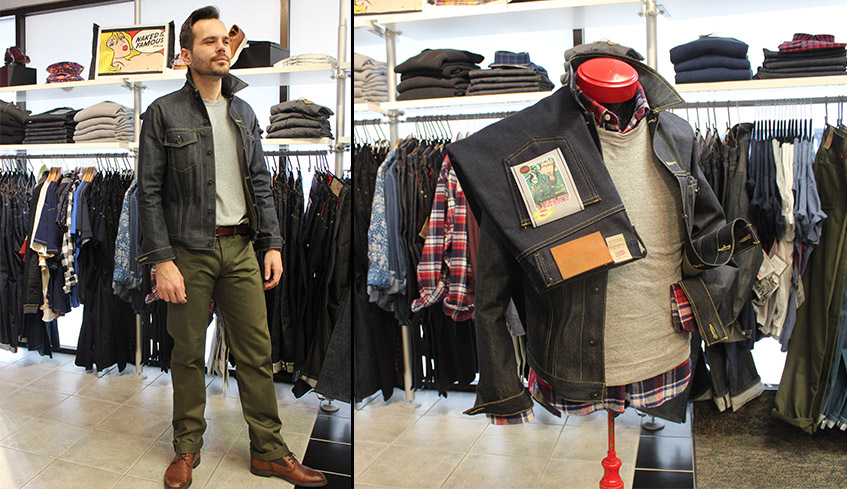 Tourism london
Address: 696 Wellington Rd. S or 391 Wellington St.
Website: www.londontourism.ca
Finally, our winter gear is in! We've been waiting all year for these to arrive. With much thought and effort, Tourism London officially has the trendiest city gear you've ever seen. If you don't have one of our red plaid beanies were you really in #LdnOnt? I don't think so. Great for all style types, it can be worn two different ways. And if plaid isn't your thing, black is back (I don't think it ever left though) and we have that too! One beanie, two styles, two colour options and only $18 (after tax) each! Don't forget about yourself this season - have you entered our Facebook contest to win a free winter set yet?
Tourism London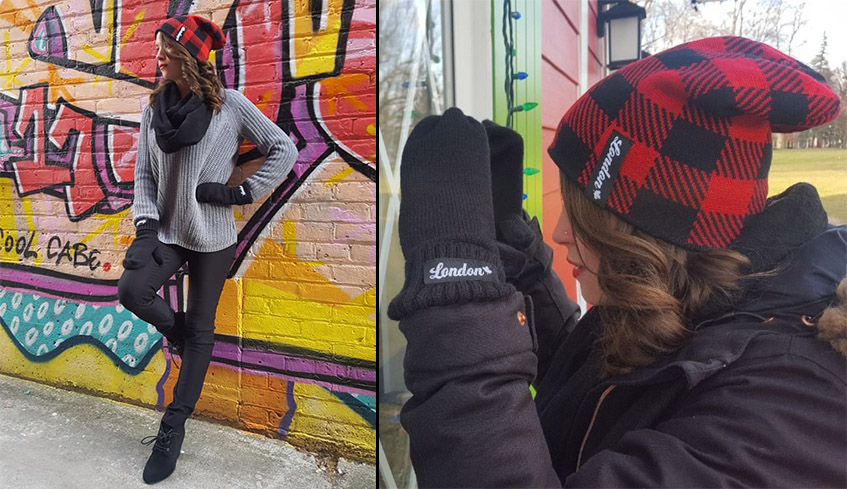 Now that you've all the information you need, what're you waiting for? Why are you still reading? Everyone's already in stores snagging your best friend's future Christmas gift and quantities will not last long I can guarantee that. Once you've finished shopping, whether it be for yourself, your parents, best friends, significant others, yourself (did I already say that?) we want to see your new purchases! Tag us on Instagram to be featured on our website! #LdnEnt @LdnEnt #LdnGem