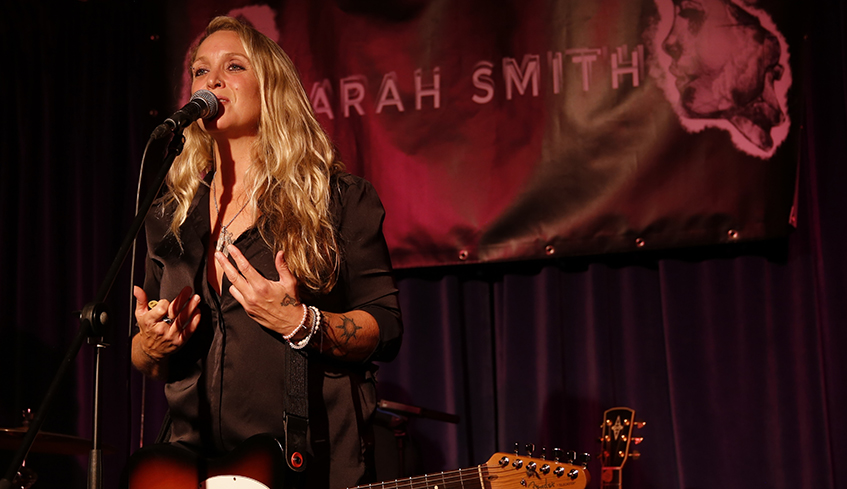 By Whitney South, Best of London. 12.03.19
It's safe to say Sarah Smith is one of the hardest working artists in the Forest City music scene.
But more than just promoting her latest album (the most recent, Unveiling, dropped just last week), the musician is all about spreading the love — filling her holidays with everything from charity events to feel-good festivities.
As unconventional as some may be.
In just two weeks, she'll join forces with Medium Tania Thomas for A Visions N Voices Christmas, taking over the Spirituality In You Healing Center Tuesday, Dec. 17.
Billed as an evening of wonderful holiday music and messages from those gone but not forgotten, it's the kind of team-up the Smith has been a part of several times over the past five years — and one that continues to leave her in awe.
"We do six or seven songs to help calm peoples' energies, that helps bring spirits into the room and then Tania does open readings," she explained. "Each time, I've been lucky enough to really see peoples' lives change."
While she wasn't always a believer, Smith had her first reading thanks to a wedding party gift — though, at first, she didn't really want one.
"I had never connected with a Mediums before, but even from the beginning, something just clicked with Tania. I thought she was incredible and her reading really made me feel comfortable. I wasn't really looking for answers or insight, but she told me things about my life that really made me look at things in a different way."
The event is meant to provide support through some of life's most difficult experiences, and find guests immersed in an evening that is uplifting, inspiring and comforting.
According to Thomas' website, audiences all over Canada find peace in this unique pairing of music and messages, adding "spirit respond best to music, to laughter and to memories that make you smile."
For Smith, the holidays are a perfect time to take that dive into the unexpected — as you never know what you may find.
"I've always thought Christmas was fun and light-hearted and as I became more of an adult, I realized that a lot of adults are dealing with loss, including parents and family," she said. "Christmas is also a time where we celebrate change and storytelling. The music is uplifting and the when the messages come through, it's really special. It's something you'll never know until you've experienced it."
A Visions N Voices Christmas takes over the Spirituality In You Healing Center (1629 Dundas St.) Tuesday, Dec. 17.
Tickets are $35 and are available at taniathomasthemedium.com/live-events.
A portion of ticket and CD sales will go to benefit My Sisters Place, and pass the hat donations will also be accepted.
Seating is limited and door sales are not guaranteed.
In addition, Sarah Smith will be playing a pair of gigs in London this month, including a holiday show at the Forest City London Music Hall of Fame (182 Dundas St.) — alongside Swagger and Deni Gauthier — on Friday, Dec. 13; as well as a free show at The Wortley Roadhouse (190 Wortley Rd.) on Thursday, Dec. 19.
For more information, check out A Visions N Voices Christmas on Facebook, or visit www.sarahsmithmusic.com.
Photo by: Conny Keifer