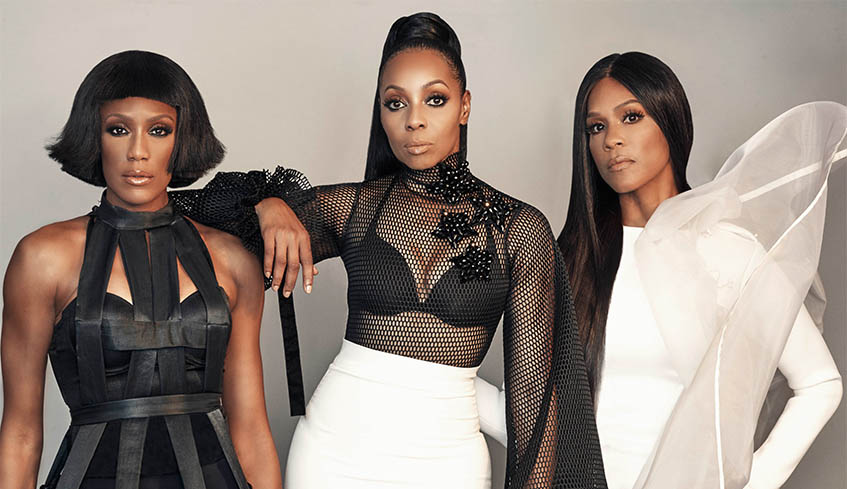 By Whitney South, Best of London. 06.22.18
If you're lucky enough to catch the world's attention, you better have something to say.
More than just pretty words, it's a mantra that has been a driving force for the women of En Vogue for over 25 years.
"We've always felt it's important to really believe in what we're singing about because people are listening to us and that in itself is a blessing," said founding member Terry Ellis. "We've always felt if we have the opportunity, we better have something of substance. We're trying to touch and inspire and uplift and encourage everyone who listens to our music."
In just a couple weeks, Ellis, along with Cindy Herron-Braggs and Rhona Bennett, will hit the stage for Rock the Park's Bring Back the 90s night on Friday, July 13, joining a powerhouse lineup including Coolio, Boyz II Men, Sisqó, Montell Jordan and Naughty by Nature.
The Forest City stop comes on the heels of the group's second spin around Europe in support of a new album, Electric Café — their first offering in 14 years — with the lead-off single Rocket quickly breaking into the Top 10.
Spearheaded by long-time producers Denzil Foster and Thomas McElro, the record also gained support from mastermind Dem Jointz, who's worked with likes of Dr. Dre, Rihanna and Janet Jackson, and musical jack-of-all-trades Raphael Saadiq.
"Raphael is like our homeboy, so we've got the Oaktown flavour in the house," Ellis said with a laugh. "We're just so excited to have released this new project and to know that we're continuing to evolve with the time and have gotten to work with so many amazing people."
Add to that an appearance by the one and only Snoop Dogg on the track Have a Seat, and the group has proved though times have changed, determination, drive and talent will never go out of style.
Initially slated as the group's first venture into the world of EDM, it didn't take long for Electric Café to take on a life of its own.
"It all started because we had never done electric dance music before, and that's when we came up with the name," Ellis explained. "But as we were going through the creative process, it kind of started to change, and we let it have that creative freedom — ending up with some really cool flavours."
While the record boasts no shortage of En Vogue's signature harmonies, it's the trio's growth in both their personal and professional lives that really makes the music shine.
"We've always been known for stepping out of the box musically, so it's not that the music has necessarily changed, but our lives have," said Ellis. "We've grown so much and we're older now, but we're still giving the message and vibe on our record that we always have. There are little girls out there that listen to us . . . in some ways you become a role model."
Still recognized as one of the Top 5 highest selling American female music groups in history, En Vogue has sold over 20 million albums to date. Transitioning into the digital age, the trio has garnered over 30 million streams and 26 million-plus YouTube views on their Top 6 hit singles alone; including smash hits Hold On, Free Your Mind, Never Gonna Get It, Giving Him Something He Can Feel, Don't Let Go, and Whatta Man (feat. Salt N Pepa).
Even with brand new record in tow, Ellis, Herron-Braggs and Bennett maintain they'll never forget where they came from, and know what fans want to hear.
"It's been really cool to create that balance between the older favourites and our new music. It's about always living in gratitude," said Ellis. "We've been grateful and appreciative to get the chance to do this. We're so passionate about it — it's something we always dreamed about and prayed about as little girls. So, to have the opportunity to get up there in front of our fans and give them the best show possible is really what drives us."
Rock the Park runs July 11-14 in Harris Park.
For more information, or to purchase tickets, visit www.rockthepark.ca.