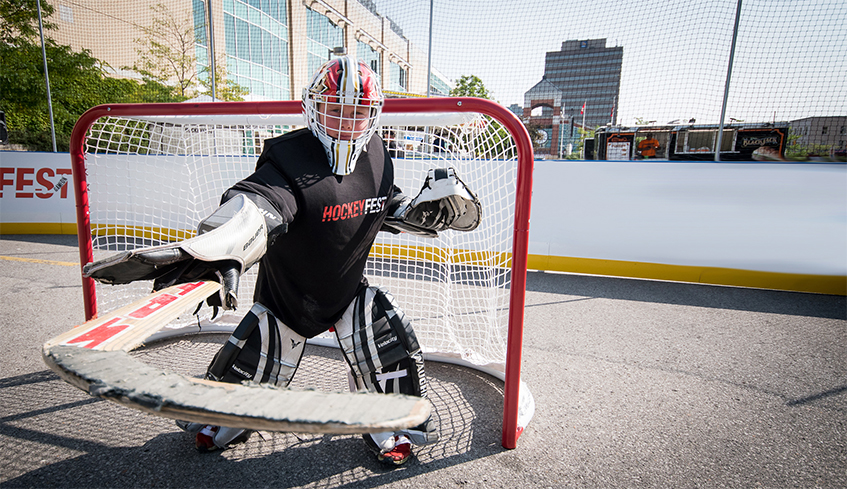 By Whitney South, Best of London. 12.17.18
For most, growing up in Canada means a deeply ingrained love of all things hockey.
And while not everyone may have been lucky enough to enjoy those early morning trips to the local rink, excited yelps of "Car!" and "Game on!" continue to be heard in neighbourhoods near and far.
Hoping to take that excitement to the next level, Jones Entertainment Group (JEG) recently announced the launch of HockeyFest — Game ON!, set to take over parking lots across the province next year.
Billed as a tournament with a festival feel, organizers will be pulling from their extensive knowledge of event management (after all, these are the same folks behind London's beloved Rock the Park Music Festival) to make HockeyFest a weekend like no other — bringing with it the passion of sport, music, food and fun together.
"I'm probably more excited for this than any other project we've created," said JEG President Brad Jones. "We're so proud of everything we've done, but we're all feeling the excitement of starting something from scratch and making sure we have the best partners — people who really believe in what we're doing."
An avid hockey fan for as long as he can remember, Jones jumped on the notion to put together something new for tournament-goers after an old friend from college approached him with the idea two years ago.
Since then, it's been a whirlwind of research and planning, making sure their offering will be the best it can be.
Each game will be played on 50 percent to scale NHL-sized rinks, while each tournament will feature four-on-four road hockey for divisions of all ages and genders, without the worry of lost balls, or faulty fencing, thanks to a partnership with Athletica Sport Systems.
After all, what would a world-class tournament be without actual boards?
"When you're chasing the ball outside the rink, they end up flying over hay bales and 2x4s, so we have a deal that we have a patented license with Athletica who build 30 of 31 NHL arena's boards, to incorporate a travelling hockey board system," Jones explained. "That means we have real boards, and real netting behind the goalies to keep the ball in play. It's going to be amazing."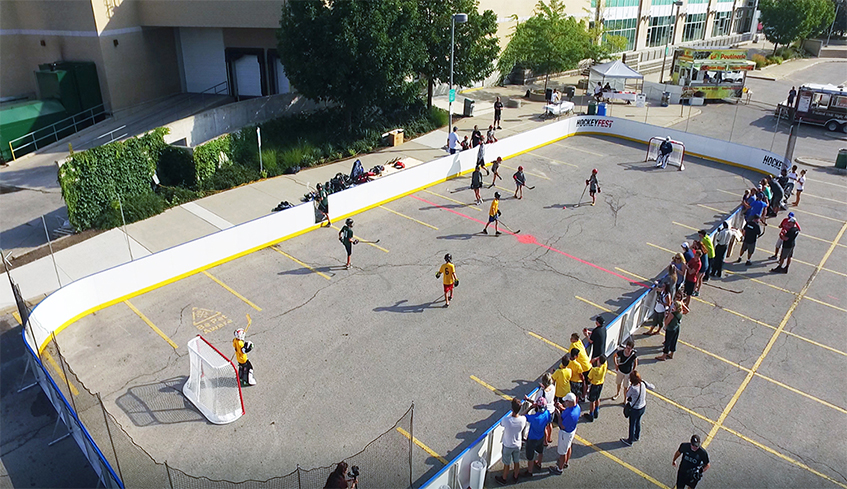 In addition, HockeyFest will see DJs spinning throughout the day with local live music at night, while visitors can indulge in their favourite food and beverage vendors and drinks with the team or kill time by playing about a slew of interactive games and more.
"Let's say your son or daughter plays at 10 a.m. and then not again until 2 p.m., so what do you do with all that time? Especially if you live out of town," said Jones. "So, we bring in food trucks and with a full-scale tournament we'd have over 30 interactive games — it's about creating that family-friendly, festival atmosphere."
While HockeyFest is set to take over a number of cities across Ontario, London's turn is set for May 25-26, which a portion of the proceeds going to the Brandon Prust Foundation, an organization that has been helping improve kids' lives since 2014.
"We took our time with this, did our due diligence and watched other tournaments — some here in London and some in Halifax — to make sure we knew what worked and what didn't," Jones explained. "Our tagline is real rinks, real refs, real fun, and that's really what's most important to us. We're really excited for everyone to see what we've come up with."
HockeyFest — Game ON! will take over London's Western Fair District in support of the Brandon Prust Foundation May 25-26. Registration opens Friday, Feb. 1.
For more information, visit www.hockeyfestgameon.com.