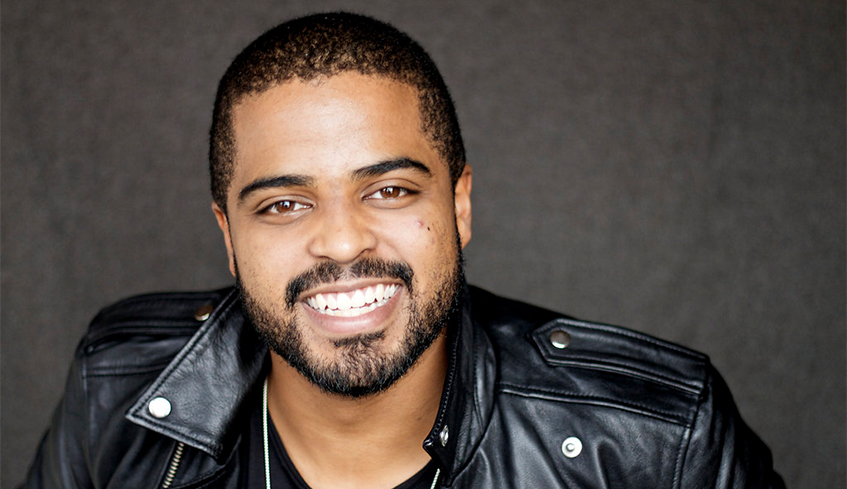 By Whitney South, Best of London. 11.26.18
An aptly-lit kickoff to the upcoming holiday season, the CP Holiday Train will once again roll into downtown London with some big names in tow, including Canadian country star Jojo Mason.
And frankly, he couldn't be more excited.
"When they told me I would actually get to play the Holiday Train — and I'd get to play Christmas music for five days in 19 different cities — it was a no brainer," he said with a laugh. "It's really going to be the best time ever."
Setting off alongside JUNO Award-winning rockers the Sam Roberts Band, Mason's journey pulled out of Montreal Nov. 25, and will travel through both the U.S. and Canada to bring holiday cheer to thousands of fans along CP's network. London's stop will hit the Richmond Street railway crossing between Oxford and Central on Thursday, Nov. 29 at 8 p.m., with the festivities set to run from 8:30 p.m. to 9 p.m.
While the event is free, CP encourages attendees to open their cupboards and wallets to help address hunger needs in their communities. Local food banks will be accepting donations at each stop to ensure those less fortunate have enough healthy food this holiday season. So far, the event has raised more than $14.5 million and gathered 4.3 million pounds of food for communities on both sides of the border over the past two decades.
"They do so much good for communities that are struggling, and they've raised so much money since they started," said Mason. "It really is one of the coolest things on the planet."
More than just an opportunity to belt out his favourite Christmas tunes, including his own holiday track Santa Came Anyway, it'll also mark a first for the 2018 BCCMA Male Artist of the Year nominee, who had never set foot on a train before.
And no, Vancouver's SkyTrain doesn't count.
As for how he's looking to amp-up the Christmas spirit, Mason maintains fans should be ready for the crew to pull out all the stops.
"I've got a couple of things on the list that I'm going to go look for," he said. "There will never be anything that'll be off-limits when it comes to decorating myself and the band for Christmas, so get prepped for that."
The CP Holiday Train is just one more adventure during an already busy season for Mason, who just released his brand-new single Future to radio Oct. 3. The track, which blends two of the musician's favourite styles, country and soul, was written by Nashville singer/songwriter Mitchell Tenpenny and paints a vivid picture of what can happen when one moment changes your life in ways no one could ever imagine.
"The reception has been so good. It's been anything and everything that I was hoping for," said Mason. "It's so different from anything that I've done previously, but still has me written all over it. It's me in a nutshell and I'm so happy people have stuck with me over the last year of radio silence. I really feel so blessed."
And it doesn't stop there.
After Mason's train hits its final stop in Windsor Friday, Nov. 30, he'll head out east to rejoin Gord Bamford's Honkytonks & Dive Bars tour, which has already taken him across the country since mid-October.
For now, though, it's all about bringing the Christmas spirit to town — be there or be square.
"I love everyone in London, they're always so awesome. We really want you all to come out and hang with your man Jojo and Sam Roberts Band, and chill with us," said Mason. "Don't miss it just because it's cold — there won't be anything better to do Thursday night, I can guarantee that."
To coincide with the 20th anniversary of the Holiday Train, CP is set to release 20 festive songs by artists that have toured on the train over the past 20 years. For 20 days beginning Nov. 25, fans can visit the CP Holiday Train playlist on Spotify for a free song to stream. Users with premium Spotify accounts can download songs onto their smartphone. Make sure to tune in daily for an advent calendar of holiday hits by past artists such as Alan Doyle, Wide Mouth Mason, Terri Clark, Jim Cuddy, Odds and more.
People visiting the Holiday Train are encouraged to take photos and enter CP's Capture the Spirit photo contest. Participants could win a trip aboard the 2019 CP Holiday Train and a $1,000 donation to their local food bank. Further details about the contest will be available closer to the start of the program on the CP Holiday Train Facebook page at facebook.com/HolidayTrain.
For more information, and a full list of stops, visit www.cpr.ca/en/community/holiday-train.