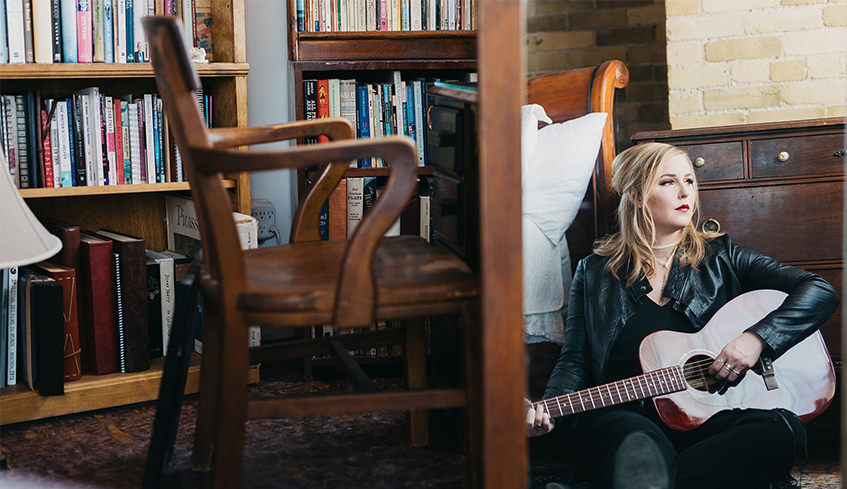 By Whitney South, Best of London. 11.19.18
With a debut album already hitting the airwaves, and currently on the road for her first headlining tour, London's own Jessica Mitchell is living the dream — one that's been close to a decade in the making.
The tour, which kicked off Nov. 14 in Calgary, is set to bring the musician home to the Forest City for a gig at Aeolian Hall Wednesday, Nov. 18, along with support from Canadian country duo Sons of Daughters.
And this time, she'll be bringing along a lot more than just a couple instruments.
"I've spent the last three years touring by myself — everything from driving across the country to being on small stages to big stages with just me, a guitar and a piano, and that can be a scary thing," she said. "It's going to be a long set . . . but, I think I've managed to put together something really cool and create some really special moments for the London crowd."
A lot of those solo trips have been in support of a number of iconic names across varied genres, including Kiefer Sutherland, Royal Wood, Ron Sexsmith, Terri Clark, and Bonnie Raitt. In early 2018, Mitchell hit the road on a cross-country tour with superstar Johnny Reid, followed by a number of shows alongside Glass Tiger and Dean Brody, on his Dirt Road Stories acoustic tour — which she says was not only a good time, but an educational ride, as well.
"I'm so glad I had the opportunity to go out with Dean right before this happened because he's done something so special with this tour, and I really enjoyed listening to him tell stories," Mitchell recalled. "Opening for so many amazing artists has really given me the opportunity to dig in and learn what to do, and what not to do. Now it's my turn to figure out what to say."
Known for her big heart and storytelling prowess, the songstress has often been praised for her open-book mentality, inspiring many with raw honesty — and her much-anticipated debut album Heart of Glass is no exception.
Released in the spring of this year, the record is a culmination of five to six years of firsts, laughs, heartbreak, loss and pain — which has left the artist herself wondering what the future will bring.
"I feel like once it sort of released itself out into the world, that was it," she said, adding making music has always been a type of therapy for whatever was going on in her life. "I'm so incredibly proud of the art we created as a team, and I'm in a really good place now — I wasn't for a really long time, and I'm excited to see what comes next."
Recorded in both Toronto and Nashville, Heart of Glass features a string of memorable tracks, including hit Workin' on Whiskey, fan favourite That Record Saved My Life, and Mitchell's most recent single, Maybe It's Me.
There's also the appearance of a number of notable producers, including Blake Bollinger, Ben Stennis and Karen Kosowski, as well as some ink from hit songwriters Deric Ruttan, and Victoria Banks.
For someone who has made a name for herself by creating an incredibly intimate catalogue of music, Mitchell says it's all about staying open-minded each and every time she walks into a co-write.
"You're bringing somebody into your life and even though things are so personal, I feel like when there's somebody else there, whether it's someone I'm close with or not that I'm writing with, there's a real relatability that they bring to it," she said. "That's why I love co-writing so much, the crazy songs that I write in my room by myself get brought into a session and they help mold it into something that can touch everyone."
Now, on the road and in love, Mitchell knows while things are changing, her craft will always be a reflection of who she is and what she's going through — whether that be rock bottom or soaring to new heights. And with so many new opportunities springing up, she certainly won't be taking anything for granted.
"I can't say I don't have bad days still — we all do, but I can't wait to see what's on the horizon," she said. "The only thing I can do is keep those negative things in the past and move on — that's how we grow and that's how we learn. The next record will be completely different because things have changed so much for me — it's going to be a lot of work, but I'm game."
Jessica Mitchell brings her Heart of Glass Tour to Aeolian Hall (795 Dundas St.) Wednesday, Nov. 28.
For more information, visit www.aeolianhall.ca.