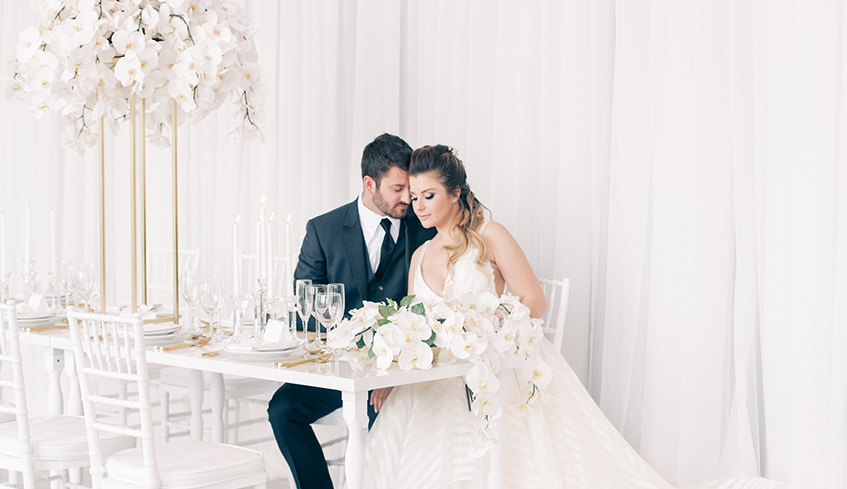 By Whitney South, Best of London. 03.01.18
When it comes to planning a wedding, there's nothing better than being treated like royalty.
Luckily, for brides in search of that little something special, the Luxury London Bridal Show is set to take the Forest City by storm on Saturday, March 3 at the London Convention Centre.
For organizers Lauren De Koster and Sarah Sim, the event is a way to help couples sort through the oversaturation of the wedding market — and point them in the direction of achieving their perfect day.
"The show itself, what makes it luxury, is really the experience," De Koster explained. "Typically, with other trade shows it's a big open space . . . it's kind of like a market and you just walk around. With this, we put a lot of emphasis on styling the event, to make sure every corner is beautiful and there's always something to do."
With about 50 vendors, each included by invitation only, the show is designed to immerse visitors in an environment showcasing the height of style, fashion, and excellence in the local wedding industry.
As a full-time wedding planner and owner of Twelfth Night Events for the past six years, De Koster has been to her fair share of trade shows, but wanted something different for not only her clients, but for all couples in need of a helping hand. To make that happen, narrowing the field was key.
"What we have found in other bridal shows across Ontario is that anyone and everyone can be a vendor. So, if you sell Arbonne or Pampered Chef and pay your price, you're in the show," she said. "As a wedding planner I found it really misleading. We wanted to make sure that anyone in our show has a solid reputation and wouldn't disappoint the bride or groom."
In order for vendors to be invited to the show, pre-requisites included having worked at least three to four years in the biz, as well as more than 75 weddings under their belts, which De Koster and Sim said was essential.
"If I was a bride getting married, I would want to know that my vendors are dependable . . . that they're going to produce what they say that can produce, and my dream will become reality," Sim remarked.
As an event planning manager at the convention centre, Sim has seen her share of shows, dinners and weddings, both big and small, as well as a massive growth in the industry. Teaming up with De Koster just made sense.
"I've had the opportunity to work with Lauren on a number of occasions, and it was great because we often had a similar vision when it came to weddings, and both saw the same kind of needs in the market," she said. "With this show, it's all about the experience. It's about making a day of it."
Highlights will include a champagne bar, where guests can come and sample a variety of bubbles, as well as a food Trendz Bar put on by the convention centre's culinary team. Absolute Vodka will show off their signature cocktails at their ice lounge, while brides-to-be can enjoy a little pampering at the Beauty Bar, with free hair, makeup and sugaring services.
There's also the Petrov's Bridal Lounge, where more than a few lucky brides will no doubt say yes to the dress. Anyone who has pre-booked an appointment will be treated to an hour and a half consultation.
"They'll have a stylist with them and can bring all their friends. There's a lounge and private dressing room, with champagne to drink," De Koster explained. "That's another reason why this show is so different. We're here to help create relationships with amazing vendors, treat the brides to something special, and most of all, make sure they have fun."
For more information, to book an appointment or purchase tickets, visit www.luxurylondonbridalshow.com.