Claus Andersen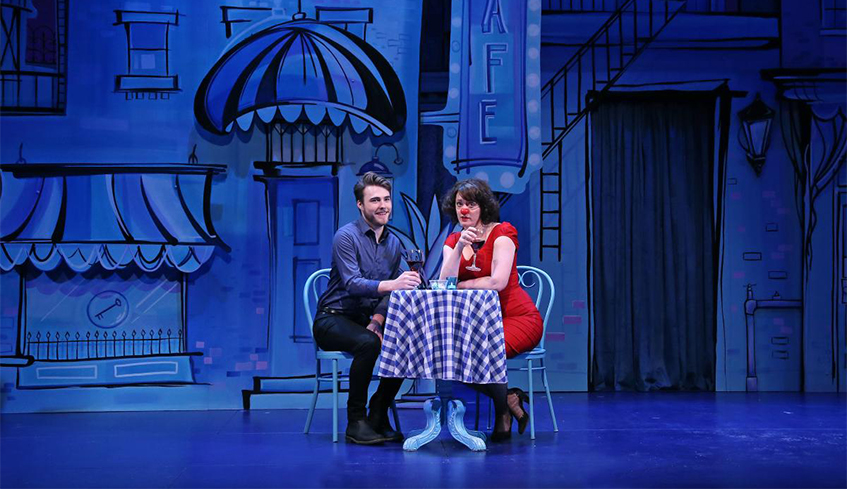 By Whitney South, Best of London. 02.22.18
Imagine finding yourself on a date with a stranger, every night of the week.
A scenario that many would find unnerving, it's all just another day in the life of comedian Rebecca Northan.
As creator and star of Blind Date, playing the Grand Theatre's Spriet Stage until Saturday, March 3, Northan says the idea for the show just kind of showed up one day.
"I know that's a really weird thing to say, but it's the truth. It was all very organic, and went from a 10-minute sketch with me making jokes in a date-setting . . . to thinking, 'What happened if we took the time to really know the guy?'"
That "guy" is carefully selected each night straight from the audience — a process that starts in the lobby, before the show. Potential beaus are chosen by the cast and added to the maybe list, though no one knows who has made the cut until they hit the stage.
"We're all out there mingling to get the idea of who would be interested and who might be good that doesn't realize that they are," Northan explained. "We look for someone that if you were at a cocktail party, you'd want to hang out and have a chat. Someone nice and friendly, which ends up being quite a lot of people to choose from."
The show has already captivated audiences from New York to the UK, and has been heralded as a fly-by-the-seat-of-your-pants fusion of clowning, improv, theatre, and social experiment all rolled into one.
While Northan has never actually been on a real blind date herself, she has an idea why audiences can't seem to get enough.
"They say theatre is an act of empathy, and that it encourages empathy in us when we listen to other people's stories," she said, adding it all becomes even more real when the hero is plucked right from the seats. "That's when you're really in the position of asking yourself what you would do if that was you. Really, they leave asking themselves if they might be capable of something like that."
And sometimes that means people can really surprise themselves.
One date in particular has stood out for Northan above all others, and with close to 700 suitors hitting the stage with the company so far, that's no small feat.
"The one that really stuck out to me was this guy from St. Paul who ended up taking me for coffee a week after the show to tell me he has crippling social anxiety," she recalled. "He couldn't believe he said yes . . . didn't have a panic attack during the show, or that he got a standing ovation. Because of Blind Date, he tried jogging outside for the first time in eight years."
It's that kind of story that continues to fascinate the comedian, who has always believed improv can be a game-changer for people in the real world, in addition to making them laugh.
"Whether or not you ever actually use it as a performance tool, I think learning to take risks and say yes to things . . . really makes a difference in life," she said. "You can do more than you think you can — we all have that potential."
Claus Andersen