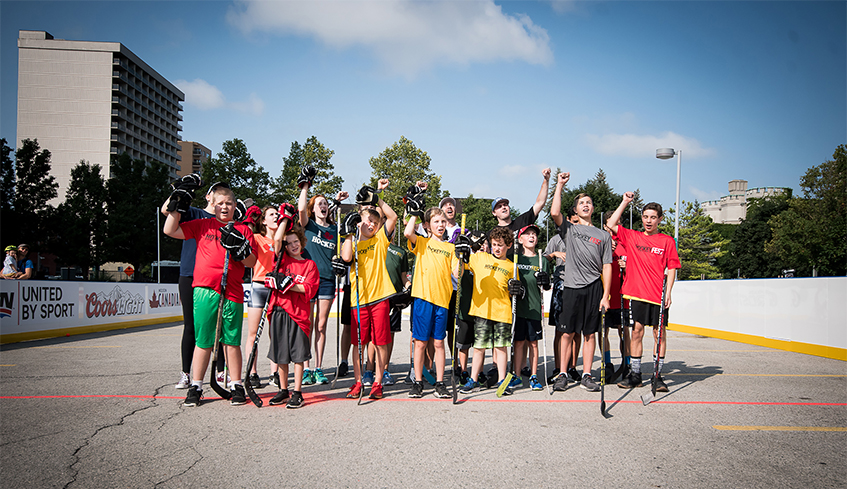 By Whitney South, Best of London. 03.27.19
Hey hockey fans — the ball drops here.
On Saturday, March 30, the HockeyFest crew is ready to spring into the season with a pop-up rink experience scheduled for 9:30 a.m. to 2 p.m. at the Source for Sports on Wharncliffe Road South.
According to tournament director Myriah Kay, the day is meant to be just a small taste of what Londoners can expect when the big event hits the Forest City May 25-26 at Western Fair District.
"The ongoing question we hear a lot is what's going to make our road hockey tournament different, and this pop-up will give everyone a chance to see what we have to offer," she explained. "We'll be setting up one of our rinks, so potential players can get a good feel of what it'll be like when the tournament hits London in just a couple months. It's going to be a great day."
Back in December, Jones Entertainment Group (JEG) first announced the launch of HockeyFest — Game ON!, set to take over parking lots across the province in 2019, with London's turn sharing a portion of the proceeds with the Brandon Prust Foundation, an organization that has been helping improve kids' lives since 2014.
Billed as a tournament with a festival feel, organizers will be pulling from their extensive knowledge of event management (think London's beloved Start.ca Rocks the Park) to make HockeyFest a weekend like no other — bringing with it the passion of sport, music, food and fun. Each game will be played on 50 percent to scale NHL-sized rinks, while each tournament will feature four-on-four road hockey for divisions of all ages and genders, without the worry of lost balls, or faulty fencing, thanks to a partnership with Athletica Sport Systems.
In addition, HockeyFest will see DJs spinning throughout the day with local live music at night, while fans can indulge in their favourite food and beverage vendors and drinks with the team or kill time by playing a slew of interactive games and more.
For the pop-up event, CCM will be on-site for some product testing, as well giving away some sweet sporty swag. Visitors will not only get the opportunity try out the facilities, but also to take in some pick-up games featuring players from the Tier-1 Men's and Women's Leagues of London.
"Everyone's welcome — this is a free event — and a great way to get the family out for a fun day," said Kay. "We'll have a food truck, interactive games and music, and we hope to see everyone there for a good time."
The HockeyFest Pop-Up Event will take over the Source for Sports at 406 Wharncliffe Rd. S. on Saturday, March 30 from 9:30 a.m. to 2 p.m., rain or shine.
For more information on HockeyFest — Game ON!, visit www.hockeyfestgameon.com.
Photos by: Bill Woodcock