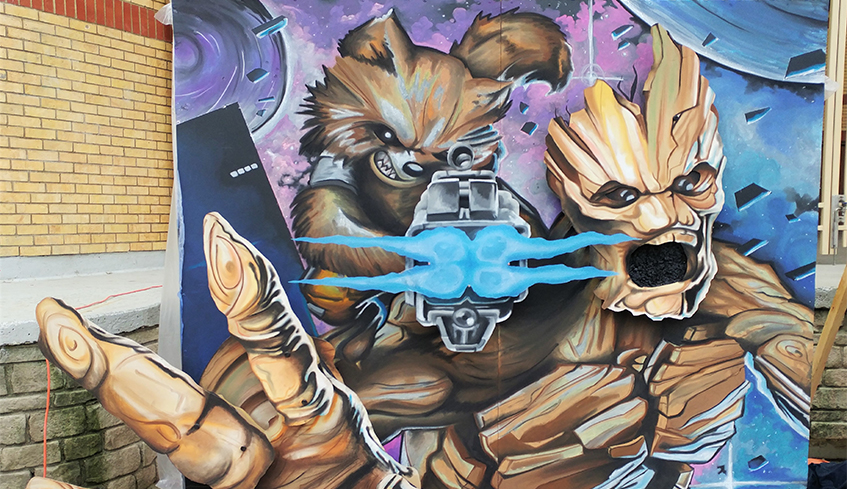 By Whitney South, Best of London. 08.01.18
This ain't the kids' sidewalk chalk.
Taking on everything from dragons and superheroes, to re-creating classic masterpieces, Expressions In Chalk is all about creativity.
Over the years the event has drawn countless fans, and 2018 will be no different as its legion of artisans once again descend on Victoria Park over the Civic Holiday long-weekend, Aug. 3 to 6, running alongside London Ribfest.
For Will Graham, picking up that first piece of soft pastel — a more vibrant version of the colourful medium — was a bit daunting, at first. Even as owner and artist at Neon Crab Tattoos & Piercings, chalk was a whole new world.
That all changed back in 2009 when the London Downtown Business Association asked him to take part in their street painting festival. Luckily, things clearly worked out as he took home best in show.
"I thought, I had never done chalk before — I had no idea what I was doing," he said. "They wanted to feature some of the professional local artists to show London was an artistic community, so I gave it a try. I've been hooked ever since."
Even back then, downtown had previously played host to a similar event, but instead of local talent, international artists were brought in for a two-day festival around Dundas and Talbot Streets.
Even with a lengthy history in the Forest City, Graham maintains the artform is still new for a lot of people.
"Here in Canada, and some extent North America, chalk art is really just catching on, so not everyone understands it," he said, adding the assumption it's simply akin to driveway drawings isn't too far off. "It's really so much more than that, and it's growing. At this point my work as a chalk artist is almost overshadowing the tattoo work."
Not that his inking aesthetic hasn't played a major role in many a curbside masterpiece.
"I really think that's what I was able to bring to chalk art that people hadn't seen before — insane, bright colours and bold black outlines. It's an outside-the-box thinking with a lot of new-school influence. I really just wanted to do something different."
Keeping things creative and fresh is a mantra shared by the Expressions In Chalk group itself, a volunteer-based organization dedicated to bringing the art of street painting to citizens and artists of London — and this weekend's event is no different.
In addition to a performance by some of best in the biz, a slew of artists will compete for this year's top spot in three categories, adult, student and youth, filling up 9 ft. by 9 ft. squares limited only by their own imaginations.
"We're really hoping to show people something with chalk that they've never seen before," said Graham. "It's all about being innovative and expressive. It's always exciting to experiment, and I can't wait to see what everyone comes up with this year."
Expressions In Chalk takes place in Victoria Park Aug. 3-6, from 9 a.m. to 11 p.m.
While the deadline has passed for applications, there are still a few spots available, (on a first come first served basis) for those interested in competing. There's no fee to sign up, and materials are provided.
Applications are due by Friday, June 2, there's no fee to sign up, and materials are provided. For more information, visit www.expressionsinchalk.org.