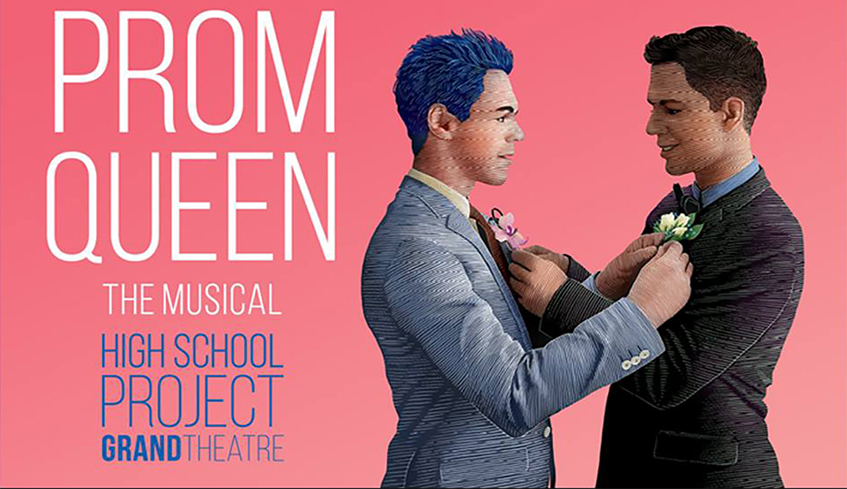 By Whitney South, Best of London. 05.22.18
When Marc Hall first launched a campaign to take his boyfriend to prom, it wasn't about starting a war — it was about standing up for something he believed in.
Now, 16 years later, he'll get the chance to mentor a group of 50 local students as Prom Queen: The Musical takes over the Grand Theatre stage this fall, as this year's High School Project selection.
It may not have been the future calling 17-year-old Hall had imagined, but it's one he's embraced with open arms.
"I love that it was selected for the High School Project because really, who better to do it than actual high school students?" he said. "For me, Prom Queen is all about letting youth know they have a voice and they should stand up for themselves. Do that, and wonderful things will happen."
On Thursday, May 24, the Oshawa-native will play guest of honour at the Grand's annual gala, with funds raised going straight to funding the project. With a price tag of $300,000, the musical has seen its fair share of community support after a GoFundMe campaign stepped in to fill the gap left by an initial pushback from both the local Catholic and separate school boards in January. While the public board later reversed their decision, the Catholic board did not. Regardless, there's still a long way left to go.
According to Hall, the controversy seemed very reminiscent of what happened in back in 2002.
"It just showed it's still an important story to tell," he said. "It's all still very relevant."
That was a sentiment echoed by Grand Artistic Director Dennis Garnhum, who chose Prom Queen not only because of its inspirational story, but to praise the power of young people.
"Everything I pick is going to be relevant either directly or indirectly to the lives we lead," he explained. "It's all about students making a difference. That's really the thing — not to provoke, but to celebrate."
This will be Garnhum's first time directing the High School Project, an opportunity he's been looking forward to since taking the helm at the Grand last year.
"The program is really an amazing way to encourage and help develop the young people of our city . . . over 20 years of the High School Project has helped people see that," he explained. "We love to support the alumni, they're everywhere, from the Grand stage to Broadway, and everyone has a story about what their experience meant to them."
This time around, students will get a chance to work directly with the person behind the story, as Hall will drop in to take part in rehearsals, something Garnhum maintains is a rare honour for any actor.
"So often in the theatre we tell stories of people we'll never meet, or who've never existed. It doesn't come along very often that the person who actually made the change is in the room," he said. "We've had a lot of announcements and controversy and activity around the project, but none of it is as important as when Marc meets these 70 kids — how powerful that's going to be."
Auditions kicked off May 14, with over 160 hopefuls vying for a role in Prom Queen, while some even reached out to Hall over social media.
"They've told me how excited they are, and how powerful the story is and how much it speaks to them," he said. "I'm very honoured to be a part of all this. My goal was always to help people . . . and I can't be more grateful the story has had such a positive impact."
In a way, the interaction hearkened back to an anonymous phone call Hall received in the midst of the campaign that inspired him even on the bad days.
"It was from a 13-year-old boy who told me he wasn't out yet, but he had been following the story on the news and it really gave him strength," he recalled. "We talked on the phone for about two or three hours, and it made me realize it was all a lot bigger than me, it was for everyone out there. I had still been so unsure of myself . . . but looking back, I'm so glad I was able to be a part of something so transitional, and something that's still lifting kids up today."

Prom Queen: The Musical kicks off the Grand Theatre 2018/2019 season from Sept. 18 to 29 on the Spriet Stage.
To purchase tickets, or to make a donation, visit www.grandtheatre.com, or call 519-672-8800.