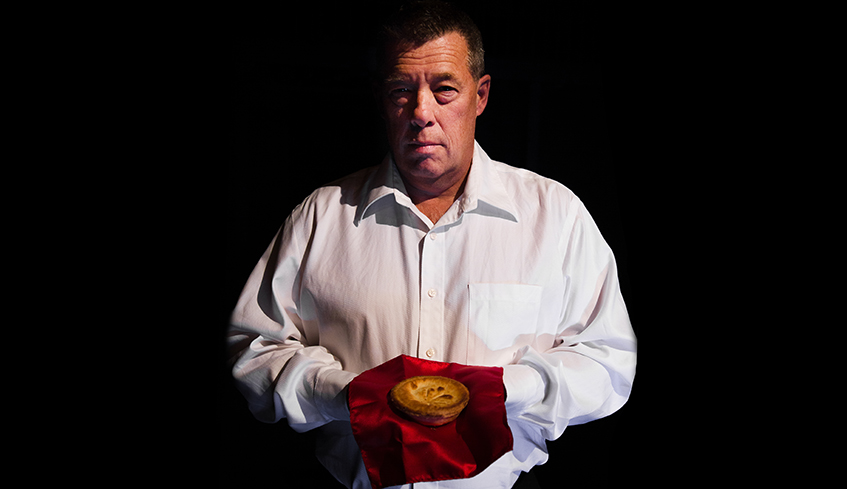 By Whitney South, Best of London. 11.25.19
Swing your razor wide theatre fans, it's time for a little something different this holiday season.
For the first time ever, Musical Theatre Productions has teamed up with Allswell Productions, the Brickenden award-winning company behind Dogfight (2018), for Sweeney Todd: The Demon Barber of Fleet Street, set to hit the Grand Theatre's McManus Stage Nov. 28 to Dec. 7.
For director Hailey Hill, the production is going to be a bit of a full-circle moment since hitting the stage herself as the young Tobias Ragg back in 2010.
"I loved the experience and I loved the show, so when we needed a show to pitch to MTP, Sweeney Todd just seemed like a great idea," she explained, adding with so many incarnations out there, it was important for the company to put their own spin on the production. "It's a show that I've always really loved and appreciated, but I had this idea where I wanted to modernize it a bit and bring it into The Great Depression, make it a bit more historical, and make it a bit more realist. I really think we've done it justice."
Based on an adaptation by Christopher Bond, with music and lyrics by Stephen Sondheim, Sweeney Todd quickly become a worldwide phenomenon since its debut in 1979, winning eight Tony Awards (including Best Musical) for its Broadway premiere.
Since then, audiences have continued to flock to the tale of the unjustly exiled barber who returns to 1930's London seeking vengeance against the lecherous judge who framed him and ravaged his young wife. The road to revenge leads Todd to Mrs. Lovett, a resourceful proprietress of a failing pie shop, above which he opens a new barber practice. Lovett's luck sharply shifts when Todd's thirst for revenge inspires the integration of an ingredient into her meat pies that has the people of London lining up for the tasty treats, completely unaware of the culinary carnage.
Then there's the romance.
After being stolen by Judge Turpin years ago, sweet Johanna is locked away from the world, dreaming of the freedom outside. Enter Anthony Hope, a young sailor, who hears the beautiful prisoner's song and falls in head-over-heels in love, vowing to save her at any cost.
Stepping into the role of the captive, Nicola Klein is no stranger to the London stage — finding herself as a damsel in distress, however, was something new.
Luckily, that's not quite how this version is going to go.
"Our Johanna doesn't just sit and wait for people to do things for her. Sure, she needs that kind of that leg-up that Anthony gives her, but she uses that to propel herself where she needs to be, which is away from the judge," Klein explained. "We wanted her song to not be so pretty, we wanted it to be hopeless, but we also wanted her to strive for something more."
Getting the chance to work with a cast so receptive to new and innovative ideas has been just one of the many highlights Hill has experienced with the production, so far.
"The ensemble has created such an amazing environment — and to me, that's huge," she said. "We didn't want this just to be about singing the songs and trying to figure out Sondheim, we wanted to really understand the characters and their complexities, and this cast really got that. It's all about people really feeling the experience of the show, and this story is a rollercoaster."
Musical Theatre Productions & Allswell Productions present Sweeney Todd: The Demon Barber of Fleet Street, taking over the Grand Theatre's McManus Stage (471 Richmond St.) Nov. 28 to Dec. 7.
For more information, or for tickets, visit www.grandtheatre.com.