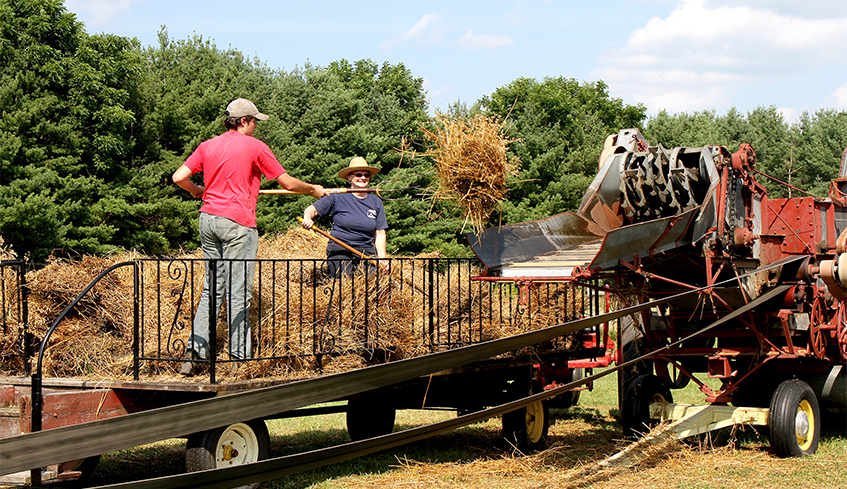 By Whitney South, Best of London. 08.03.18
Never underestimate the draw of animals and large farm equipment, especially when searching for a fun day out with the family.
Luckily, Fanshawe Pioneer Village has got you covered, and will once again celebrate their rural roots Aug. 11 to 12 with Fields & Forks: Fanshawe Agricultural Fair, featuring an array of activities meant to both educate and fascinate.
"Kids love seeing tractors, and they just love learning," explained Interpretation Coordinator Alison Deplonty. "People just don't seem to realize how great it is to pet sheep or watch the chickens, until they get the opportunity."
From herding balloon sheep to making butter, visitors are treated to a glimpse into how things were done way-back-when, as well as take in cooking demonstrations and play old-fashioned games of chance.
Celebrating the region's agricultural heritage is nothing new for Fanshawe Pioneer Village, as the event has been a seasonal-staple, in one form or another, since the 1970's.
"It's been happening for a very, very long time . . . and it's been branded a couple things over the years," said Deplonty, adding this year's spin is continuing a long-running tradition along with the support of the Tri-County Heritage Club. "This time around we're combining a bunch of fan favourites and trying to make it into an even bigger event."
That means guests will get the opportunity to take in live music by Scallywag, hop aboard a train or horse-drawn wagon ride, or head out to the farm fields to catch a glimpse of antique farm equipment in action and on display. An actual running Village sawmill from 1885 will turn logs into lumber to be repurposed across the property, while modern tools of the trade will be on-hand thanks to Huron tractor's stationary equipment display. Those in attendance will also be some of the first to see Fanshawe Pioneer Village's newly opened W. Rigney Harness Shop.
Fair displays can be seen at Corbett Tavern, where lovingly made and crafted entries will vie for first prize. Those interested in submitting their own items for judging are encouraged to do so before Saturday, Aug. 11 at 9 a.m.
"Folks can enter items they made themselves, including textiles and clothing, paintings, photographs, food and woodworking. It really runs the gamut," said Deplonty. "There really is a category for everyone out there. It's all about really embracing that fair experience."
And to do that, one certainly can't forget about the food.
While the Pioneer Village Café will be ready to curb that hunger, visitors are invited to partake in the joys of food trucks, including special guests Goodah Gastrotruck and Bifana Boys, while Sunday's crowd will be treated to a mini-farmer's market, featuring local produce, jams and jellies, local honey, and more.
For Deplonty, the best part of the weekend is getting the chance to experience those hands-on activities that are a little outside the box, like broom-making, winnowing, and playing with giant Lincoln Logs.
"This is a day for people to unplug, get back to their roots, and enjoy something very community and home-based which is something that's very important to use here at Fanshawe Pioneer Village," said Deplonty. "We'll have special guests, and a lot of fun. It's definitely one of the highlights of our season."
Fields & Forks: Fanshawe Agricultural Fair takes place at Fanshawe Pioneer Village from Aug. 11 to 12 from 10 a.m. to 4:30 p.m. daily. Admission is $9 for adults and $7 for children aged four-16, kids under three are free.
For more information, visit www.fanshawepioneervillage.ca.