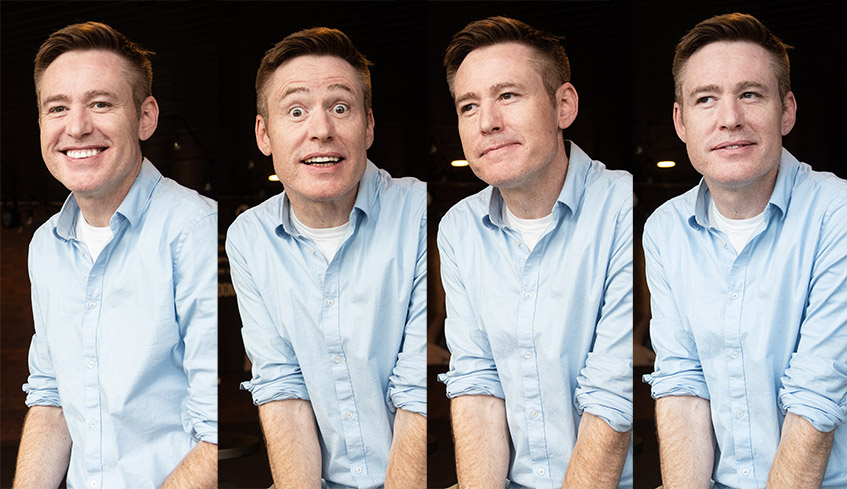 By Whitney South, Best of London. 12.12.19
One man, over 40 characters — for Gavin Crawford, it's a challenge that will soon be just another night at the theatre.
But fear not, he's more than up for it.
Running Jan. 14 to 26, the Grand's latest offering, Fully Committed, will hit the Spriet Stage, with Crawford in the (very solo) lead.
And the premise is hardly simple. An aspiring actor named Sam works the red hot reservation line at one of New York's trendiest restaurants, where the best food inspires the worst behavior. Experiencing everything from coercion to bribery, threats to some intense drama — a slew of desperately expectant diners stop at nothing to land that perfect table.
As if he doesn't have his own problems to deal with, not to mention the narcissistic chef, a prima donna maître d', and other self-important superiors quick to take advantage of his good nature.
While it may seem like a lot to handle, for a veteran funny man like Crawford (think This Hour Has 22 Minutes, and more) this should feel like a piece of cake. Right? Especially if you take into account a little real-world experience.
"I never worked in a restaurant, but I worked in customer service for a number of years. In fact, I used to work in the towel department at The Bay," he recalled with a weary smile. "I'd have lot of ladies coming in and saying things like, 'This black doesn't match this black,' even though they're stapled together — in the same package, and from the same factory. Meanwhile, I'd have to un-staple them to see if I could find two blacks matched their specifications."
Clearly, Crawford is no stranger to the old adage, the customer is always right.
As for taking on dozens of roles all on his lonesome, that (most likely) won't be a problem.
"I read the script I was like, oh, that's a lot of people. And they went back and forth — a lot," he said with a laugh, adding the trickiest part is making sure each character is distinct and defined. "There's also a lot of physicality involved, and sometimes there's six people waiting on hold. Really, it's going to be magical."
Based on characters created by playwright Becky Mode and Mark Setlock from their experience working in the world of the high-end restaurant industry, Fully Committed has been delighting audiences since it first hit the stage back in 1999. The Grand's presentation is directed by Steven Gallagher.
And the results promise to be amazing.
"When you see a really good performer doing what they do really well live, it's something that you don't see every day," Crawford explained. "So, if I do my job right, people will walk out of this theatre astonished. I hope that's the case. I probably won't die, but you never know."
The Grand Theatre (471 Richmond St.) presents Fully Committed, starring Gavin Crawford, running Jan. 14 to 26.
In addition, guests are invited to pull up a chair for a casual conversation with artists from the show at The Grand's Speak Easy series on Wednesdays — Jan. 15 and 22, after the performance in the theatre's Poster Lounge.
Or, join James Reaney and a guest speaker as he takes a deep dive into the production with a pre-show talk on Wednesday, Jan. 22 at 12 p.m.
Tickets are available at grandtheatre.com, by phone at 519-672-8800, or at the box office.