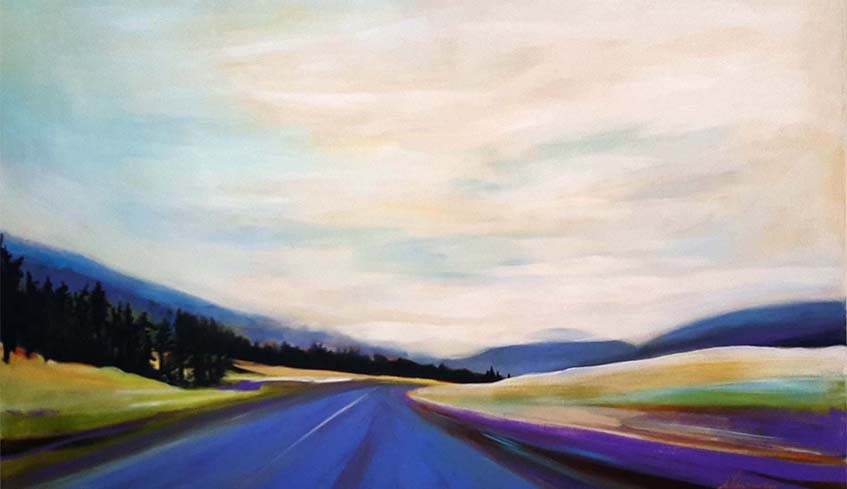 By Whitney South, Best of London. 01.18.19
Whether it's the open roads of the Canadian west coast or the beauty in our own neighbourhood, inspiration really can come from anywhere.
From Jan. 22 to Feb. 2, Westland Gallery will host a pair of London artists, Jen Hamilton and Marilyn Lazenby, for a two-week exhibition rich in both colour and creativity.
According to gallery associate director Danielle Hoevenaars, while the women draw from very different subjects, each work creates a familiarity art lovers just can't ignore.
An illustrator and painter by trade, Lazenby's offerings will include her well-known landscapes from all over Ontario, as well as her new Coasting series, which was inspired by her recent travels down the west coast. She begins with loose pencil drawings in her sketchbook and small painted concepts that she turns into works of art on canvas in her Byron studio.
"The paintings evoke a distinct feeling of momentum, as if the roads themselves are pulling you onward," Hoevenaars explained. "Each will leave you wondering what's around the next bend in the road."
With an education in fine art and graphic design Lazenby has maintained a passionate studio practice throughout her life, and even took on the role of instructor of Fashion Design and Merchandising at Fanshawe from 1998 to 2016, as well as a current position with the LAIR/ AECE program run by London Arts Council.
In contrast, Hamilton focuses on imagery of homes and neighbourhoods. The collection on display is part of the artist's Domestic Postpartum series, depicting over 2,000 small houses and domestic structures that range in size from 1.5" to 12" tall and wide.
"I constructed them using materials from my archive of several years of art making, including drawings, paintings, etchings, screen prints and writings," says Hamilton in her artist statement. "I tore, ripped, shredded and cut into pieces past work to create new objects, thus, Domestic Postpartum was born from creative destruction."
The works will be part of an installation, arranged along implied roads and cul de sacs, creating an unusual and very intimate experience where the viewer is provided with a bird's eye view of the imagined neighbourhood. In addition, the sculptures are accompanied by large two-dimensional mixed media prints and paintings that echo the same imagery.
"Hamilton's work communicates a struggle to maintain her art practice while entering motherhood and taking on new domestic duties," said Hoevenaars, adding the artist's everyday life includes repetition, familiar motions and the desire for recognizable outcomes. "It's very fitting that Hamilton incorporates printmaking in her mixed media paintings because repetition, and anticipated outcomes are deeply linked with the process."
A visual artist living in the Forest City, Hamilton holds a Bachelor of Fine Arts from NSCAD University, Fine Art Advanced Diploma from Fanshawe College, and a Specials Certificate from Bealart. Professionally, she has sat as President of Forest City Gallery, as a London Artist in Residence for the London Arts Council, and is currently Secretary for London's Printmaking Collective, Print London. Her experience as an arts educator is extensive and includes teaching for Museum London, TVDSB and LCDSB via the London Arts Council, and she is currently a professor at Fanshawe College, teaching drawing and the business side to the arts.
The Jen Hamilton and Marilyn Lazenby Exhibition takes place from Jan. 22 to Feb. 2 — with an opening reception on Saturday, Jan. 26 from 2 p.m. to 4 p.m. — at the Westland Gallery (156 Wortley Rd.).
For more information, or for gallery hours, visit www.westlandgallery.ca.