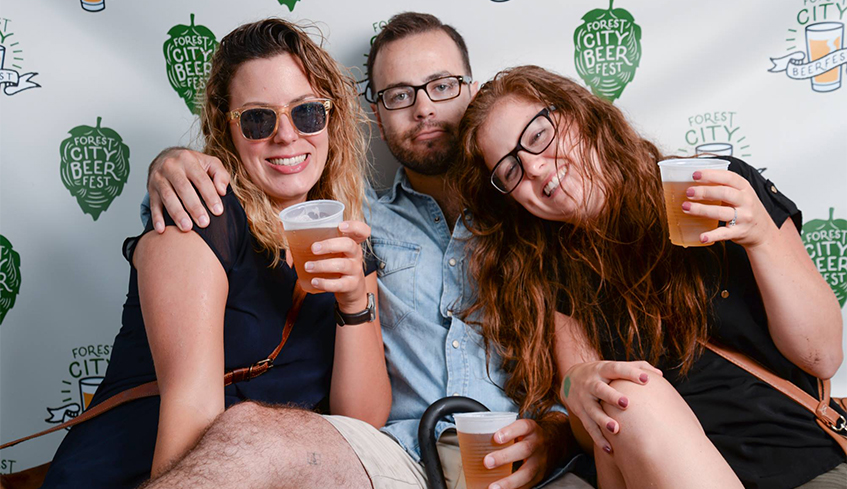 By Whitney South, Best of London. 07.31.18
It's no secret London loves its craft beer.
And while Forest City Beer Fest founder Aaron Brown can't take credit for the surge in local lagers, he can't help but relish it.
"There's so much going on here now in the London beer world. All the breweries are so unique, and none of them are bad, which is great," he said. "It was a very different time when we started, there were no craft breweries in London. Now the scene is vibrant, and it's got its roots . . . they're starting to push the boundaries, which is really great."
On Friday, Aug. 10 and Saturday, Aug. 11, the fest will take over Budweiser Gardens' south parking lot once again, ready to treat beer lovers to a plethora of brews from some of the city's major players, as well as a smattering of new tastes from across the province.
The event has been around since 2012, when Brown first returned to Canada from South America, eager to get his foot in the door of the craft beer scene. Since that time, the entrepreneur has witnessed first-hand how far the beverage has come, from generic brown bottles to avant-garde ales.
"Beer had been so boring for so long, and what's cool about craft beer is the big shake up that's happened over the years — it's pulled the wool off everyone's eyes and let them see it in a whole new way," he explained, adding these days it's about more than just a thing you drink at a baseball game. "There are all these new companies coming out and showing that it's not a one-note, low-class product — it's about rich history, and rich flavours. People have learned their own palettes, tasted around and explored. They're better informed and having a better time because of it. It's a whole world out there."
This year's venders include everyone from city-staples Anderson Craft Ales, Forked River Brewing Co. and newcomers Storm Stayed and Powerhouse Brewing Co., to St. Thomas's Railway City Brewing Co. and Cowbell Brewing Co. out of Blyth.
In addition, fest organizers will tempt taste buds with a curated menu at the Festival Bar, including offerings from Toronto, Hamilton, Kitchener and Guelph.
"The idea is yes, we have all these companies coming in, but we've also gone out and bought a ton of beer and cider from all over," said Brown. "Whether they're too small or too new, we've gone out of our way to get them to the event in some way. We're really proud of what we have to offer."
While craft beer is clearly the star of the show, organizers have made sure to include a handful of culinary creators, ready to serve up some savory snacks, with offerings from Big Daddy Bacon, Latino Flavours, Qdoba and The Root Cellar. After all, with so many restaurants catering to the craft beer crowd across the city these days, from Milos' Craft Beer Emporium to Chaucer's Pub and The Morrissey House, just to name a few, it's clear suds and sustenance go hand in hand.
"There are so many great venues for people to find examples of London's craft beer culture along with lunch and dinner, we couldn't miss that opportunity," said Brown. "Sometimes we forget how much cool stuff we have here . . . it happens in every city. But, in London's case we really need to embrace how lucky we are, we want Forest City Beer Fest to be a reminder of that."
Forest City Beer Fest takes over the Budweiser Gardens parking lot (99 Dundas St.) Friday, Aug. 10 from 6 p.m. to 11:00 p.m., and Saturday, Aug. 11 from 4 p.m. to 11 p.m.
For more information, a complete list of vendors, or to purchase tickets, visit www.forestcitybeerfest.com.