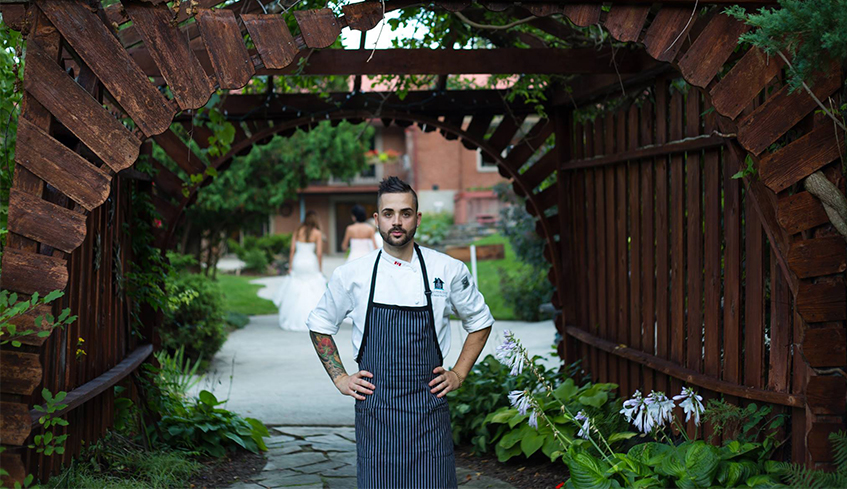 By Whitney South, Best of London. 03.23.18
Even after the announcement his restaurant Spruce on Wellington will close its doors for the last time at the end of March, owner Thomas Waite is nothing but smiles.
Fact is, after opening the 32-seat location just over a year ago, the chef is ready to get back to what has always made him happy — his long-established catering company At Home Chef, and a love of teaching.
"I want to get back to what allowed me to express who I was, and show people what I can do," he said via Facebook post on March 20. "I feel alive for the first time in a long time, and I can't wait to see what the future holds."
A big part of that future will be continuing a series of cooking classes, something that has been a passion for Waite ever since he started out as an instructor with Loblaws over five years ago.
"Back then, it was just helping out, doing some What's for Dinners," he said. "It was a two-hour class for me. It was always different, but it was never my recipes . . . but I really liked it."
From there the chef moved on to Pepper Tree Spice Co. in Port Stanley.
"I met the owner and she mentioned how she wanted to start some food classes and asked if I was interested. We were 95 percent sold-out every class, and that's what really got me going."
When the restaurant opened its doors in October 2016, however, there wasn't much time for teaching, and Waite was only able to offer two classes that first year —something he was anxious to change.
"I looked at what I was doing, and I wanted to make that a bigger part of the business, in my own spot," he said, adding when it came to doing it his way, it was important to make classes hands-on rather than just instructional, something very different from anything else offered in London. "I wanted people to get their hands dirty. That's really the biggest part of learning."
What began as a standalone pasta class, followed by a Christmas-themed preparation, soon found traction. In the first three months of 2018, students have been piling into the kitchen at 731 Wellington St. to learn everything from how to cook for two, to seafood dinners and Korean street food.
With the goal of offering a different experience every time, Waite, along with General Manager Larissa Sauer, and Corporate Chef Ashton Gillespie, have found themselves entertaining sold-out groups week after week — something that won't be changing anytime soon.
"People say they love the classes because it's not about just watching a chef do their thing — it's about getting in there and learning. They leave and they're happy," said Waite. "Through all of this, I'm at the point where I know what I want to do to make myself happy. I love being a chef, and I'll never be anything other than a chef for the rest of my life. I'm excited for what's to come."

Next up:
A Night in Barcelona
Sunday, March 25 — 1 p.m. to 4 p.m.
The Art of Plating
Monday, April 9 — 6 p.m. to 9 p.m.
A Taste of India
Monday, April 16 — 6 p.m. to 9 p.m.
Gluten Free!
Monday, April 30 — 6 p.m. to 9 p.m.
Mexican Fiesta
Monday, May 14 — 6 p.m. to 9 p.m.
Classes are $100 per person, including wine and a gift.

For more information, visit spruce-wellington.squarespace.com, or call 519-434-9797 to reserve a spot.