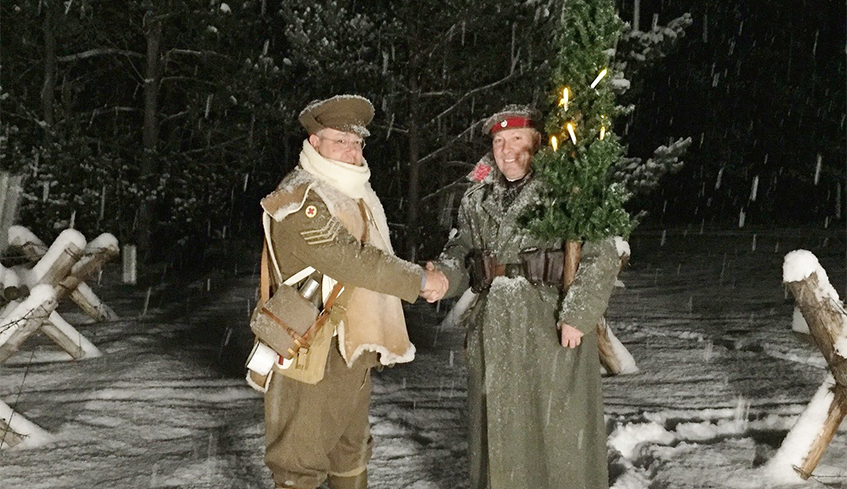 By Whitney South, Best of London. 11.02.18
It was Christmas Day, 1914.
On the Western Front, battles had raged for five months of the First World War, when the sound of gunfire and exploding shells suddenly faded in favour of holiday celebrations in the trenches as soldiers from opposing sides came together to mark the season.
A day that would live on in both story and myth, Fanshawe Pioneer Village is set to recreate those important moments with the help of History Matters, a not-for-profit group of military and historical reenactors dedicated to providing accurate representations of Canadian military history.
"We thought with the 100th anniversary of the end of the First World War, it was the perfect time to start it up this new event," said Alison Deplonty, interpretation coordinator at Fanshawe Pioneer Village. "It's really a great way to not only commemorate those who served — coming right after Remembrance Day — but also a great way to help people get into the holiday spirit."
Performances will run Nov. 16-17, every 30 minutes from 6 p.m. through 9:30 p.m., while the evening will wrap up at 10 p.m.
Known as the Christmas Truce, German and British troops are said to have sung Christmas carols to each other across the lines Christmas Eve, and at certain points the Allied soldiers even heard brass bands joining the Germans in their joyous singing.
At the first light of dawn the next day, many soldiers emerged from the trenches and made their way across no-man's-land, calling out Merry Christmas in their enemies' native tongues. The men exchanged presents of cigarettes and plum puddings and sang carols and songs. There was even a documented case of soldiers from opposing sides playing a good-natured game of soccer — many calling it a true Christmas Story, with strains of Stille Nacht (Silent Night) wafting on the breeze.
"Those soldiers who were on the frontlines still had a human connection to those they were fighting against, only five months into a struggle that lasted years," Deplonty explained. "This is a way for us to recognize the struggle, but also the camaraderie."
Visitors to Fanshawe Pioneer Village are invited to embark by foot on a journey through time to discover this significant moment during the First World War at their replica trench, as well as enjoy choir and hand-bell performances, a Homefront Christmas display, and more.
While the unofficial truce was never repeated, mostly due to threats of disciplinary action — it served as proof, no matter how brief, that underneath it all, the soldiers' humanity had endured.
"It really shows the human side of things — often we forget about that when we talk about any war," said Deplonty, adding those in the trenches had found themselves fighting real people with the same hopes and fears, while Christmas became a time to share joy and memories with soldiers they had been shooting at not long before. "They were all away from their families and got to step back and sing carols and enjoy some camaraderie — it really was an amazing thing."
Fanshawe Pioneer Village presents A World War I Christmas Story — Commemorating the Christmas Truce of 1914 from Nov. 16-17. Performances by History Matters will run every 30 minutes from 6 p.m. through 9:30 p.m., while the evening will wrap up at 10 p.m. Tickets are $10 in advance or $12 at the door, and non-perishable food donations will be accepted for Mission Services of London.
For more information, or to purchase tickets, visit www.fanshawepioneervillage.ca.