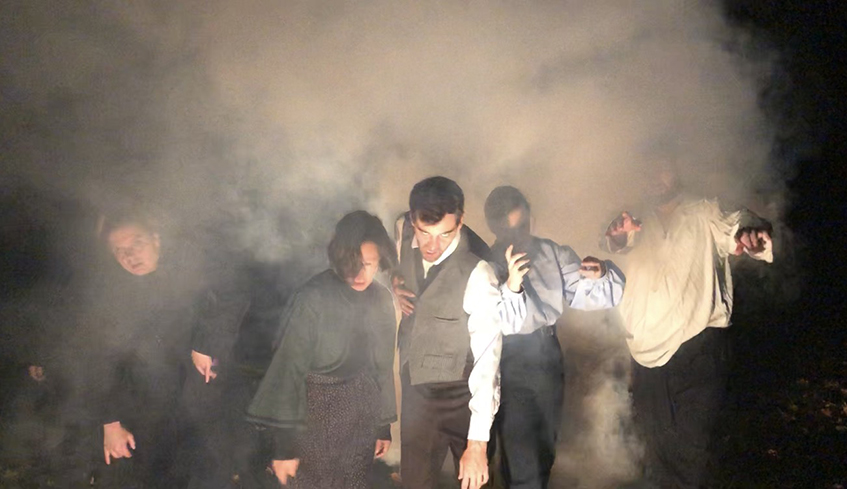 By Whitney South, Best of London. 10.18.19
Part B-Horror, part Penny Dreadful and part zombie thriller, Fanshawe Pioneer Village is offering up some spooky spectacle this fall.
The Halloween Haunt: Danger from the Dead will take over the historic site for eight scary nights, running Friday Oct. 18 to Wednesday, Oct. 30.
For Interpretation Coordinator Alison Deplonty, it's one the most exciting times of the year.
"This event is a cross between a theatrical performance, a ghost walk, and a haunted house," she explained. "Those who remember Haunted Hayrides and have been to The Midnight Village will recognize different aspects of the experience as we combined the two formats to create The Halloween Haunt. It's going to be a great time."
Deplonty went on to add the crew drew on everything from major influenza outbreaks, the Spanish Flu, and different plagues to everyone's favourite village residents, the groundhogs, as a jumping-off point to create the story.
"Halloween is one of my favourite times of the year," she said. "I really enjoy the Halloween events at the Village as they blend traditional aspects of Halloween with history."
And the story is simple.
Something seems to have gone awry in the Village of Fanshawe, with black spots appearing under fingernails, skin turning ice cold and eyeballs turning grey. While none of the villagers can explain it (not even the doctor), the event leaves visitors wondering — who will make it out alive?
The production is written by Adam Corrigan-Holowitz, co-directed by Adam Corrigan-Holowitz and Victoria Nicholls, stage-managed by Victoria Nicholls, and performed by Andrea Avila, Casey Cornell, Demis Odanga, Marina Sheppard, Charlotte Weeks, Bronwyn Wilson, and James Wybrow.
The Halloween Haunt: Danger from the Dead hits Fanshawe Pioneer Village (2609 Fanshawe Park Rd. E.) Friday, Oct. 18 to Wednesday, Oct. 30.
Performances run at 7 p.m., 8 p.m. and 9 p.m. on Thursdays and Sundays, with additional shows at 10 p.m. on Fridays and Saturdays, as well as on Sunday, Oct. 27, and Wednesday, Oct. 30.
This event is intended for those 14+ years of age.
Tickets are $14 and can be purchased in advance — which is recommended. Guests are asked to arrive 15 minutes prior to the performance.
For more information, visit www.fanshawepioneervillage.ca