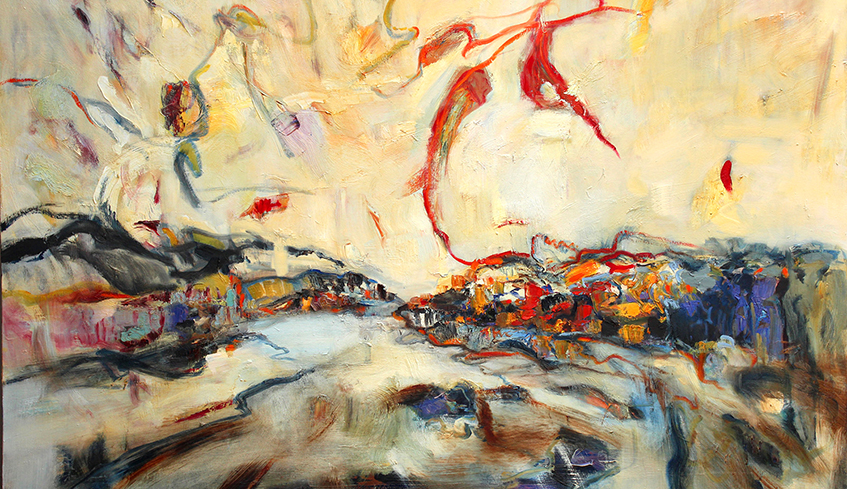 By Whitney South, Best of London. 11.07.19
By definition, abstract art isn't about creating an accurate depiction of a visual reality, but instead uses a number of techniques to achieve its effect.
Far from a genre "about nothing," it's all about form, colour, line, texture, pattern, composition and process.
This month Johnnene Maddison and Lisa Johnson will each offer up their take on space through abstract painting, as Space Between takes over the Westland Gallery until Saturday, Nov. 23.
According to Westland Gallery's Associate Director Danielle Hoevenaars, a large part of what makes a compelling abstract is its formal qualities; things like colour, composition, contrast, texture and negative space.
"Both Maddison and Johnson make excellent use of all these elements in their work and are particularly conscious of negative space," she said. "The empty areas on their canvases are as important as the busy brushwork in others."
Maddison has a long career in London as an established painter. In previous series', her focus was often on women and their rights, histories and challenges — exploring many mediums including photo collage, textiles and embroidery.
But, as one would expect, a near death experience changes everything.
Returning to her studio after a serious health crisis, Maddison felt her focus change and she began working in acrylic and exploring the world of abstraction. Using a brush attached to the end of a long dowel, she forced a change in her work to a looser more gestural style.
Now, Maddison continues to explore the two-dimensional space on her canvas by breaking it up with energetic lines, fields of beautiful colour and abstract but suggestive form. By staying in the moment and channeling her experience into the work she expresses ideas about identity, womanhood and self-reinvention.
While Johnson was born in Toronto, her family's roots in the shield country of North Frontenac — specifically Bon Echo, Mazinaw Lake — continue to serve as one of her prime sources of inspiration. Bon Echo is a stunning 100-metre pre-Cambrian cliff a mile long the rises straight from the dark waters of one of the deepest lakes in Ontario. It is a magical Canadian landscape that Johnson sees as a powerful reminder of nature's spirit and poetry and a potent muse for ongoing painterly enquiries.
"Lisa Johnson uses light and atmosphere to create a sense of space and vastness in her landscape inspired abstracts," said Hoevenaars. "Her style incorporates both thin and thick paint application and rich, moody colour."
Drawing inspiration from on-location studies to develop large studio works, Johnson's paintings weave geographic, corporeal, and abstract sensibilities through layers of atmospheric grounds and gestural mark-making. Her work speaks to the passage of time over an evolving landscape painted with spirit and musicality.
Space Between: Lisa Johnson and Johnnene Maddison runs now until Saturday, Nov. 23 at Westland Gallery (156 Wortley Rd.)
A reception with the artists will be held Saturday, Nov. 9 from 2 p.m. to 4 p.m., while an artist talk will be offered on Wednesday, Nov. 13 at 7 p.m.
For more information, or for gallery hours, visit www.westlandgallery.com.