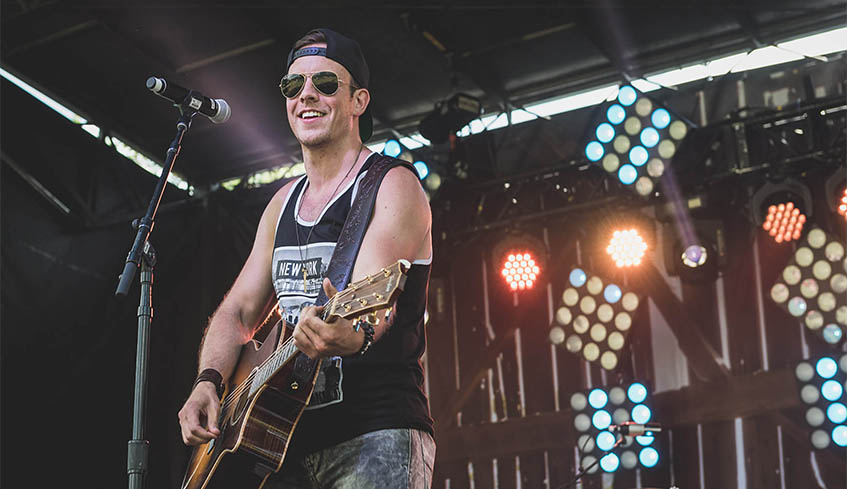 By Whitney South, Best of London. 06.27.18
From his first international gig to an album debut, it's been a whirlwind of a year for rising country star Eric Ethridge.
While the musician maintains there's still a lot of work left to be done, it's no secret the Sarnia-native is well on his way, having opened for major acts from both Canada and the U.S., including Brett Kissel, Florida Georgia Line, Brothers Osbourne, and LOCASH.
"We've transformed our whole show and we're really running a major operation at this point," he said. "It takes a lot for any artist to get off the ground, and I'm lucky to have a great team behind me. Life is just crazy right now."
The singer/songwriter's self-titled EP is set to be released Friday, July 6, while a pre-order will score fans a brand-new single, California, two weeks before it hits country radio.
For Ethridge, it's the culmination of a dream that began back in his days at Western University, balancing his studies in chiropractic medicine while playing the bar circuit on Richmond Row.
Even with a Top 30 hit already under his belt with 2017's Liquor's Callin' the Shots, as well as Makin' Me Crazy garnering over 200,000 views on YouTube, the musician says he's ready to exceed expectations.
"As far as I'm concerned, people haven't even heard my best songs yet. I just can't wait for everyone to hear this record . . . I'm so proud of everything we've done."
The project, which was recorded in Los Angeles, under the watchful eye of Juno award-winning producer/songwriter Brian Howes (Nickelback, Keith Urban), is set to boast seven tracks, and may even end up as a vinyl offering, if Ethridge has his way.
"I really want to have a record that I can put on my wall. I don't even own a record player, but I'll get one," he said with a laugh. "The first song was recorded in August 2016, so by the time I get this out there, it'll have been almost two years for those seven songs. It's really going to be amazing to hold a physical album in my hand."
In addition to playing summer gigs all over Ontario, including sharing the stage with American heavyweights Dustin Lynch and Chase Rice at this year's Trackside Music Festival Sunday, July 1, Ethridge will head south of the border, ready to bring his sound to a whole new audience for the first time.
"They came and sought us out, so that was amazing," he recalled. "It's funny how life works out, and how the universe tends to lead us in certain directions."
Building on that momentum, Ethridge says it's time to take things to the next level and plans on moving to Nashville as soon as possible.
"In order to really be successful down there, you have to live down there. So, most of my time, energy and focus is going to be transferring there, while still working on building a career here. It really is a process."
But fear not fans, much like transplants High Valley, Lindsay Ell and Shania Twain, Ethridge isn't ready to be anything less than a proud Canadian kid.
"I was born here, I love this country and I'm a proud of it — that will never change," he said. "People in Nashville care less and less about where you're from and more about how much talent you have. It's a really good time to be Canadian in country music."
Eric Ethridge takes the stage alongside a powerhouse line up including Tim Hicks, Dustin Lynch and Chase Rice, for the second day of Trackside Music Festival on Sunday, July 1.
For more information, or for tickets, visit www.tracksidemusicfestival.com.
Photos by Mike Highfield