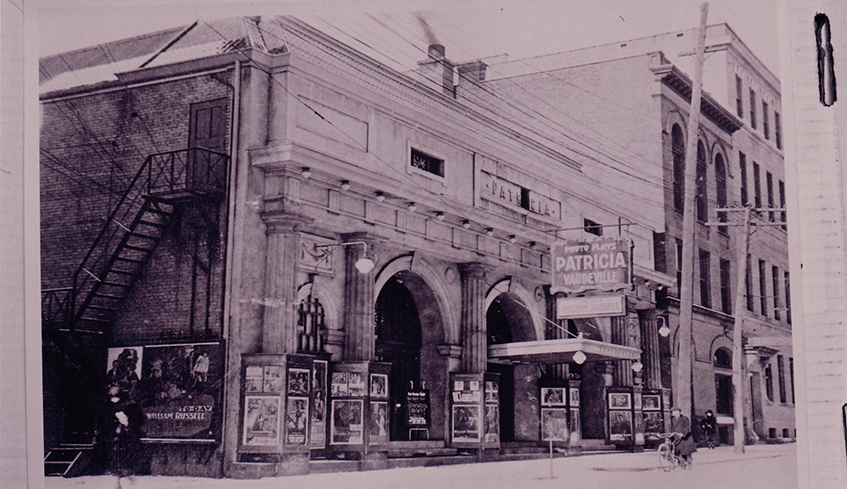 By Whitney South, Best of London. 08.30.18
As Joni Mitchell once said, they paved paradise and put up a parking lot.
Luckily for this year's Doors Open London visitors, a team of avid history buffs are ready and willing to fill in those gaps, taking folks on a stroll through the past.
Paved Paradise: The History of London's Parking Lots was organized by the teams at LondonFuse, the Architectural Conservancy of Ontario (ACO) London Branch, and the London Heritage Council as a way to transform five everyday eyesores into touching tales.
"One of the complaints you hear often is that these old sites have been turned into parking lots, so we just really wanted to highlight what used to be there," said LondonFuse Executive Director Nicole Borland. "Each site has a significance to the history of London in one way or another, whether it's business, commerce, arts and culture, or social services. These are places you walk around everyday downtown . . . and it just turned into an amazing project."
According to ACO representative Genet Hodder, the idea first surfaced a couple years ago, as historical proponents were mourning the loss of Camden Terrace, a crumbling Victorian site set to be cleared to make way for central Canada's tallest high-rise project.
"When it was demolished, it was a huge loss for heritage people," she explained. "It was just rubble for a while. I think that really motivated us into thinking about what we could do."
More than just a casual stroll, historical figures from London's heyday will be found peppered throughout the downtown core, ready to tell their side of the story. Led by the legendary Victoria Grace Blackburn — an early newspaper columnist for the London Free Press and daughter of its founder — each tour will take visitors on a trek to five different locales, each of which hold a specific significance to the city.
For Hodder, one site in particular stands above the rest.
"One that I love, though I like them all, is Silverstein's Fish Market," she said, adding owner Louis first immigrated to Canada in the 1800s from Poland before settling in Soho, down on South Street. "The business grew and bit by bit he was able to purchase his place on King Street across from Covent Garden Market — a central meeting point in the city. Several generations of his family were involved in the business and it grew into branches across southern Ontario. It really is an amazing London success story."
The script was written by Aimee Adler and David Menard, while Marina Sheppard signed on to direct, and Hodder and Borland provided historical information.
In addition to Silverstein's, stops include the former locations of London Motors, a company that manufactured a unique six-cylinder car known as the London Six; the Central Fire Hall, where Chief Rowe served for 24 years; the Patricia Theatre, former home of a dance hall, vaudeville and movie theatre; and an Italianate house, which was owned by George Hiscox, who became London's largest real estate holder.
But really, there are so many more sites for visitors to discover.
"We want this to encourage people that when they see different parking lots or open areas of space, to be curious about what was there before and maybe look into it," said Borland. "It's really about understanding the very different and prosperous identities of London at the time, when it came to advancements in everything from business to theatre."
It's a sentiment echoed by Hodder, who can't seem to hide her excitement for this upcoming trip through time.
"When you tear down buildings you really lose something — so, every parking lot holds a lot of history," she said. "It's about embracing history, and it's going to be so much fun."
Paved Paradise: The History of London's Parking Lots will run twice daily during Doors Open London, from Sept. 15-16, at 11 a.m. and 2 p.m., with each tour lasting about an hour. Those interested in joining the tour are asked to meet at 201 King St. (Innovation Works London) 15 minutes before the start of the tour. Spots are limited and will be given out on a first-come, first-served basis.
For more information on Doors Open London, including a complete list of events, visit www.londonheritage.ca/doorsopenlondon.