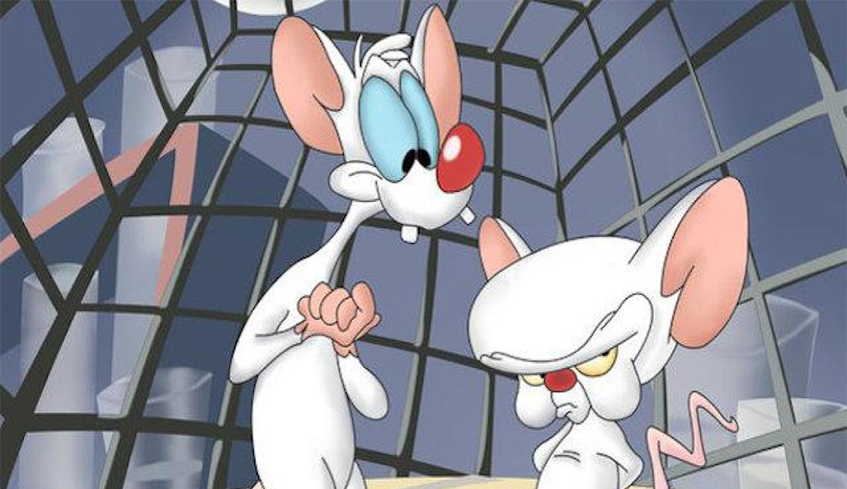 By Whitney South, Best of London. 04.04.19
Whether it's a megalomaniacal mouse, or his unwitting and somewhat dim cohort, nothing truly brings our favourite animated characters to life quite like a voice actor.
On Saturday, June 1, the folks at Forest City ComiCon will welcome two of the most recognizable talents in the vocal world to Centennial Hall for a celebration of the very best in nerd and geek culture.
Rob Paulsen and Maurice LaMarche were recently announced as featured guests for the annual event — meaning Pinky and The Brain are back, at least the rare appearance in London this spring.
Narf!
Best known for a number of iconic roles, including Animaniacs' Yakko Warner; Carl Wheezer in Jimmy Neutron, Boy Genius; and (of course) the energetic laboratory mouse (for which he took home a Daytime Emmy in 1999), Paulsen has been a staple in the industry for decades — with an extensive resume to boot.
Paulsen can also be heard as Peck in Back at the Barnyard, Birdbrain in T.U.F.F. Puppy, Jack Fenton in Danny Phantom, and Mark Chang in Fairly Odd Parents — all on Nickelodeon — as well as a number of Disney projects including Bobble in the Tinkerbell DVD series. For young fans of Play House Disney, Rob provides the voices of Al in Can you teach my Alligator Manners?, Ze Fronk in Tasty Time with Ze Fronk, and Toodles in Mickey Mouse Clubhouse.
He's also the host of a successful podcast, Talkin' Toons, available at www.robpaulsenlive.com and iTunes.
Joining Paulsen is former partner-in-crime LaMarche, who in addition to playing evil genius The Brain for four seasons, has racked up roles in over 100 animated series, as well as a number of Emmy nods, including a win for his work in the cult-hit Futurama.
While voice acting became a second career for LaMarche, even from the beginning, the hits just kept on coming.
From stepping into the shoes of Chief Quimby in Inspector Gadget, to wrangling the supernatural as Egon Spengler in The Real Ghostbusters, the actor has enjoyed a relative smorgasbord of roles. In Matt Groening's Futurama, LaMarche has actually been credited for more than seventy characters, including Morbo The Newscaster, Calculon, The Donbot and Clamps, as well as Zapp Brannigan's long-suffering first officer Kif Kroker.
LaMarche is also often heard in the commercial world as the voice of Toucan Sam (spokesbird of Kellogg's Froot Loops cereal, a part he's played since 1987). Most recently he was featured in the Netflix Original Disenchantment as Odval, the royal advisor.
The perfect pairing became possible after Paulsen was originally set to appear at last year's Forest City ComiCon when a professional commitment resulted in a schedule change. Grabbing the chance to take things to the next level for 2019, organizers took the opportunity to ramp-up the line-up when the opportunity to include LaMarche presented itself.
"The event this June will be a fantastic opportunity for fans in London to meet two of the most iconic voice actors in television," said organizing group member John Houghton. "We've also worked hard this year to bring fantastic value to fans: with top-notch talent, a new summer date on the calendar, and more affordable ticket prices."
In January, Forest City ComiCon announced the festivities would be experiencing a big move — returning to Centennial Hall in downtown London, where it all started back in 2014.
Another change came in the form of a new date, shifting from fall to spring, landing the one-day in June, while continuing the tradition of the all-ages comic con featuring artists, exhibitors, cosplay, vendors, panels, presentations, board games, video game tournaments, and more.
Forest City ComiCon hits Centennial Hall (550 Wellington St.) on Saturday, June 1 from 10 a.m. to 6 p.m. Early bird tickets for the event are available online and in selected stores for $15 until Monday, May 6.
For more information, visit www.forestcitycomicon.ca.