London is a Cycle Friendly City
Often, a truly unique adventure can be had by seeking out the city's bike paths. Pedalling along one of these paths can take you through some of the more interesting neighbourhoods and historic parts of the city. One of our favourite paths and an easy way to discover downtown London is the Downtown Bike Loop which allows cyclists to connect between the Thames Valley Parkway and downtown merchants and a wealth of amenities and services. The loop is an attractive recreational and transit option with approximately 3 km on shared roads and off-road multi-use trails.
Cycling enthusiasts looking for an urban cycling experience can explore over 330km of bike paths and lanes in London. Another popular path is The Thames River Parkway which winds its way over 40 km of paved, off-road multi-use pathways running beside the banks of the Thames River and extending into many neighbourhoods.
The Thames River Parkway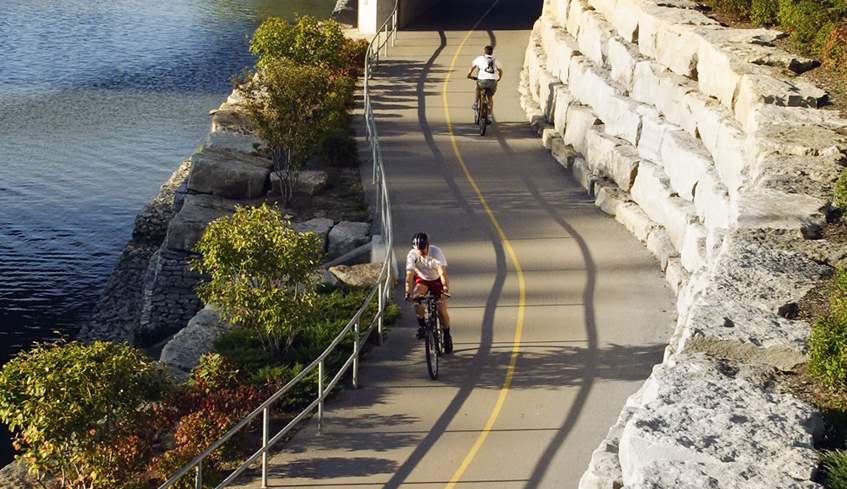 When you pop a Tire, Don't Fret!
London`s fix-it stations, allow cyclists to fix a bike chain, pump up flat tires and overall general maintenance while out and about. You simply hang your bicycle on the stand, and use the attached tools and air pump to get your bike ready to roll. There is a fix-it station in front of the Central Library (251 Dundas Street), on the south side of the street. There is another in Old East Village, on Dundas Street just east of Adelaide Street in front of The Root Cellar and Wisdom: Café, Tea Shop and Japanese Creperie. In addition, there are bike fix-it stations located at Crouch Library on Hamilton Road, outside Tuckey Hardware in Wortley Village and at Storybook Gardens.
Cycling is a great family pastime. But remember that it's the law in Ontario for cyclists under the age of eighteen to wear an approved bicycle helmet. Don't forget a bicycle must have a bell or a horn. It should be used as a warning and also a courtesy to alert pedestrians or other road and trail users of you approach.
Springbank Park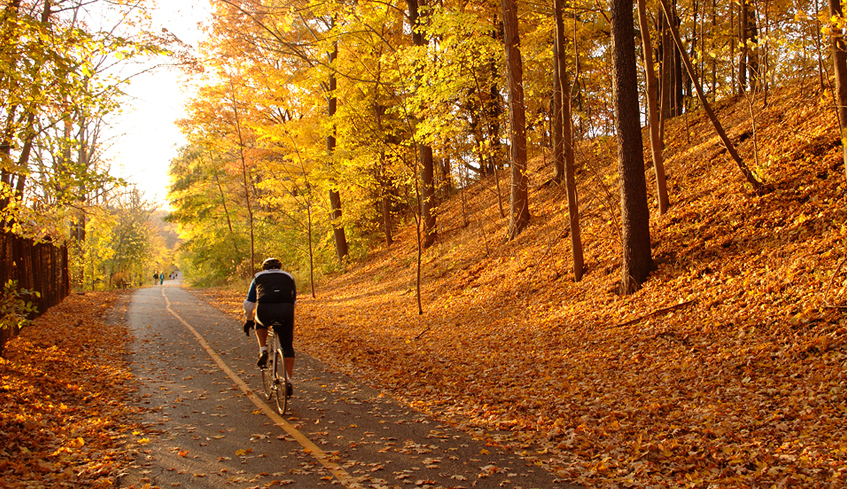 Biking: Off the beaten Path
Are you feeling adventurous? Check out Boler Mountain's 120 acres of property which includes a beginner loop, and advanced loops, mountain biking and fitness trails that traverse great cross country terrain.
The Fanshawe Lake Trail is a 20km loop trail open to cyclists from dawn to dusk, seven days a week. The trail meanders around Fanshawe Reservoir, through mature forests, open meadows and along three stretches of roadway.
Boler Mountain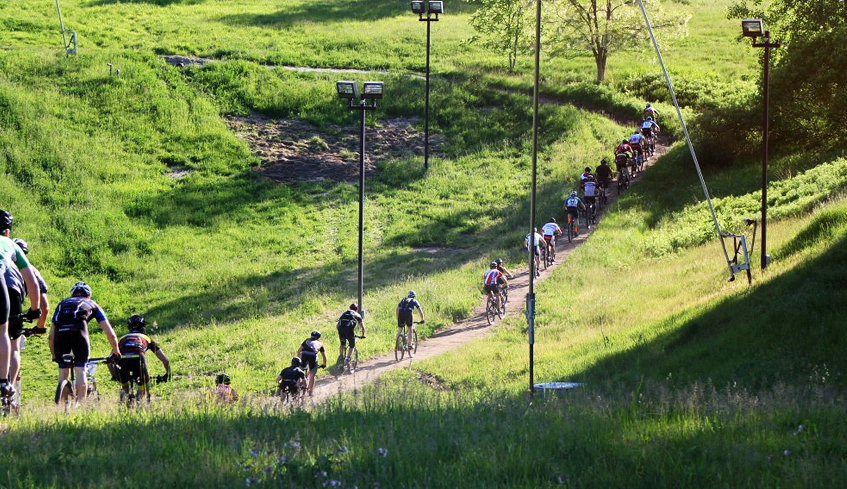 Thrills and Spills
From the novice to the elite level, track cycling at the Forest City Velodrome offers thrills and exhilaration for both spectators and athletes with 138-meters of indoor track. Frequent recreational sessions allow riders of various skill levels time to ride on the track and ramp up their fun, fitness and training. It is one of two velodromes in Ontario and one of five indoor cycling facilities in all North America.
Forest City Velodrome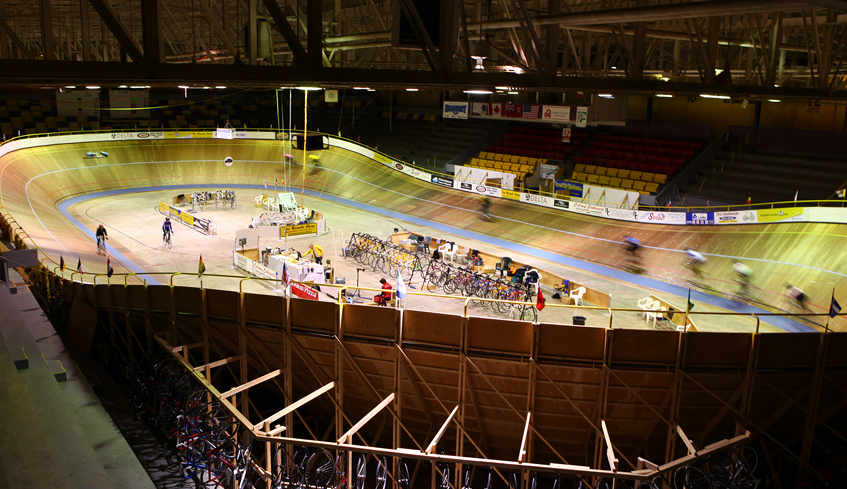 London Bike and Walk Map
The City of London supports walking and cycling as active ways to enjoy the many special features London has to offer. Check out their online map
Boler Mountain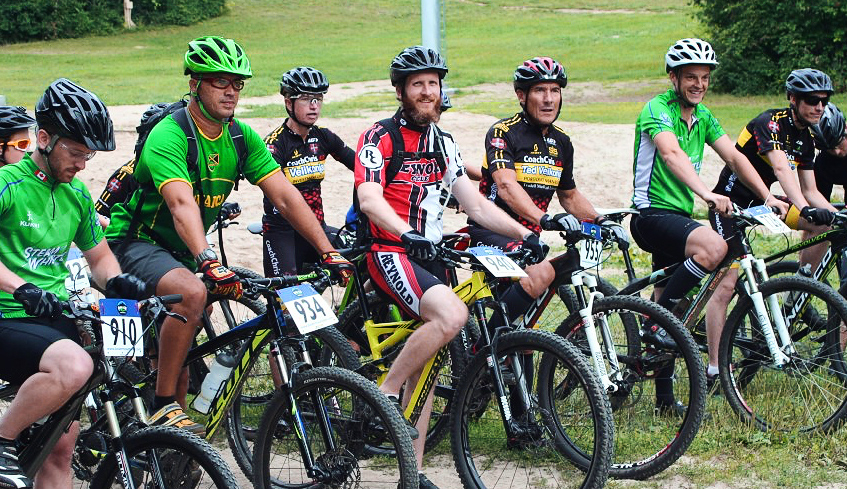 Businesses that are registered with Ontario by Bike:
Below is a listing of businesses that have been certified as bicycle-friendly by Ontario by Bike. Cyclists can count on secure bike lock-up areas, local cycling information on-hand, healthy local food options, access to rest areas and water and basic bicycle repair tool sets (for accommodation only).
Trek Bicycle Store London
Courtyard by Marriott London
TownePlace Suites London by Marriott
Quality Suites London
Boler Mountain
Holiday Inn Express & Suites London Downtown
Pulse Spin Studio
Woodfield Bed & Breakfast
Champion Bicycles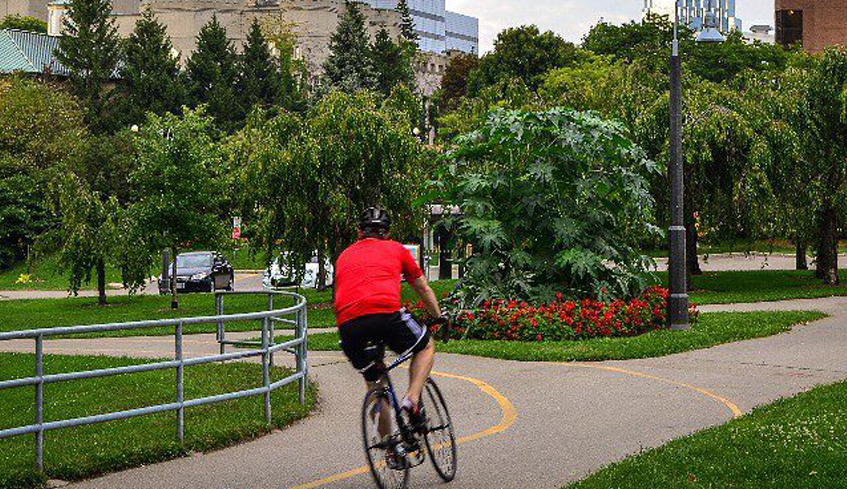 Bike Rentals
Boler Mountain
689 Griffith St.
bolermountain.com • 519-657-8822
Herm's Sport Exchange
820 Wharncliffe Rd. S.
hermssports.ca • 519-649-0600
Purple Bikes Western University
University Community Centre (UCC) Building, Room 149
westernusc.ca • 519-661-3574
Trek Bikes
4487 Wellington Rd. S.
trekbicyclestorelondon.com • 519-680-5100

Travelling by Train to London with Via Rail?
Bicycles can be transported on all regular train services with baggage cars between Windsor-London & Toronto-London. Bicycles can be loaded or unloaded at only those stations offering checked baggage service. Extra charges of $25 each direction applies for bike transport. Check with VIA Rail for schedules and times, and for further instructions and confirmation that bicycles can be transported on a specific route date.
viarail.ca