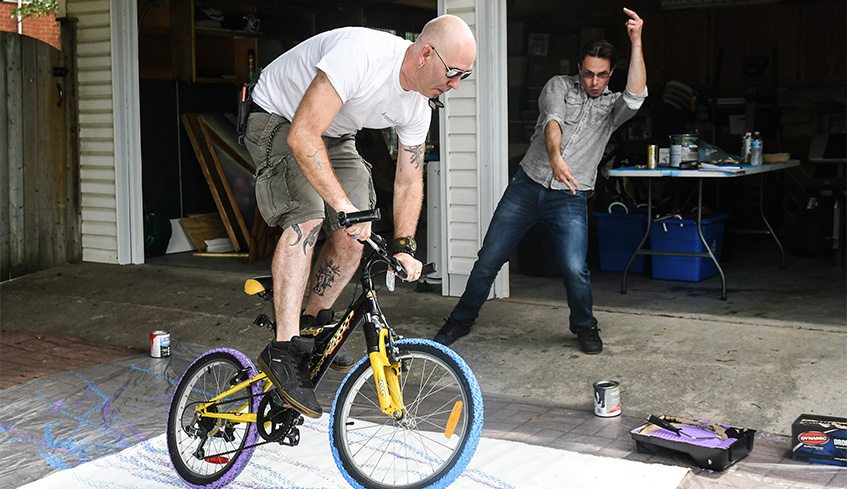 By Whitney South, Best of London. 09.27.18
In the words of Pablo Picasso, every child is an artist — the problem is how to remain an artist once we grow up.
This weekend, the London Arts Council is getting ready to help give young people a running start at maintaining that momentum, as Culture Days hits the Forest City once again, Sept. 28-30.
This year's crop of activities will include art installations, dance, graffiti, metalwork, mosaics, music, poetry, sculpture, video and visual arts, along with community murals and family-friendly art workshops.
In addition, for the first time, they'll also be getting experimental with recycling art, techno-calligraphy, and getting creative with bicycles in conjunction with the annual Big Bike Giveaway at Boyle Memorial Community Centre.
The idea to combine paint and pedals was concocted by Jeremy Jeresky, education specialist at the London Arts Council and curator of Culture Days, and artist in residence Will Graham — and the pair couldn't be more excited.
"When I was doing my undergrad in Calgary, there was a printmaking show and one of the prints was a big, long bike tire trail in ink," Jeresky recalled. "It looked pretty cool, and that's what popped in my head when we were brainstorming for this event. I figured, let's try it."
The idea? Participants will climb into paint suits, hop onto painting bikes, and pedal across an enormous shared canvas, leaving colourful trails in their wake. They'll also get the chance to create bike tread art T-shirts, with shirts provided free of charge.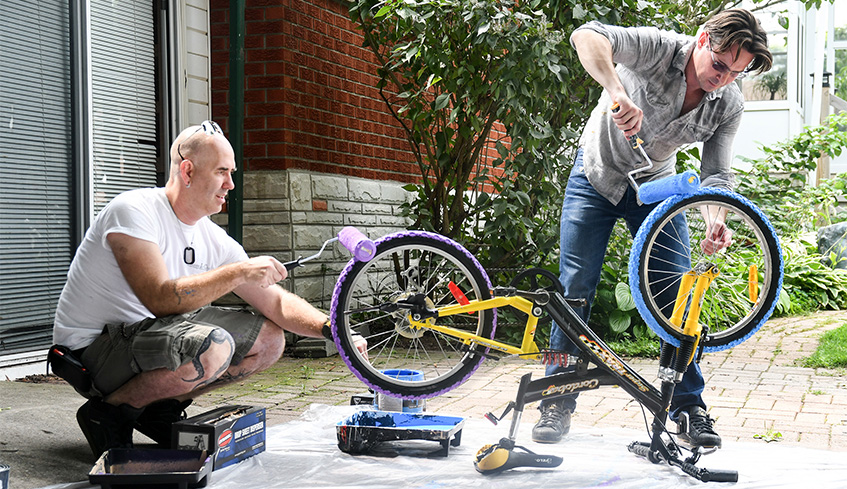 "Everyone who participates in the Big Bike Giveaway is also welcome to join us," Jeresky explained. "We're hoping for something like 2,000 people, so there's going to be a big crowd and we just want to be a big part of that energy."
It's also the kind of energy Graham can't wait to be a part of.
"This is where my heart is. So, when Jeremy asked me way-back-when to become an artist in residence with the London Arts Council, it was because I wanted to do more community arts. I love interacting with people and I like giving youth really great experiences," he said. "Fancy fine art exhibitions are fun and all but activating a public space and getting people involved in something awesome like this is just exciting."
Each year, the London Arts Council programs dozens of performances, activities, and other events for London's contribution to Culture Days, a national series of simultaneous festivals dedicated to the creation of, participation in, and sharing of Canadian arts and culture. This time around, engaging, creative, and participatory art activities will hit all corners of the Forest City — from Museum London to Old East Village, from Masonville Place to White Oaks Mall.
On the flipside, the annual Big Bike Giveaway sees a local husband and wife team collect and repair bicycles and give them away for free on one day each year, with the goal of getting get as many people on bikes as possible and to encourage healthier lifestyles in the community, specifically helping those needing this resource to get ahead due to poverty.
Basically, the pair-up is a perfect match.
"Some kids might already like sports and bicycles but getting them exposed to art in interesting ways is one of our goals," said Jeresky, adding it was important for the kids to have fun doing something interesting and new. "Getting kids involved with art is just as important as getting them involved in sports and reading and other activities. It helps to make a well-rounded person. It's probably going to end up looking like some big, abstract print — we can't wait to see how it all turns out."
While the Big Bike Giveaway hits Boyle Memorial Community Centre (530 Charlotte St.) on Sunday, Sept. 30, with registration beginning at 9 a.m., Culture Days, an event showcasing the arts and cultures of Londoners, takes place Sept. 28-30.
For a complete list of activities and locations, visit www.londonarts.ca/culture-days.
Photos by Whitney South