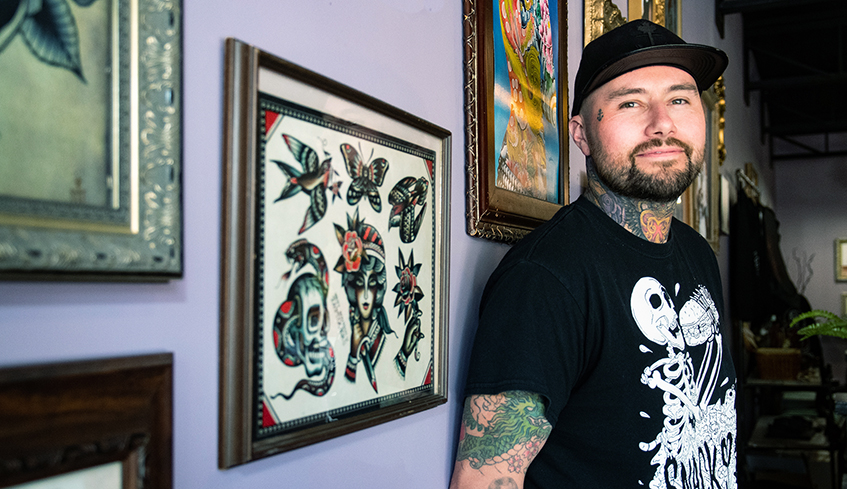 By Whitney South, Best of London. 07.25.19
Punk rock and country music — are they really so different?
According to London's Aaron Allen, not really.
"It's all about four chords and honest songs," he explained. "You can't get closer to the truth than that."
Growing up, it was those harder chords that really made an impact on the aspiring musician, but a big change in his band line-up ended up sending him in whole new direction.
"Basically, it was just me and an acoustic guitar. The other guys really wanted normal jobs and I was the only one crazy enough to keep the music thing going," Allen said with a laugh. "I had always loved traditional country and singer/songwriter stuff, and that's where my heart is . . . that kind of storytelling is what really spoke to me, and that's where things just progressed."
And the similarities don't stop there.
"Everyone supports each other in country music, and punk rock's exactly the same. We all go out to the shows, and we help each other out whenever we can."
While many are just getting a taste of what the London-based musician has to offer — thanks to some fresh spins on local country radio — Allen is hardly a newbie. In fact, he's been putting out records, playing shows and touring for over two decades. The only difference is, now is the time to really get in the game, and part of that shift came thanks to CMAOntario and CCMA Award-winning producer Jeff Dalziel.
"I went to him and he said, 'I love what you're doing, but let's get this thing out to a bigger audience,'" Allen recalled. "It's been really great because he knows I'm not pop country and he respects that. Jeff does amazing work with all genres, and I think it's that versatility that's really helping me be the best me I can be."
The collaboration seems to be working, with the musician's first Spotify offering, Where Music Comes From, garnering over 40,000 streams — so far.
Not quite an average Canadian country cowboy, by day Allen makes a living as an owner/artist at The Taste of Ink, a tattoo shop on Wellington North, which no doubt had a little something to do with inspiration for his latest track, Good Tattoo, set for release next month.
"I knew I wanted to write a song, but I wanted it to be a love song," he said with a smile, adding he drew inspiration from the permanence of both tattoos and a certain kind of affection. "So, we just started writing what I came up with — your love is like a good tattoo — and took it down to Nashville."
Next came a writing session with lyricist and composer Phil Barton (The Washboard Union, Meghan Patrick, Brett Kissel), and the rest is soon-to-be history.
"The first thing he says was, 'This is (really) great,' and two hours later we had a really emotional song — one you could walk down the aisle to, which was really unexpected. I really thought it would come out sad, but it's a really happy, upbeat love song, and I couldn't be more proud of it."
Over the next couple months, Allen is scheduled to play a number of shows in the London area, including the 5th annual Boochapalooza at Purdy Natural (111 Mount Pleasant Ave.) on Thursday, July 24, headlining St. Thomas' Iron Horse Festival on Saturday, Aug. 17, and a matinee show at the Richmond Tavern (172 King St.) on Saturday, Aug. 24.
For more music, information, and a complete list of upcoming dates, visit www.aaronallenmusic.com.