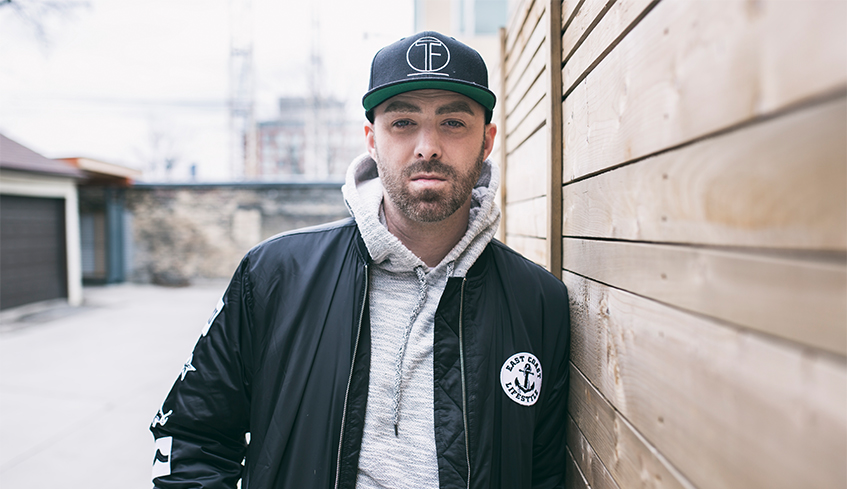 By Whitney South, Best of London. 10.17.18
When it comes to naming an album, there's no better place for an artist to go for inspiration than a source close to home.
For multi-platinum Canadian hip-hop artist Classified, it was an observation by one of his daughters that really got the wheels turning.
"Something was going on and she said 'Aw, don't worry, tomorrow will be different anyway,' or something to that extent," he recalled. "It was a really great way to look at it. Tomorrow anything can change. For people who are depressed or down — I know I'm the same way — we need to have faith in the future."
On Oct. 12, the Juno Award-winner dropped his latest offering, Tomorrow Could Be the Day Things Change, a 13-song LP including six previously released tracks from his critically acclaimed EP, which hit the airwaves back in June, leaving fans wanting more.
And that was all part of the plan.
"I come from the days of making the album and keep pushing it for a good year, but even with my last album I noticed it's out for two weeks and then everyone's on to something else. It's hard for people to really take in or get into songs," he explained. "Some of my favourites are the ones I hear, and they don't even hit me at first. I used to listen to albums and songs that wouldn't even make an impression but became my favourites at the end of it all. With this album, I wanted to give people time to absorb it."
In addition, Classified also invited several artists into his hometown studio during the recording process, resulting in multiple features throughout the album including Tory Lanez on Cold Love, Anjulie on Changes, and an all-star Scotian cast on the track Super Nova Scotian.
It's the artist's first full-length album in two years, and comes packed with commentary honouring female empowerment, pays tribute to missing and murdered Indigenous women, and lends a voice to children and women who have been abused, among other themes.
Often known as a bit of a laid-back jokester, one new track in particular, Powerless, rendered his crew almost speechless.
"They kind of looked at me funny. I could tell no one knew how to react, and I loved it," he said. "It's cool just to be able to have those moments where you make people feel uncomfortable, but at the same time it's totally different for those people who are going through those same situations — just to hear someone else talk about it."
For Classified, when it comes to inspiration, it's all about life — and yes, he knows that sounds cliché — but it's watching what's going and observing society that the musician maintains yields the best tracks.
"I think anybody that knows me knows I'm kind of like that — kind of goofy, funny and chill, but at the same time if we start talking about the right thing, like being a good person or social issues — things that are culturally relevant — there's a real importance to that too," he said. "With Powerless, it was the first single, and I really think that caught people off-guard. Usually my first song is like the radio song, or the feel-good song . . . just something not so serious. But, I've always had those tracks on my album."
In support of the new release, Classified has once again hit the road on a cross-country Canadian Classic Tour alongside Choclair and Maestro Fresh Wes, with a much-anticipated stop at London Music Hall Friday, Oct. 19.
No stranger to the Forest City, the Enfield, NS-native has carved his place in the London scene over the years, boasting no less than 13 appearances across a number of venues, including The Embassy Hotel and the music hall.
"The first time we hit London back in the day, was the first time we really felt like rock stars," he said with a laugh. "London has always treated me well. We had some of our best shows there — it's always amazing energy. Whenever we're talking tour, me and the boys can't wait for London, they've been some of our most exciting shows."
Classified hits London Music Hall (185 Queens Ave.), alongside Choclair and Maestro Fresh Wes Friday, Oct. 19. For more information, or for tickets, visit www.londonmusichall.com.