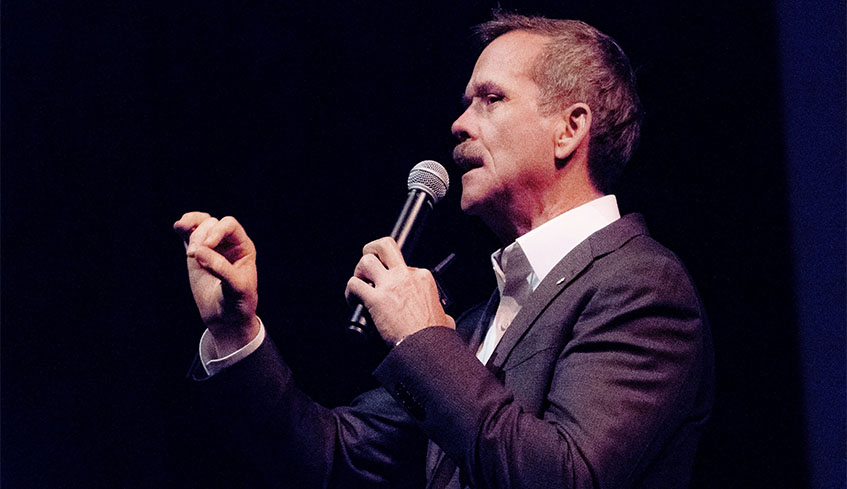 By Whitney South, Best of London. 02.12.2018
He has soared above the Earth as commander of the International Space Station, lived on a research vessel at the bottom of the ocean, and caught the attention of musical icon David Bowie — but above all else, Chris Hadfield is fiercely proud of his Canadian roots.
With dates around the world, Hadfield brought his Canada 151 Tour to London's Centennial Hall on Feb. 9, much to the delight of Forest City Fans.
In addition to an anything-goes Q&A, the first Canadian to walk in space treated the audience to a history lesson about their home and native land, from those first tectonic shifts, to Confederation and beyond — with a few songs thrown in for good measure.
"As Canadians, we didn't fight our way into existence, we didn't wrestle the flag away from somebody else to create who we are," he explained. "We deliberately created this country over a long, careful, though-out process. There is merit in that. We created something that's very rare in the world . . . and that has defined who we are as a nation."
The show included a selection of stories, outlining both the country and Hadfield's past, as well as images and ideas about the land he is so proud to call home, going back as far as its earliest inhabitants and touching on everything from geology to the speaker's own experiences in space — including a story about the time he received a little bit of unexpected comfort from home.
"Sometimes they would send these little robot ships with supplies and other things we needed, including CARE packages," he said with a laugh. "They'd go to my wife and say, is there a small thing you'd like to send to your husband that would be good for psychological support. Imagine my surprise when my little CARE package came from earth and I opened it up and out floated a piece of Canadian Tire money."
In addition, Hadfield also touched on a few hot topics, including the need for new Canadians, and why it's so important to embrace immigrants and refugees from overseas.
"Ever since we were a new country, we need the brains, we need the brawn, we need the enthusiasm," he said, adding right now Canada brings in two new people every minute from somewhere else in the world. "Two new people exploring, trying to find a better life, coming to this land to see if this is maybe where the opportunity will be for them. We are a country of immigrants, and that's great — that's who we are, whether that's from 16,000 years ago or yesterday. Together we have built a place that's like no other."
It's also a place Hadfield believes needs to urge the brightest and most brilliant in its midst to challenge themselves, and to put examples in front of its children as early as possible. Sometimes that effort can even be as small as pointing out the significance of the artwork on our $5 bill.
"Every time you go to order a double-double and a maple dip, there's a reminder of what we can do," he said. "That image that Jacques Cartier could've barely imagined, and there it is on our money itself."
Fielding an audience question regarding what prompted him to become a part of the recent BBC Two series, Astronauts: Do You Have What It Takes? Hadfield delved into why he can't fight the urge to share his knowledge and experience in a variety of ways.
"If you had spent a quarter-century of your life pursuing something that was just barely possible, and then you were lucky enough to go do it, not just once but three times, and spend half a year off the world and see things that nobody that was part of this planet has seen before . . . when you come back, what do you do?" he said, explaining it was a question he had asked himself a number of times, and what drove him to do everything from write books to speak to middle school classes across the country via Skype. "There's about 7.5 billion of us alive right now, and about 550 of us have left earth. And only a couple hundred have spent any time out there . . . keeping it to myself seemed to me like kind of a waste."