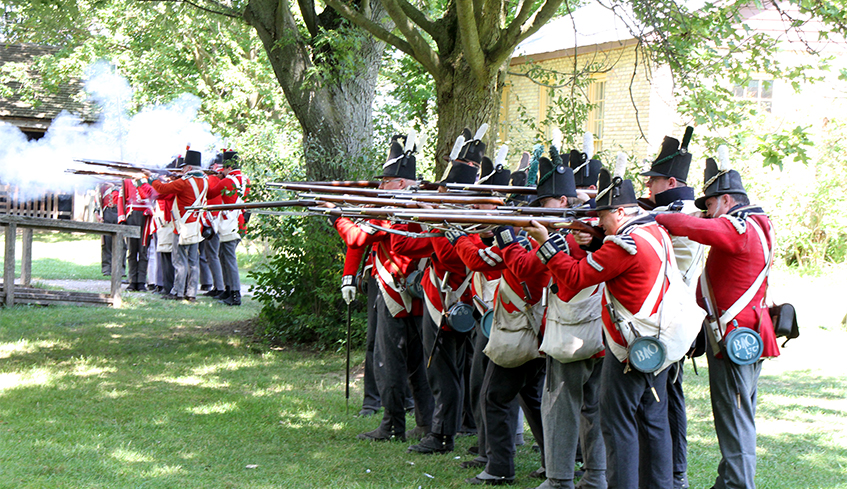 By Whitney South, Best of London. 08.22.18
One of the only conflicts ever to be fought on Canadian soil, the War of 1812 continues to stand as a major factor in how we see our country today.
On Aug. 25 and 26, Fanshawe Pioneer Village will host Fanshawe 1812: Enemy in Sight!, featuring the sights and sounds of musket and militia as British and American soldiers face off on both surf and turf.
"Not only will we be having battles in our farm fields and the town of Fanshawe itself, but we'll be having a naval battle on Fanshawe Lake at 11 a.m. each morning," Alison Deplonty, interpretation coordinator, explained. "It's like a mock landing battle, so there will be a couple boats with sails and landing craft, and with some forces on the land and some forces on the water, they'll clash to see who will take the beach."
In addition, visitors can take in cannon firing demonstrations, as well as discover the role indigenous peoples played in the War of 1812, or even join the mini-militia and take on the task of pitching a wedge tent.
This year's offering marks the second time the navy has been featured, adding some extra oomph to the event, which has continued to ramp up since the war's bicentennial from 2012 to 2014.
"The last couple of years it's really started to pick up and our battle has become the signature event for reenactors for the year," said Deplonty, adding while about 100 have pre-registered so far, even more reenactors are expected to make the trip from the U.S., Niagara and Milton. "We really do welcome so many from all over."
The War of 1812 (which lasted from 1812 to 1814) was a military conflict between the U.S. and Great Britain and was as a key event in the history of Ontario, then known as Canada West. Had the results been different, Upper Canada may have ceded to the U.S., changing the Canadian landscape significantly.
As far as the skirmish for Fanshawe itself, Deplonty says only time will tell.
"What tends to happen is whoever takes the village will go back and forth until we see who has the town of Fanshawe at the end of the day. Do the Americans have it? Or will the British forces be able to preserve the village for the Crown?"
While muskets and mayhem may seem intriguing enough, it's not just about the battle as visitors will also get a chance to explore period encampments, talking one-on-one with reenactors eager to tell their stories.
"They really come at it through the lens of being from a specific company in 1812. They're a gunner, or they're a general, or this or that. It really gives people an opportunity to see how vastly different everyone's lives were back then," said Deplonty. "Everyone will be able to go out and talk to the reenactors and ask them questions, which is something they just love. It's very much a practice of getting to explore a very particular part of history."
Sponsored by Johnson Sanitation Service Ltd., Union Gas and Sylvite Agri-Services Ltd., and presented in partnership with the Upper Canada Military Re-Enactment Society, Fanshawe 1812: Enemy in Sight! runs Aug. 25 to 26 from 10 a.m. to 4:30 p.m. each day.
General admission is $9 for adults, $7 for kids (age 4-16), and children age three and under are free.
For more information, www. fanshawepioneervillage.ca.