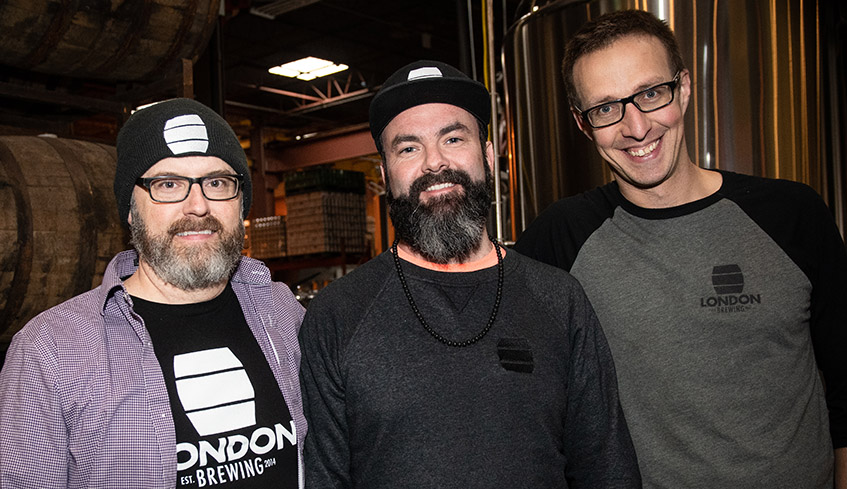 By Whitney South, Best of London. 12.11.19
There's nothing better than enjoying that perfect pint in the presence of great music.
Just ask the crew over at the London Brewing, who have been bringing their Friday Night Live series to the masses each week, much to the delight of locals and visitors alike.
On Friday, Jan. 3, the brewery will ring in two years of musical merriment with an anniversary celebration at 521 Burbrook Pl. — and according to Music Curator and Worker-Owner-On-Track Jim MacDonald, you can bet it's going to be a great time.
"Every Friday since January two years ago, we've had a great live band and a food vendor out without fail. In some ways it feels like a weekly house party," he said with a smile, adding as a musician himself, getting the chance to curate the line-up each week has really allowed him to share his love of the artform. "There's so much musical talent available in this city and it's really word of mouth that keeps bringing in all kinds of new people."
Since tapping its first keg in 2014, London Brewing has grown exponentially as not only a destination for craft beer, but as a community hub, as well.
But to really delve into the company's history, you have to go back to 2001, when Head Brewer and President Aaron Lawrence first started dabbling at home. After working construction, as well as studying anthropology and urban agriculture, he knew his future lay in a career involved in helping to sustain the local economy.
What came next would change his path indefinitely.
"Really, brewing is a nice balance of art and science. There's a real strong scientific understanding we have to produce a good quality product," Lawrence explained. "You're also working with ingredients much like a chef with just a different format, and you're trying to create the best possible product for somebody. There's a lot of satisfaction in that."
An additional point of pride is London Brewing's organic certification for both their London Organic Lager and Front Porch Organic Session IPA, with even more offerings in development for future release.
"Really, it's huge. We're the only local organic option in London, and we're one of two certified organic craft breweries in the province, while there can't be more than a couple handfuls nationwide," said Lawrence, adding while the record keeping and traceability is much more demanding than what you would find with a non-certified brewery, all that extra work is more than worth it. "Just to give that customer confidence that everything is good quality, organic ingredients. It also reflects our commitment to both our local economy and sustainability."
And it's that kind of commitment to the customers, friends, neighbours, and the world in general that has helped London Brewing branch out in so many ways — including as a growing music venue. Even the JUNO Awards sat up and took notice last March, tapping the brewery as one of the 17 stops welcoming over 100 Canadian performers of all genres for the 2019 JUNOfest.
"If you're looking for something to do on a Friday night, we're the place to be," said MacDonald. "There's lots of great craft beer, and you're going to get the best bang for your buck and some of the best live music you'll see in a great environment. We're probably got one of the best music scenes going."
London Brewing (521 Burbrook Pl.) will celebrate two years of their beloved Friday Night Live series (which takes place regularly each Friday from 6 p.m. to 10 p.m.) on Friday, Jan. 3, with live music, food vendors, and more.
Stay up to date on the festivities as further details become available on the brewery's Facebook page, or learn more about the London Brewing at www.londonbrewing.ca.
Photo by: Whitney South