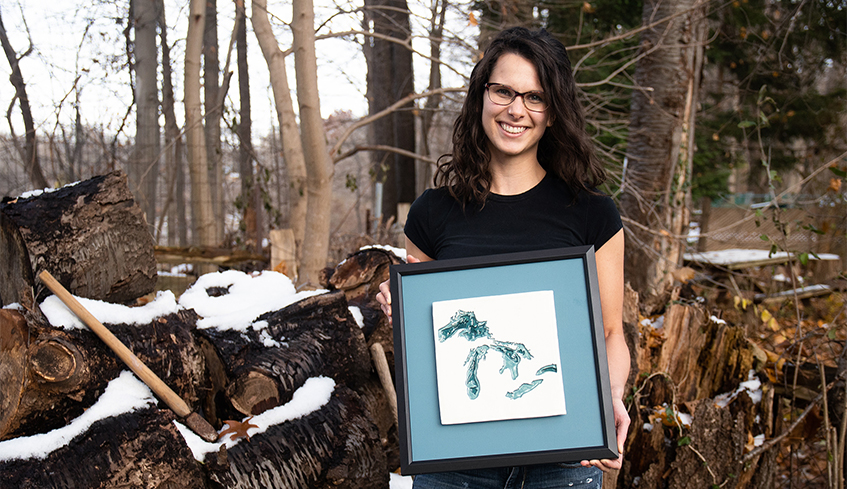 By Whitney South, Best of London. 12.07.18
With their annual Christmas Show already underway, Westland Gallery is knee-deep in the holiday season — with even more featured artists on the way.
Running now until Saturday, Dec. 22, the exhibition features the work of various local and area artisans, including an additional handful ready to show off their wares on Pop Up Weekends.
One of those artists, Danielle Hoevenaars — whose ceramic creations will take centre stage Dec. 15 and 16 — will showcase two main series, including relief tile work inspired by bathymetry charts which record the depth of lakes, as well as pieces depicting human hands, incorporating floral and tattoo art as further inspiration.
And while working with ceramics is a clear passion for the artist, that wasn't always the case.
"It all started back when I was in university, when I was doing a lot of performative and video work," she recalled. "I really missed creating with my hands — which made it perfect timing to try ceramics. I just really enjoyed that kind of tactile project."
Hoevenaars was in her fourth year at the University of Waterloo and had always worked with the human body in the form of video and performance. It wasn't until she was made to take a class in sculpture that she ended up hooked on the new (for her) medium.
"The first ceramic piece I ever did was an abstract interpretation of two figures hugging, and then I did a couple figurative pieces before focusing in on the hands," she said. "I've always been a maker as well as an artist, I've always enjoyed re-finishing furniture and I've always been into home repair — I love creating things with my hands, and while conceptual work is great, working with raw materials and really shaping something just felt right for me."
Returning home to the Forest City, Hoevenaars joined the London Clay Art Centre, honing her craft.
While it's said inspiration can come from anywhere, the artist found herself drawn to a bathymetry chart hanging on the wall of her boyfriend's family cottage on Trout Lake — and a new path was set.
"Getting to see the depths was really interesting and I really appreciated it for its aesthetic value and kind of wanted to recreate that," she explained. "I had been working with the techniques already that I've continued to use, but it's really that map that got me started."
Completing just one of the lake tiles is a slow process, as Hoevenaars traces the shape of the lake and begins to pull the clay out in little ribbons — a meditative process she really enjoys. With 30 lakes under her belt so far there's just about 249,970 left to go.
But more than just a mission, there are also a lot of feelings and nostalgia involved in each piece.
"Each one really resonates with people in a different way. There are so many lakes, and for people who own cottages, or had a cottage they remember from their childhood, the excitement they feel identifying with them is amazing," she said. "The process is wonderful, but the emotion from people is what really keeps me going."
Westland Gallery's annual Christmas Show runs now until Saturday, Dec. 22 (156 Wortley Rd), and includes work by Gerard Brender a Brandis, Dana Cowie, Karen Hansen, Jean Chapple, Anna Koot, Susan Garrington, Cheryl Radford, Tony Taylor and more, while Pop Up Weekends will surprise visitors Saturdays and Sundays until Dec. 16, with artists present at their booths from 12 p.m. to 4 p.m.
For more information, visit www.westlandgallery.ca.
Photos by: Whitney South