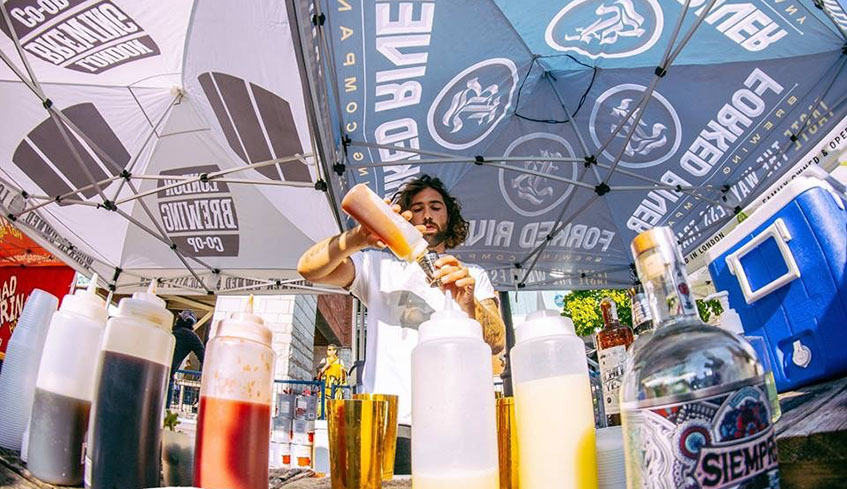 By Whitney South, Best of London. 07.18.19
As most Londoners know by now, events-guru Pablo Tovar is all about having a good time — and there's no better way to celebrate the summer than with a little taste of home.
It's been 16 years since Tovar and his family moved to the Forest City from their native Colombia, bringing with them recipes and stories steeped in tradition — many of which he continues to incorporate into much of the city's festival calendar, cementing themselves in the hearts of foodies from London and beyond.
This year's Colombian Gastronomy Festival — taking over Covent Garden Market Saturday, July 20 from 4 p.m. to 11 p.m. — is no different.
"This is our fourth year, and I couldn't be more excited," Tovar said with a smile. "It also happens to be Colombian Independence Day, so it's going to be a big celebration."
Just part of that party will include 10 food vendors (which may event include the host's dad making his famous arepas), as well as some traditional music, as well as a DJ who will treat to the crowd to a little salsa and merengue, just to help work off some of those delicious calories.
"Both of the musical groups are new this year, as well as a lot of our local food vendors are participating for the first time," Tovar explained. "Not everyone is coming from a restaurant, a lot of the offering are going to be homemade — people who want to share some authentic food and show off their skills."
It's also about learning a little something, which has been the organizer's mandate since the beginning.
"It's really great how open people are to trying something new and different, especially when it comes to food and drinks," he said. "Being able to share my culture with the people of London is always an amazing experience."
In addition to the Colombian Gastronomy Festival, the promoter also heads up the London Tequila Expo, The Cocktail Show, and the upcoming London Taco Fest, which has certainly become a summer staple in the Forest City.
And Tovar is showing no sign of slowing down any time soon — especially when it comes to his affection for Colombia, and Canada.
"I love where I'm from and I love my home now, and I want to show Canadians what we have in Colombia — the food, the music, the drinks and the people," he said. "We're just really happy people. Hospitality is a big part of our culture."
The Colombian Gastronomy Festival hits Covent Garden Market (130 King St.) on Saturday, July 20 from 4 p.m. to 11 p.m.
This is a free event.
For more information, check out the Colombian Gastronomy Festival on Facebook.