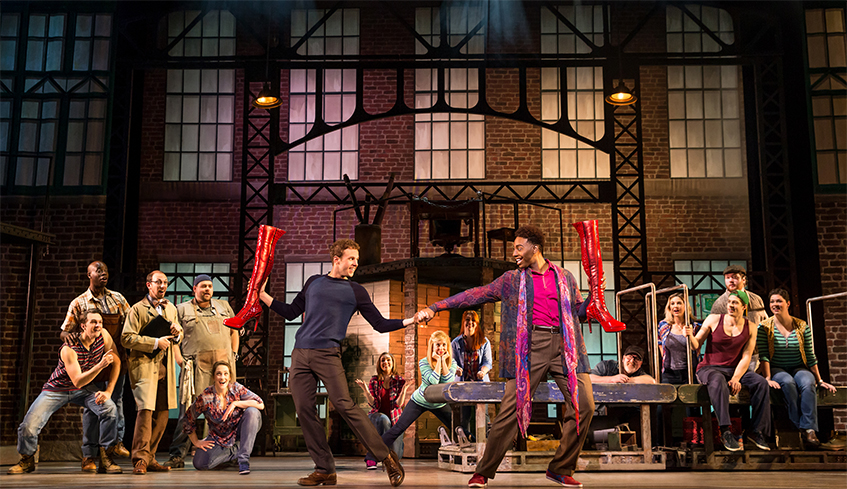 By Whitney South, Best of London. 10.03.18
It's time to play the music, it's time to light the lights, as Budweiser Gardens welcomes a new season of Broadway in London to the Forest City.
According to general manager Brian Ohl, it's a tradition that has been ongoing since the venue first opened its doors over a 15 years ago.
"It was another component of entertainment that we felt was missing in the market when we started," he explained. "We're always trying to find different kinds of entertainment that would appeal to people."
The 2018-2019 line-up was announced Oct. 1, with three titles, including the original rock musical RENT, the high-heeled hit Kinky Boots, and the mind-blowing spectacular The Illusionists – Live from Broadway, as well as three season specials, Cirque Musica Holiday presents Wonderland, Harry potter and the Chamber of Secrets in Concert, and a holiday mash-up for the whole family, Hip Hop Nutcracker, with special guest Kurtis Blow.
Working alongside Innovation Arts & Entertainment, the folks at Budweiser Gardens have seen plenty of shows hit the RBC Stage over the years, each one bringing with it a certain level of high-profile performance.
"The seasons have always been so well received. Some years we have more shows than others — it all depends on what shows are touring and what shows are best for London," said Ohl. "It's been a really successful venture and bringing in these huge Broadway spectacles really provides something special."
As always, season ticket holders have exclusive access to the season lineup before the general public and can save patrons up to $40 more than purchasing a single ticket.
While there are clearly diehards out there who never miss a season, Ohl was quick to add there's always something new to take in each and every year.
"These are touring professionals who are coming direct from the biggest shows on Broadway . . . it's great entertainment," he said. "With this lineup there really is something for everyone."
Broadway in London 2018-2019 Season
CIRQUE MUSICA HOLIDAY PRESENTS WONDERLAND
Monday, Nov. 26, 2018 • 7:30PM
Cirque Musica presents Wonderland is a concert and visual experience where audiences will journey into a world of high-flying adventure with amazing acrobats, aerialists, hilarious hijinks and holiday cheer that is Wonderland. The show blends the spellbinding grace and daredevil athleticism of today's greatest circus performers with the sensory majesty of a symphony orchestra performing the greatest holiday music of all time.
HIP HOP NUTCRACKER WITH SPECIAL GUEST KURTIS BLOW
Monday, Dec. 3, 2018 • 7:30PM
A holiday mash-up for the entire family, The Hip Hop Nutcracker, a contemporary re-imagination of Tchaikovsky's timeless music, sets out on a fourth national tour following the success of three previous sold-out tours.
The Hip Hop Nutcracker is an evening-length production performed by a supercharged cast of a dozen all-star dancers, DJ and violinist. Through the spells cast by the mysterious Drosselmeyer, Maria-Clara and her Nutcracker prince, travel back in time to the moment when her parents first meet in a nightclub. Digital scenery transforms E.T.A. Hoffmann's story of sugarplums into 1980s Brooklyn. The Hip Hop Nutcracker celebrates love, community and the magic of New Year's Eve.
The Hip Hop Nutcracker is directed and choreographed by Jennifer Weber, artistic director of the Brooklyn based theatrical hip-hop dance company Decadancetheatre. It was adapted to contemporary New York City by Mike Fitelson, executive director of United Palace of Cultural Arts (UPCA) and includes hip-hop interludes remixed and reimagined by DJ Boo as well as an on-stage electric violinist.

HARRY POTTER AND THE CHAMBER OF SECRETSTM IN CONCERT
Friday, Jan. 18, 2019 • 7:30PM
CineConcerts invites you to rediscover the magic of Harry Potter™ in the latest installment of the Harry Potter™ Film Concert Series. Projected in high-definition, your favorite moments from Harry Potter and the Chamber of Secrets™ are accompanied by a live symphonic orchestra performing John Williams' poignant scores. Join Harry,
Ron and Hermione as they encounter harrowing pixies, giant snakes and Polyjuice Potions in this concert event. Don't miss this once-in-a-lifetime event!

RENT 20TH ANNIVERSARY TOUR
Tuesday, Jan. 22, 2019 • 7:30PM
In 1996, an original rock musical by a little-known composer opened on Broadway… and forever changed the landscape of American theatre. Two decades later, Jonathan Larson's RENT continues to speak loudly and defiantly to audiences across generations and all over the world. And now, this Pulitzer Prize and Tony Award®-winning masterpiece returns to the stage in a vibrant 20th anniversary touring production. A re-imagining of Puccini's La Bohème, RENT follows an unforgettable year in the lives of seven artists struggling to follow their dreams without selling out. With its inspiring message of joy and hope in the face of fear, this timeless celebration of friendship and creativity reminds us to measure our lives with the only thing that truly matters—love.
KINKY BOOTS
Saturday, May 25, 2019 • 8:00PM
Kinky Boots is Broadway's huge-hearted, high-heeled hit! With songs by Grammy® and Tony® winning pop icon Cyndi Lauper, this joyous musical celebration is about the friendships we discover, and the belief that you can change the world when you change your mind. Inspired by true events, Kinky Boots takes you from a gentlemen's shoe factory in Northampton to the glamorous catwalks of Milan. Charlie Price is struggling to live up to his father's expectations and continue the family business of Price & Son. With the factory's future hanging in the balance, help arrives in the unlikely but spectacular form of Lola, a fabulous performer in need of some sturdy new stilettos.
With direction and choreography by two-time Tony® Award-winner Jerry Mitchell (Legally Blonde, Hairspray) and a book by Broadway legend and four-time Tony® Award-winner Harvey Fierstein (La Cage Aux Folles), KINKY BOOTS is the winner of six Tony® Awards including Best Musical, Best Score and Best Choreography.
Take a step in the right direction and discover that sometimes the best way to fit in is to stand out. "There is no show hotter than KINKY BOOTS!" – CBS News

THE ILLUSIONISTS- LIVE FROM BROADWAY
Sunday, May 26, 2019
Direct from Broadway, the world's best-selling magic show is coming to London.
This mind-blowing spectacular showcases the jaw dropping talents of five of the most incredible Illusionists on earth. The Illusionists - Live from Broadway has shattered box office records across the globe and dazzles audiences of all ages with a powerful mix of the most outrageous and astonishing acts ever to be seen on stage. This non-stop show is packed with thrilling and sophisticated magic of unprecedented proportions.

For more information, or to purchase tickets, visit www.budweisergardens.com.