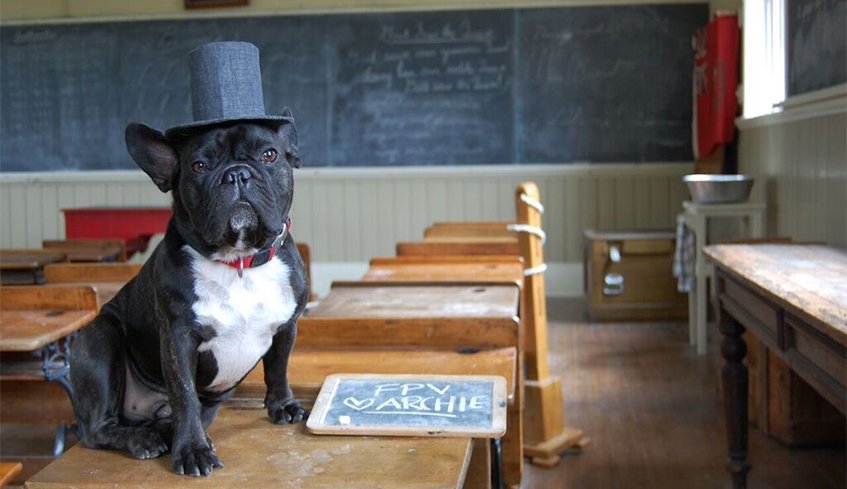 By Whitney South, Best of London. 09.21.18
From furry friend to firefighter to fashion model, there's little Archie Brindleton hasn't had his paws in at one point or another for close to five years.
While few can hold a candle to Archie's bright and shiny world view, what has drawn over 14,000 followers from all over the world to his stories is how infectious that optimism can be.
In addition to participating in a slew of community and charity events, as well as taking on the role of Fire Safety Dog of the London Fire Department, what really gets Archie's tail wagging is something he calls his Happy Heart Missions — reaching out in support of those in need.
Now, the time has come for his fans to pick up the torch.
This weekend, while the popular pooch is getting ready to celebrate his fans once again as Archiepawlooza takes over Fanshawe Pioneer Village's Day for the Dogs on Sunday, Sept. 23, the festivities will also include a bit of a farewell, as Archie gets ready for semi-retirement.
With supporters making the trip from as far as Washington State, the event is sure to draw a crowd.
"There are a couple reasons Archie has decided to take a bit of a step back from such a busy schedule," explained Pop, Jordan Morris. "So, this year it's really going to be about saying thank you to everyone that's been following him over the years and showing him support. There may be a lot of tears . . . but he's looking forward to what's going to come next."
Basically, Archie is taking leave from his social media, but not his social duties.
It's an end to a journey that began back 2013 when he first found his voice, penning short stories and wacky facts, explaining the history and origins of dogs, along with a wealth of other topics.
He'd even takes time to answer fan questions every Monday morning with a segment called, Ask Archie, or travel across the city in search of the next great dog park.
In 2016, along with Morris and Mum, Kaila Jarmain, Archie and his sister Mirabelle travelled to the mountains of West Virginia to visit James Rice, a fan who had reached out to the pint-sized pooch when his insurance failed to lend any support after he was diagnosed with end-stage kidney failure.
After receiving the initial message, it didn't take long for Team Brindleton to hop in the car and hit the road. The visit spawned a video which made the rounds on Facebook, YouTube and Gofundme, making a significant impact on fundraising efforts.
While Archie will still don his uniform as a member of the London Fire Department, as well as keep on with his own Happy Heart Missions as a therapy dog with several organizations, when it comes to social media, it's time to kick back and relax.
"Archie has talked about possibly putting out a newsletter in the future, but he's definitely going to be working on his memoires," said Morris. "It's really bittersweet, but want he wants more than anything is to put his Happy Heart Mission into the hands of his fans with the hope they can keep making a difference in the world, no matter how big or small."
Archiepawlooza takes place at Fanshawe Pioneer Village on Sunday, Sept. 23, from 10 a.m. to 4:30 p.m.
For more information, visit www.fanshawepioneervillage.ca.