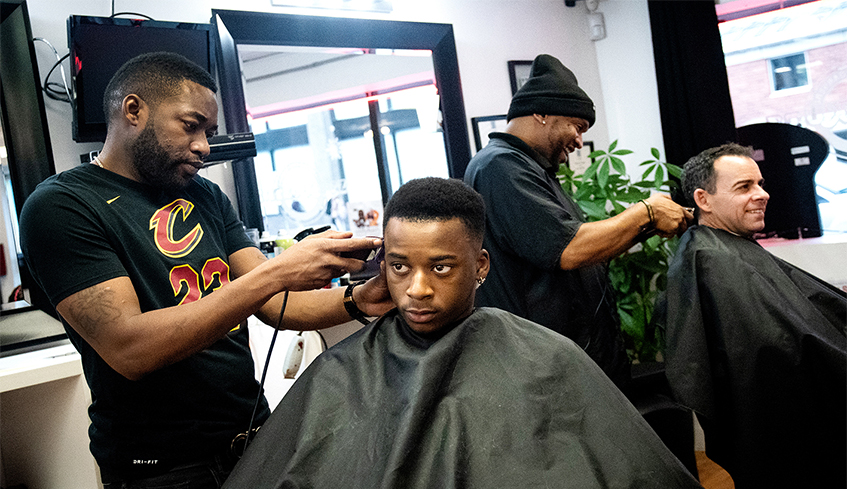 By Whitney South, Best of London. 11.15.18
More than just a place to get a haircut, for generations of African men, barber shops have played the role of newsroom, political platform, confession box, preacher-pulpit and football stadium — no matter what part of the world they call home.
And that's exactly the story Barber Shop Chronicles aims to tell, as it takes over the Grand Theatre stage Nov. 15-24.
Fresh off two sold out runs at the National Theatre, acclaimed performances at the Leeds Playhouse, and a tour of Australia and New Zealand, the Grand is the play's only Canadian stop — and it's one not to be missed.
Written by Nigerian-born, London (UK) based poet and playwright Inua Ellams, Barber Shop Chronicles has been heralded as a dynamic play which finds itself journeying from a barber shop in London to Johannesburg, Harare, Kampala, Lagos and Accra — where the banter can be barbed, but the truth is always telling.
For the actors themselves, it's a tale they're honoured to be a part of.
"This is the first play that I know I'll probably ever do in my life where there's 12 black actors all together, and it's not about what a lot of the world sees," said Tuwaine Barrett. "It's different every time, and as a whole the writing in incredible. There's no stereotypes, and it's a play that's really uplifting, not only to be a part of but to also experience."
It was a sentiment echoed by Barrett's castmate David Webber, who maintained the show really digs deep, giving the audience a glimpse inside not only the lives of the character, but of themselves, whether good or bad.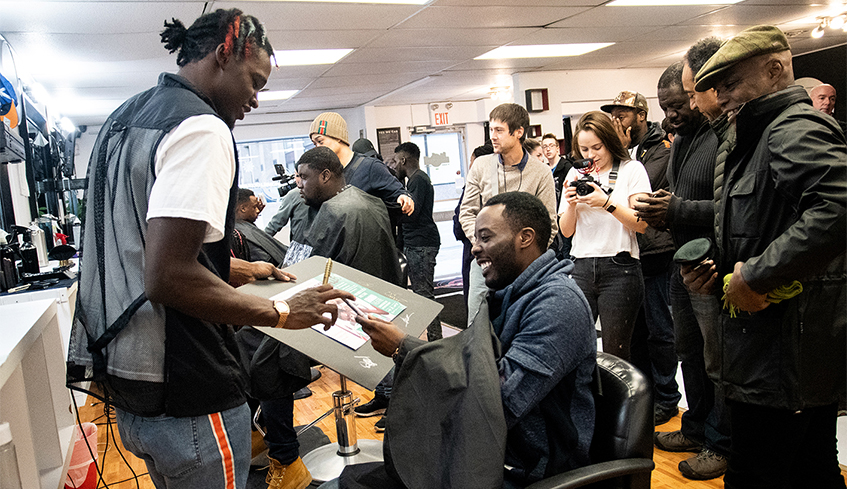 "You learn a lot from political arguments, historical arguments — some are informed, and some are based around ignorance too, and the play reflects a lot of that," he said. "Everybody seems to be able to find something in it that they can relate to. That's why I think that no matter where we go with this play, people will find their own way, and that's the genius of it. It's a masterpiece, and long may it live."
A sold-out sensation in multiple runs across the pond, the Grand Theatre's Artistic Director Dennis Garnhum said he was fortune enough to see one of the shows during a trip to the UK last December, prompting him to bring the show to the Forest City.
"The moment I walked into the theatre to see Barber Shop Chronicles, my heart lifted and I was instantly swept up in the thrill of the event," he said. "When I returned to Canada I started making inquiries on how to get the show here, to our London."
The production's impending arrival led Garnhum onto the streets of the Forest City, eager to see if we too boasted such a hub of activity and community. Turns out, just minutes away from the theatre's front doors, the crew at United Kutz were creating storylines of their own, and owner Kwami Lambert had no idea what was headed his way.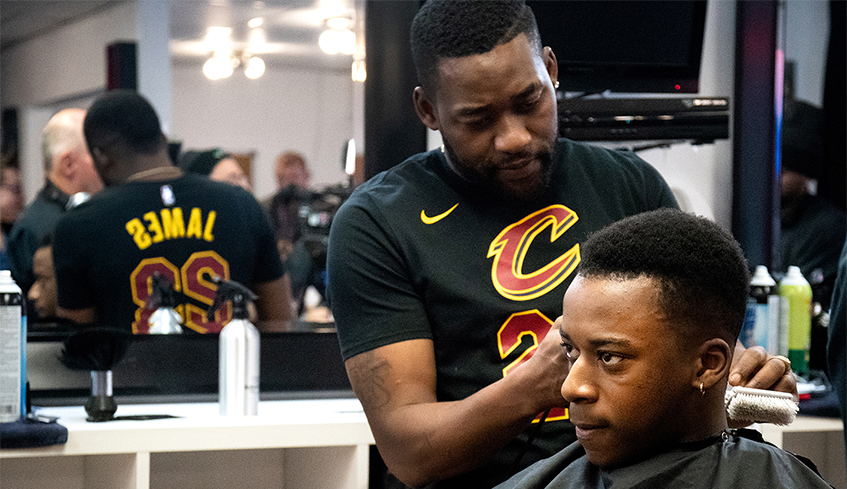 "When I first met Dennis, he initially just came in off the street like most people do, and he told me about the play — I fell in love with it right away," Lambert recalled. "One of the biggest reasons I started this barber shop was to help create inclusiveness in the community — whether it's a shop, restaurant, clothing store or a play like this, I think it's a really cool thing, especially for the young people, to see London is a diverse community."
On Wednesday, Nov. 15, Lambert welcomed the cast and crew of Barber Shop Chronicles into his space, playing host for the Grand's pop-up media day — and ready to share his story about what makes the shop so special.
"When you come in, it doesn't matter if you're rich, poor, old, young, black, white . . . if you come to the shop you get a haircut," he said with a laugh. "It's also where we bring our problems together and figure them out. Every day I wake up I'm so glad I get to do what I do — not everyone gets to do that."
Barber Shop Chronicles takes over the Grand's Spriet Stage Nov. 15 to 24. Tickets range from $29.95 to $86, while special on-stage seating is available for $56.
Those wanting more information, or to purchase tickets, can visit www.grandtheatre.com, call 519-672-8800, or visit the box office at 471 Richmond St.
Photos by: Whitney South